MUSIC PREVIEW: Of Modest Mouse and Men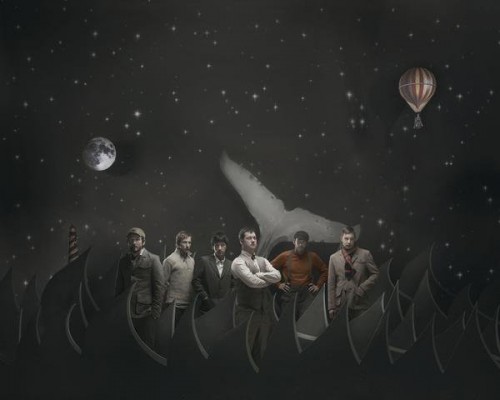 If you've ever wondered what the first "indie rock" band was, the first thing you have to do is discard the idea that "indie" stands for "independent." It's a genre more than a statement of independence, or popularity.
And then listen to Modest Mouse. This Washington State band, performing at the Shaw Conference Centre Thursday night, has been spearheading the indie rock genre since its founding in 1993, from a debut full-length in 1996 – This Is a Long Drive For Someone With Nothing To Think About – through their most recent record, from 2007, We Were Dead Before The Ship Even Sank. Beyond the long and telling titles, each album has songs that swim with its nuances and melodies, and while the band never managed to break through to the top tier of touring bands, reaching the hall circuit isn't too shabby. For an indie band.
The closest Modest Mouse came to cracking the mainstream was with their 2004 hit Float On, off the 2004 album Good News For People Who Love Bad News, which also spawned two other stellar tracks, Ocean Breathes Salty and Dance Hall. Their next album gave us Dashboard, which you may not recognize by its title, but by its choru: "The dashboard melted, but we still have the radio".
Since then, the band, which still includes founding members Isaac Brock (lead vocals, guitars), and Jeremiah Green (drums), as well as newer members Joe Plummer (drums) and Tom Peloso (guitars, upright bass), and touring members Jim Fairchild (guitars/vocals) and Russell Higbee (bass), have continued to tour and perform at festivals. They are rumored to be working on a new album, and have even played a new song here and there during live shows, but no official date has yet been released, or even word that they've hit the studio yet.
Opening for Modest Mouse is Kevin Drew, whose song Good Sex you've undoubtedly heard in Canadian indie circles. It's the first single from his 2014 album Darlings, his second solo album and first in seven years. He's more recognized, of course, as being one of the founders of the Broken Social Scene collective. Mimicking Birds will also perform. Tickets are $46.50. (BUY)

Thursday 24
Rococode – This Vancouver alt-pop trio have a subtle dark side. Their newest material, released as a single Follow You 'Round, is a little more raw and sparse, while their live show is in a hectic stratosphere all to itself. Edmonton's renowned Jesse and the Dandelions open. The Artery, 7:30, $10.
Shimmering Stars – You know how a lot of bands will say their sound is unique, and that nobody else sounds like them? Well, this Vancouver act may just be one of the few able to say that, with an intriguing and captivating sound that combines punk, indie, drone, shoegaze, and yes, folk, of course. The band is currently touring the Western provinces, and will play at the Wunderbar (which, if you haven't heard recently, is very likely, and sadly, going to be changing hands soon). Ambient-rockers You Are An Explorer open. 9 pm, $10.
Friday 25
Fuzz Kings – This local roots-rock act is kicking off a tour with a show at The Artery, accompanied by one of the city's most formidable indie rock acts, Bombproof the Horses. Both bands have brand new releases for your enjoyment this year – the Fuzz Kings with a full-length titled ReTurn Of the Century; Bombproof with an EP titled The Ground the Sky. Choir and Marching Band also perform. The Artery, 8 pm, $10.
Everclear – This alt-rock band from the 1990s, led by Art Alexakis, is still releasing new music, including 2012's Invisible Stars, though obviously they're best known for their hits from their first decade, including Santa Monica, I Will Buy You a New Life, and So Much For the Afterglow. Well, to be fair, AM Radio was a modest hit in the year 2000. Regardless, if you listen to alternative music at all, you'll know this band, and undoubtedly have a great time reminiscing to their various hits. Like many bands from that era that are still around, though, the only remaining original member is the front man – in this case, Alexakis himself. Also performing on this night are fellow 1990s bands Eve 6 and Soul Asylum. Part of the K-Days' Koodoo Nation stage, 10 pm, free with gate entry.
Saturday 26
Taste Of Edmonton – This festival's Saturday lineup deserves a spot all to itself. Starting with Saskatoon's indie-folk act Young Benjamins (6 pm), which combine a prairie ethos into their music, and then add a violin (Vaero Poulin, Saskatoon Planet S Magazine's Best Instrumentalist of 2012), and with lead vocals by Neusha Mofazzali, born in England to Iranian parents, there's a certain global feel to their music as well. Well worth checking out by themselves, but then add in buzz band JPNSGRLS (pronounced "Japanese Girls", taking the stage at 7:15 pm) from Vancouver, a noise band combining electronic elements and a punk vibe. And, just to kick it all into a freeform frenzy, local favourite Christian Hansen (9pm), another highly electrifying live act, closes the evening. FREE
Sunday 27
A Tribe Called Red – This landmark electronic music group, fusing elements of reggae, dubstep and First Nations music, released their Nation II Nation album in 2013 to a firestorm of critical success. In fact, it not only made the Polaris Music Prize longlist, it was also named to the shortlist, and their live set performing a medley of songs dropped jaws across the nation for those watching the gala live and streaming. Unsurprisingly, their live shows are now fronted by considerable buzz, so expect an ethereal level of excitement at the Starlite Room (9 pm, $20) for this gig.
Cygnets – This local band shouldn't need any introduction to live music fans, with their high-tempo, rebellious and chaotic live shows, and signature alternative-electronic-rock sound. Touring to support their newest effort, the full-length "Isolator", the tour wraps up Sunday at The Artery (6:30 pm, $8). Will To Power opens.