Six Tastes of K-Days
K-Days and Taste of Edmonton combined make up Edmonton's most popular summer festival. Both used to be under the umbrella of the Klondike Days Association, and which locals to this day still lump together for the mindlessly fun, hideously expensive and gastronomically adventurous event to which all major cities are afflicted. Did we say afflicted? We mean blessed!
What follows is a first-person (and daughter) narrative account of actual experiences at the 2014 Festival Formerly Known as Klondike Days.
Should've called them Freedom Dogs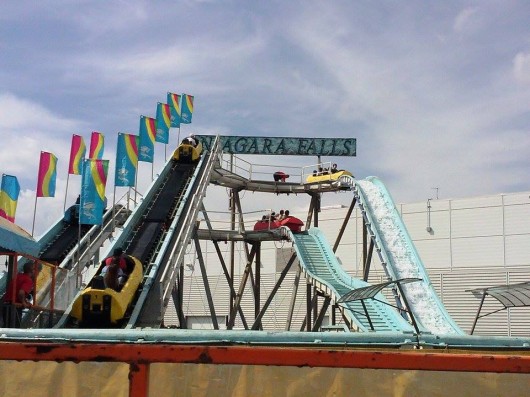 It was a lineup unlike most lineups at K days – there wasn't one. It was me and an elderly fellow in an Expos jersey waiting at La Hotdogerie, K-Days' sole provider of authentic French Canadian Hot Dogs.
"It's been like this all week," said the young vendor. "But that's OK with me 'cause I'm still getting paid!"
Edmontonians don't just enjoy paying way too much for entertainment for their children, we'll gladly pay way too much for greasy carnival food fare. The elephant ear vendors were doing booming business. So what's the deal with the Francophone dogs? It was advertising one hot dog for $3.50 or two for $6, less than a Fat Frank's, and there was hardly anyone around. Don't people complain endlessly about the prices of food here? Sure, I'm getting a boiled Euroweenie with dry coleslaw and onions with packets of ketchup and mustard should I want to Anglicize my culinary experience, but I'm paying less than $5 for the privilege! This is unheard of at K Days! Does anyone keep track of food prices here? I'd love to know when the last time a food item was priced lower than $5 … something tells me Pierre Trudeau may still have been Prime Minister.
Dads soaked first
As my kid and I were in line for "Niagara Falls," this year's carnival industry standard log ride, they shut it down for an hour or so due to a malfunction of some kind. The vexed young carnies frigged around with it for about 20 minutes before they started offloading people from the logboats, including one teetering on the precipice the final waterfall. There was some delicate stepping going on. The ride was back up and running about an hour and a half later, as was carny attitude.
"You, in front," the bespectacled supervisor barked at me as we prepared to board ship, "And your daughter, in back"
"How about my daughter in front, and me in back?"
Being used to having his authority challenged by parents the world over, his response was short and effective: "You, in front, and your daughter, in back."
Ah yes, K-days, the one week a year where carnies – the grizzled, toothless nomads of Canadian summers – ARE the boss of me.
Hey, a gig's a gig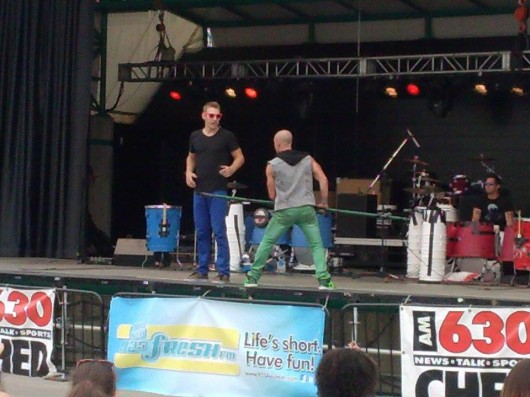 A group called Recycled Percussion was on the K Days Main Stage as we entered Festival Grounds one afternoon. My first question after hearing about five minutes of their set was to wonder what three talented musicians dressed in red, green and blue pants, respectively, were doing performing a mid-afternoon K-Days set sparsely attended by the elderly and young families? Ah, yes, to pay the bills. As the guys in red and blue hammered out a beat on drum kits made out of recycled household items, Mr. Green Pants took a turn on lead guitar – and he out Joe Satriani'ed just about any metal shredder around! Nobody watching seemed to care. What a travesty. If musicians this gifted have to resort to playing gigs sponsored by community municipal recycling programs for senior citizens who really are only there because they didn't want to be standing up any more, I'll gladly pay more for music downloads. As long as Gaga gets none of it.
Look at them pricey melons
Carnivals are not known for healthy food, because folks know it's the one place and the one time a year you are allowed to pay obscene amounts of money for greasy junk – but as with McDonald's, there are healthy options, and just as expensive. K-Days attendees who want to eat (or drink) healthy will be pleased that they do have at least one option this year from the "Drink A Fruit From A Fruit" stand near the K-Days Main Stage. For the high blood pressure inducing price of $14, folks can drink fresh watermelon juice from a halved out watermelon, or $8 from a 12 oz plastic cup – which is still a better deal than paying $12 for curly fries while being forced to listen to country music.
The Klondike never had food like this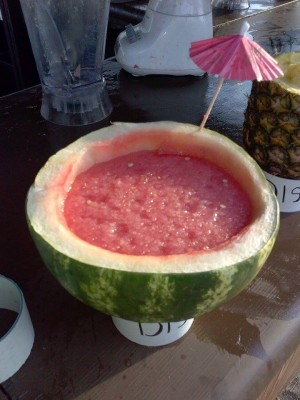 Taste of Edmonton, on until Saturday July 26 in Churchill Square and no longer in any way associated with K-Days, has helped helped stave off culinary malaise with quite a number of new vendors out there this year. Among the best food items are the Injera and Doro Wot from Langano Skies Ethiopian Restaurant, a flavourful and spicy chicken dish served with a spongy flatbread that is used Ethiopian-style as a utensil; the Mini Bacon Jalapeno Corn Muffins from Smokehouse BBQ; the Southern Fried Green Tomatoes from Creole Envie, which were not swamped in batter, but very tastefully and sparsely coated, which added to the item's appeal, given North Americans appetite for pulmonary destruction these days; and the Bison Slider with Gorgonzola Blue Cheese from Underground Tap & Grill, which, even as one of the more expensive items at Taste of Edmonton (4 tickets), was a fantastic deal given the large portion size.
If you still haven't gone, the have revised pricing for 2014 – for the better. While individual tickets are $1.25 each, the vast majority of the items available are priced at three tickets, and vendors appear to be serving good portion sizes, for a change,meaning you can get your tummy filled for less.
Edmonton ain't no Ljubljana
In a recent Edmonton Journal article, Toronto's "Condo King" Brad Lamb deemed Edmonton "a very hip city." I tested his declaration out while speaking with Kristy Turk, from Ljubljana, Slovenia, who happened to be visiting Edmonton during Taste of Edmonton. Knowing Euros are generally amongst the hippest when it comes to fashion, I sought her opinion about the fauxhawk hairstyles of two male hipster wannabe passers-by. No one has that hairstyle in Europe anymore, she said, adding fuel to the hater's fire by sharing that it was popular in 2009 or 2010. Regarding the DJ set by Cowtown's Skratch Bastid going on in the square, she was much more direct in her assessment: "He's not very good," or words to that effect. The crowd looked about as interested in musical goings on as they were for Recycled Percussion, which may have brought us down a rank on the urban hipness scale. Move over, Regina!