AW, SHUCKS: Corb Lund seizes his Day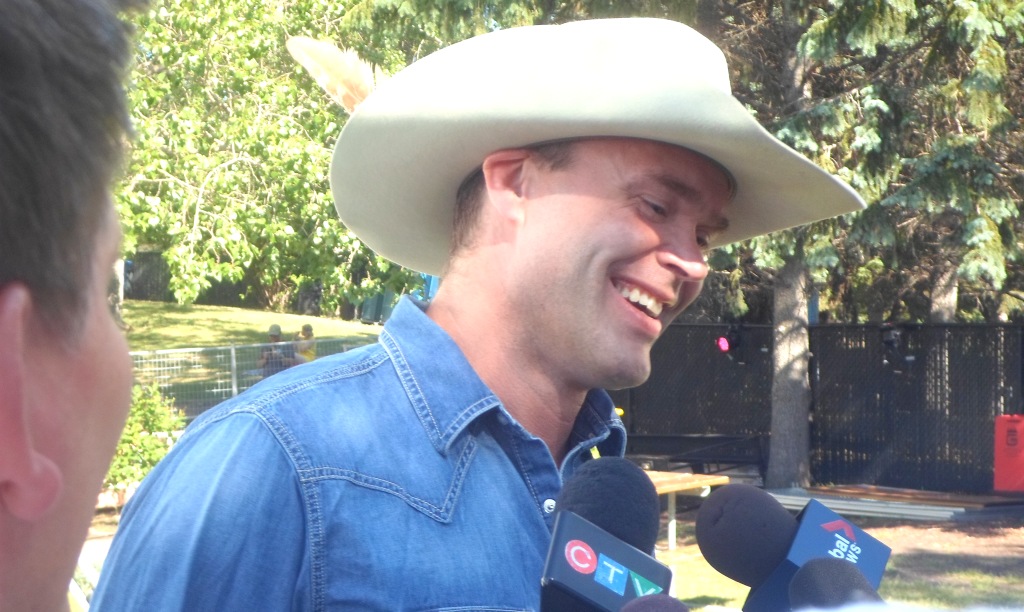 Fitting for a day named in his honour in the City of Edmonton, Corb Lund laid down a righteous old school country shitkicking at Heritage Amphitheatre in Hawrelak Park Monday night, as part of the re-scheduled Interstellar Rodeo Festival itinerary.
Starting with set-opener Hurtin' Albertan, Lund played with the spirit of a reincarnated Wilf Carter, minus the godawful clothes and yodelling. Lund's fashion is 21st Century, but his music planted firmly in the first half of the 20th Century.
Fans of real country music – you know, the stuff before the 1980s when the Nashville machine took over – would find Lund a refreshing throwback. His music is so traditional cowpoke that he'd make Okie from Muskogee sound like the latest single from the latest Beyonce record. There are a lot of folks who loathe the "Def Leppard with violins" that makes up 99% of new country, and thank God there are players out there like Lund keepin' it real. It clear from his music that Lund's ultra retro country roots are pretty deep, and while he name checks Ian Tyson during the show as a major influence, it doesn't stop there – we ain't talkin' Tommy Hunter, either. This guy is legit.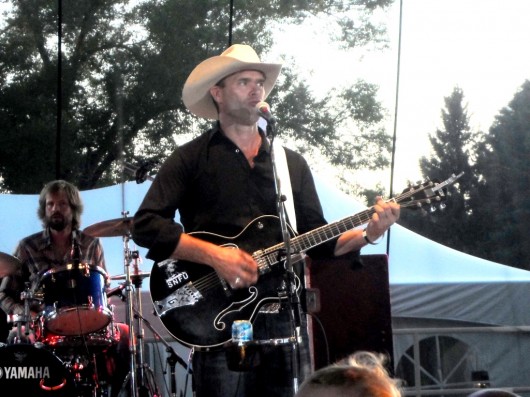 From a guy in his early 40s, some might think this style of country would only be a hit in the palliative care wards in deepest darkest jungles of rural Manitoba. But no, 80% of the fans in the crowd were under 30, tapping their toes, clapping their hands – including me, and I hate country. Lund was able to contemporize the material for the crowd on tunes like Gothest Girl I Can, a story out of his drunken Whyte Ave days of yore, and Counterfeit Blues, which saw lead guitarist Grant Siemens give his slide guitar skills a nice shining.
The set highlight had to be Bible on the Dash, his co-write with Houston Texas's Hayes Carll, a humourous, light, and yes, very old school, romp about law breakin' in the deep south. Of Texas, and Alberta. Kinda the same, ya know?
One thing that makes Lund so endearing is his unabashed pride for his home province. As most of us with a pulse are aware, Canadians aren't known for being terribly patriotic. Lund is. With a surname as Scandinavian as it gets, he mentions the town of Mayerthorpe in a song. Who else does this? Nobody. He sings about having pride of place, in his home, this province. This is something you just don't hear from a lot of Canadian musicians, who are largely afraid of Canadianizing their music because they think Americans won't relate to it. Like all those American movies filmed in Toronto in the 1980s posing as New York or Chicago, it's like our country really is America Jr. in the world of popular culture. Lund's music seems to ask – thank God – what is so wrong with being Canadian, and why shouldn't I sing about my country? He even sang proudly about his love of the Oilers, in The Oil's Back In Town, and who can say anything positive about those guys these days? This is the greatest part about Lund's music. To hell with a local Corb Lund Day, he should be honoured by Ottawa. Seriously. This place can be hard to love, given a climate that rivals Siberia at the best of times, and this guy thinks it's great enough to sing tribute after tribute about it. Not only is that honourable, it's incredibly cool.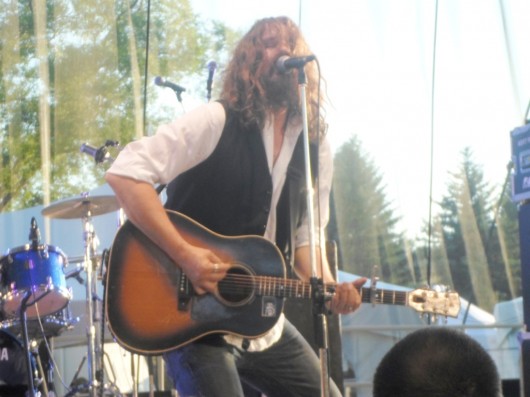 Eariler, Tom Wilson from Blackie and the Rodeo Kings (one of the originally scheduled headliners at the rained out opening night) realized his opportunity to rope interstellar fans and shake them awake in his short 25 minute solo set. He collared the crowd like a wild eyed madman, and frankly, was another highlight of the evening. He did a couple of old Junkhouse songs, including their 1995 hit Shine, a couple new songs from his band Lee Harvey Osmond, finishing with a raucous, feedback-induced Lou Reed cover of I Can't Stand It, but it was his opening a cappella version of God knows what – he actually came on stage screaming like a Pentecostal preacher – that really set the course for the show.
He let up briefly on one song, Big Chief, before going crazy homeless guy on us all again. Wilson explained his exuberance and apparently, to him anyways, his unusual behavior on (prescription) drugs, for an undisclosed illness. Wilson showed that while drugs did kill off greats like Morrison, Cobain, Joplin, et al, they can help create some memorable rock 'n' roll from time to time – and this was one of those nights. It was nice to see a rocker strap on an acoustic guitar and play it with reckless, yet competent, Glenn Anderson-esque abandon. Long live rock 'n' roll, especially at a predominantly folk-oriented show.
Hey Rosetta!, a six-piece from St John's, Newfoundland, put on a solid and highly engaging almost 70 minutes earlier on Monday night. Imagine a less geeky, more rocking version of the Decemberists, with more interesting material. Their use of classical instruments like the cello and French horn in a rock setting was not just inventive, but ultra creative how they utilized them with a variety of effects pedals. If these guys were American, they'd be on Letterman, for sure.
As for the Great Lake Swimmers, toss 'em a giant life preserver before it's too late. Apart from the violinist, there was nothing memorable, interesting or original about this act. There are a trillion folk bands just like these guys floating around. The lead singer sounded like a weird cross between Dan Hill and Bruce Cockburn, and their songs, overly favouring these pondering, pensive minor chord structures, put them out of sync with the gorgeous sunny afternoon going on around them. Hearing three or four of these in a row made me think that somewhere there is a Buffy The Vampire Slayer soundtrack CD missing a song or two.  That, and most of them left the memory as soon as they finished playing them. They need catchy melodies in their songs. Or, maybe a cover tune or two to jazz things up. Sometimes When We Touch?  If I Had a Rocket Launcher? Let them decide, but I won't be tuning in to CBC Radio 3 to hear it.