MUSIC PREVIEW: Feast of fests in the West
Music festival season continues this weekend around the Capital Region, as we stroll right into Bermudafest, after last weekend's great Interstellar Rodeo, Taste Of Edmonton, and K-Days' lineups.
The multi-venue Bermudafest gets underway Thursday with a pair of gigs. Rich Aucoin headlines at The Pawn Shop, while Wunderbar hosts a trio of local bands – Borscht, The Fight, and Audio/Rocketry. It's a tough call as to which is your better bet – Aucoin's live shows are always a feast for all of your senses, but all three of those Edmonton bands mentioned are extraordinary in their own right, and definitely on the upswing of their careers.
Friday there's even more to see, perhaps the most notable of which is Powder Blue (pictured). The all-female Saskatoon quartet deliver a thick haze of psych-rock; their six song EP of 2013, Dream In Black, was a standout amongst all EPs released last year, continent-wide.
Saturday there are additional venues in the mix, with shows at the Buckingham, Cha island, The Pawn Shop, and of course Wunderbar. Headliners include Vancouver's Bend Sinister (whose recent release is getting a lot of attention from music writers and fans alike), and Calgary's Devonian Gardens. Sunday features Slates and Cro Mags; the former, a local buzz band, the latter, a New York hardcore punk act that's been recording since 1986. Finally, the festival concludes Monday night with a show at the Empress, featuring a stellar suite of Edmonton acts, including Alex Vissia, Jesse and the Dandelions, and Switches.
Detailed schedules and ticket price information can be gleaned from Bermudafest's website.

Now let's not forget about Camrose's legendary Big Valley Jamboree, which attracts flocks of Edmontonians every year as well. One of the biggest country music festivals in North America, and created back in 1992, this year's notable names include Dean Brody, Clay Walker, and Hunter Hayes performing on the main stage on Friday night. Saturday night the Oak Ridge Boys, Darius Rucker, and Zac Brown Band take center stage. And lest we not forget, Texan Miranda Lambert, whose career blossomed after being a finalist on the 2003 edition of Nashville Star, concludes the musical entertainment on Sunday night.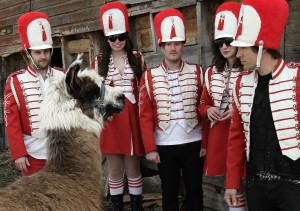 And – did we mention we're in the heart of festival season – Golden West Music Fest is also going on this weekend, on an acreage near Ardmore (three hours Northeast of Edmonton). Like the first one last year, they are featuring some of the very best musical acts Edmonton has to offer, as well as a potpourri of other bands. Friday night features Camembert and indie rockers The Wet Secrets (left), the latter of which released their third album earlier in the year. With deep, growly grooves, brilliant songwriting, and shiny guitars and horns, the album was recorded last year at The Audio Department by Shout Out Out Out's Nik Kozub.
Saturday features another bevy of great local bands, including Arrowz, Switches, Mitchmatic, and Whitey Houston (who plays in both the Wet Secrets and Shout Out Out Out), and electro-punk duo Physical Copies. The final day of the festival includes Saskatoon's Powder Blue performing their third show in the region in three days, along with local garage-punk-megaband The Tee Tahs, Jom Comyn (whose 2013 album ranked No. 2 in this website's best albums from Edmonton artists in 2013), and noise-pop act Diamond Mind, whose five-track EP Fake Tape from February is an intriguing blend of joyous summer pop and sparse indie folk. More details, lineups, and driving directions can be found at the Golden West website.
Friday 1
Upside Of Maybe – This Ontario six-piece hails from the home of the famous Stratford Festival. The pop-rockers recently released their debut EP, and are touring to support it. Andrea Nixon and Carrie Day open. Cha Island Tea Co., 8 pm, $15.
God Module – This trio from Seattle, founded in 1999, has a sound that's difficult to peg. Variously called "dark electronic" to "electro-industrial", their music is aggressive and pounding and yet equally as melodic, as every member of the band sings, and performs on synths and keyboards. Ivardensphere opens. Starlite Room, 9 pm, $15.
Saturday 2
Wu Tang Clan – One of the most legendary names of all-time in hip hop, this Staten Island group is among the most revered of all East Coast rap acts. The group is still expected to release a much-awaited new album, tentatively titled A Better Tomorrow, sometime this year, their first in seven years. It's been rumored for a couple of years now, though, so an exact release date remains hard to pin down. Group member Raekwon has had reservations about making an album without the late Ol' Dirty Bastard, and had a brief split with the act earlier in the year. Edmonton Expo Centre, 8 pm, $100.
Tuesday 5
Rod Stewart and Santana – It's a classic rock match made in heaven. Stewart, the 69-year-old from North London, has been crafting an incredible legacy of music since the late 1960s. His first No. 1 hit was Maggie May back in 1971; Do Ya Think I'm Sexy came in 1978; and Downtown Train was released in 1989. Forays into the top-of-the-charts have come less frequently in recent years, though he continues to release new music, including 2013's Time. Santana, meanwhile, created some of the defining sounds of the Boomer generation, and found renewed mainstream success in 1999 with his global chart-topping album, Supernatural, which won its namesake bandleader Carlos Santana nine Grammy awards. Tuesday, August 5, Rexall Place, $39.24 and up.