Doug Jenson one of the good ones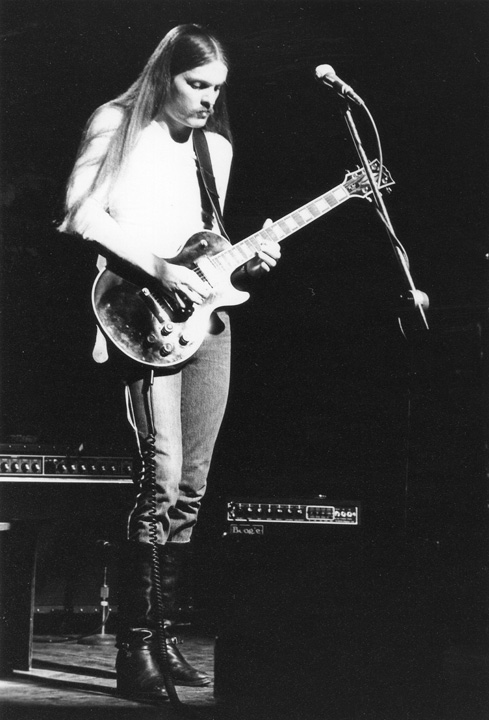 Doug Jenson: To know him was to love him – unequivocally.
The longtime Edmonton singer, guitarist, songwriter, producer and frontman of local rock legends Jenson Interceptor died on Aug. 6 after a battle with Lou Gehrig's Disease. He was 59 years old.
Doug touched a lot of people in his time, not just with his music.
From a farm near Coaldale, Alberta, he blew into town in the 1970s armed with fierce guitar chops, super long hair, the right attitude, plus lots of it, and in a lively, lusty love affair with everything that's good about rock 'n' roll.
Oh, how he dazzled us. Yet once you got to know him (which was easy to do, as he was quite open and engaging) you really appreciated the solid side of the man. He had those fine prairie farm kid qualities: Strong work ethic, good morals, ethics, values. He was a real stand up guy. We always used to joke, with fondness, that Doug would be unable to drive by anybody with their hood up. He would have to stop and help.
As a friend, he made your world a better place. As a musician, he made our scene better. Jenson brought to our fair burg with him two lovely and talented bandmates in Jenson Interceptor, his sister Kennedy Jenson and his wife Charlotte Weibe. The band name may have changed – from Valhalla, to Dickens, to Jenson Interceptor, to Cosmetics – but they were always really good; and the band certainly attained some indie successes. They earned radio airplay, moved over 30,000 units of the first album, then got signed to RCA.
After Jenson, Doug led two more Edmonton bands, Love the Life and The Feel Kings, along with solo projects.
I'm sure many of us are going over a lot of stories about Jenson these past few days. Working as a promoter, I was doing a Johnny Winter show and needed to hire local support. I thought the Feel Kings would be perfect. It's a trio, like Winter, and Jenson is such a monstrous player. So I offered him the opening spot. He was ecstatic, so when I explained there wasn't much dough, he replied, "Man, I will play for free!"
I admonished him, "Never say that to a promoter! You'll play for nothing because that's what you'll get! You know it's low dough, so grind on me for hospitality or something." Jenson re-negotiated, and really laughed. He liked this story. Oh, and he killed the show, too.
Jenson always had a ballsy PA system, and knew how to run it. Superb guitar tone, too. He liked to run his guitar through rotating Leslie speakers, the type used for Hammond organs. He turned his house into a recording studio to make his albums, and did recordings for others as well. A few years ago I got pitched to do publicity for an artist, and he dropped a CD off. I put it in a player, left the case and went to another room. As I listened, I kept thinking how good it sounded – organic, such good source sounds. I was delighted when I picked up the jacket and read Jenson had engineered and produced the album.
No one was hit harder than Doug when the bylaws passed banning smoking in venues. Jenson was a militant cigarette smoker and would not go anywhere he was unable to smoke. He never played bars after the smoking ban, became somewhat reclusive and spent many hours with his guitar, recording gear, and computer in his tiny home in Cloverdale.
Large thoughts occupied the small house. Jenson had a penetrating intelligence. His cloistered lifestyle brought eccentricities to the fore; plus he had a penchant for research, and could spin a tale by connecting dots that would have conspiracy theorists drooling with envy.
Jenson and I did not see each other in person as much as we would've liked these past few years. I have COPD and cannot be around smoke, and Jenson smoked like a lab rat. We had a very healthy e-mail relationship, however. I loved this phase, and would revel in receiving some 5 a.m. stream-of-consciousness messages that always contained gems such as, "I understand that the heart is the boss and the head is the manager."
When he first got ill, about two years ago, Doug told me, "You know, Kirb, if it is my time, I'll go … my little voice says there's something I must still do."
Turns out it was recording what was left of his body of work. He'd clearly been prolific, and just last month one of the last e-mails I got from him read, "One song left to go then done… six albums in total."
I can't wait to hear these.
Here's another fine line from last year:
"One might imagine that I belong to the church of justification (which has the biggest congregation in the world), but actually that is not the case. In fact, I simply understand that I am free."
Hear, hear.
The family will be holding a small private service, with no public memorials planned; Doug's sister Kennedy says, "The last thing Doug would want is to have hundreds of people show up."