MUSIC PREVIEW: One Fringe to rule them all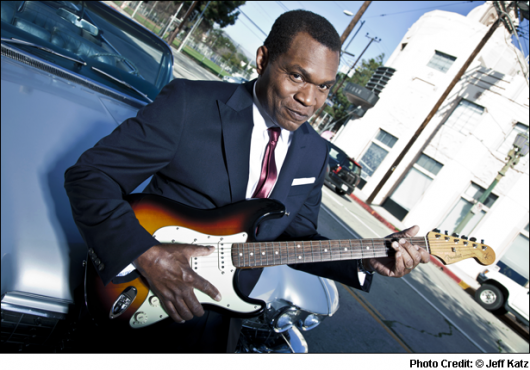 There is a condition unique to Edmonton – or any other winter city, for that matter – called Seasonal Hyperactive Festival Exhaustion Disorder, or SHAFED, that results in such a manic rush of summer fun that events that would normally merit full attention get shafted.
Such is the case with the Fringe – the biggest theatre festival in North America that obliterates all other thought for this opening weekend, at least. There is literally no getting around the 1,000 plays in 100 venues for the next 10 days in Old Strathcona and its environs, and that's just a rough count. Naturally, the entire entertainment media of Edmonton and beyond descends, locust like, upon yon thespian jamboree to determine which plays – if any – are worthy to receive the coveted FIVE STAR review. There is simply no time for anything else.
So hard cheese, blues people, for the Edmonton Blues Festival will probably remain uncovered, figuratively, as it once again allows area blues fans outside for some healthy sunshine and beer for three glorious days under the tent, literally covered by a brand new tarp, over Heritage Amphitheatre in Hawrelak Park. The great Mavis Staples and Robert Cray (pictured) are among the headliners. Weekend passes are SOLD OUT, so hey, they don't need press; single tickets available at the gate for $50 a pop.
There's a Latin Festival going on, too. Who knew? In Churchill Square Saturday and Sunday, some of the finest in local Latin talent will be performing live on stage – bands, dance troupes, you name it. Well, mainly bands and dance troupes. Plus food and drink, too, it goes without saying. Admission is free!
Now that's quite enough even if you aren't aware there's also a music conference going on! Edmonton is now the host city for New Music West because Vancouver didn't want it anymore. As Vancouver music critic Tom Harrison put it in 2011, his city didn't need this conference because there are far more bands than there are places to play – and therefore every night is a New Music West. Kind of like Edmonton, come to think of it, whose citizens suffer from SHAFED more than the spoiled wet-coasters can even imagine.
In short: Not the best time of year to solicit media attention if you're not in a FIVE STAR play at the Fringe. Just sayin'.
Thursday 14
Jack de Keyzer – Big Al, if that is his real name, has much to answer for come Judgement Day for what some locals grumble is an overreliance on "jams" for live entertainment, because bad blues can turn you off the blues forever. But for Big Al's House of Blues on this night, redemption may be at hand from Jack de Keyzer, a solid roots-rock guitarist whose blues run deep. Talk to the Seven Maple Blues awards. Tickets are $10 advance. BUY
Friday 15
Halfway to Hollywood – Happy, slappy, rhyme-your-heart-out pop punkery of the highest order can be heard in this Vancouver band touring with a brand new single in tow, We Are the Wild Ones. Are they now? Find out tonight at the Expressionz Café, with The Universe Machine and Fashion Police. Tickets are $8.
Bryan Finlay – There's a pleasant John Mayerian quality in the voice of this local pop Casanova, whose latest radio-friendly offering is called Bulletproof, packed with well-groomed grooves and silky hooks to fit right into the hit parade. This gig is part of New Music West at the Pawn Shop – though it sounds like this guy has already attained the goals a music conference hopes to offer – with openers: Short of Able, Eyes on Ivan, Russ Dawson and the Wayne McLellan Band. Tickets are $10 in advance. BUY
Saturday 16
Misery Signals – Fringe or no Fringe, there's always a metal show. The bony finger of fate falls upon Misery Signals on this evening, whose gritty brand of "metalcore" – which contains 50% more core than regular metal – is sure to be a hit at the Oliver Hall, with openers All Hail the Yeti, Slumlord and Oceans on Fire. SOLD OUT
Rend – This promising local pop-rock band recently won a huge chunk of change to further an already happening career. We expect to see results – a new song with a great hook, at least – when the band plays this night's New Music West showcase at the Pawn Shop. Also on the bill are other Edmonton bands worth keeping an eye on: My Sister Ocean, kickupafuss, the Gibson Block and Vera. Tickets are $10. BUY
Indian Handcrafts – Mash together metal with pure rock riffery, whacked out spoken-word-shouted vocals, wild noisy solos and eccentric production techniques and we have this promising new hard rock outfit from Ontario, touring behind its second album, Civil Disobedience for Losers. With Terrorfist and Fuquored. The Studio Music Foundation at 8 pm, $15 at the door.
Sunday 17
Tom Petty and the Heartbreakers – We had a lot of fun playing WHICH TOM PETTY SONG ARE YOU? Didn't we? More than one reader picked Won't Back Down, no surprise, along with Refugee, because someone somewhere kicked them around some, and also hopeful songs like Learning to Fly. Such potent coming-of-age anthems still hold up among past-coming-of-age fans! Steve Winwood opens the show at Rexall Place. Tickets are $66-$169. BUY
Tuesday 19
Earth, Wind and Fire – Some stone cold for-real originators of ultimate feel-good music here, ladies and gentlemen: From Chicago of 1969, these guys smashed genres and kicked open the doors for African-American pop music with such legendary songs as Shining Star, Got To Get You Into My Life and many, many other joyous anthems for a generation. It scarcely matters which original members are in the band now (there have been so many), as long as whoever's left is smart enough to have assembled a great band that does justice to their own legacy. From all reports, they have. From $70 at the Jubilee Auditorium. BUY