MUSIC PREVIEW: Beverly to party like it's 1929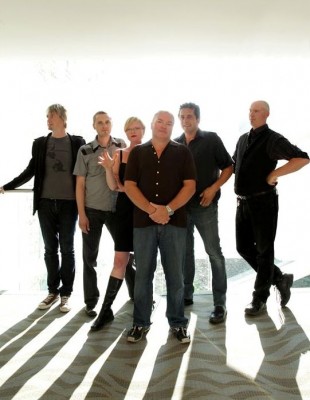 Pull up a stump, children, grandpa's got a story for you! Why, I remember back in Olde Towne Beverly on summer weekends, when after a hard week of lubricating coal seams, me and the boys would treat ourselves to a Carling Black Lung Label at the local speakeasy. The women could shop for frilly niceties on the way to get the weekly provisions of hardtack and sidemeat, while the children frolicked in the streets with sticks and hoops, and barley sugar twists only cost a haypenny! It was a gay time.
Sad to say we lost that quaint village lifestyle when Edmonton annexed Beverly back in '61, but this Saturday is a chance to remember the good old days when it was a Towne – 100 years ago this year – and Edmonton had yet to become Oil City. It was Coal City.
Starting around noon, Alberta Avenue (118 Avenue) will be blocked off at 39th Street for a parade, followed by 10 hours of live entertainment, topped by the Celtic hootenanny of Edmonton's own Captain Tractor (pictured). Also on the bandstand will be Ann Vriend, Boogie Patrol, The Lordz, Scenic Route to Alaska, The AwesomeHots and White Lighting, along with dance and other performance showcases. Admission is just one haypenny, which is to say free. Food trucks will be out in fleet. Citizens are encouraged to bring lawn chairs and coolers and make a day of it. Libations for consenting adults will be available at area beverage establishments, and thank the King that Prohibition is finally over!

Friday 22
Harvesting Hell II – We would love to tell you the names of all the bands playing this second annual festival of the most extreme of extremely heavy metal happening at the Pawn Shop Friday and Saturday, but the lettering on their logos is so frightening as to be unreadable. One seems to be The Faceless. Is that right? Can also just make out a couple of others amongst the phantasmagoric fonts: Origin and Rings of Saturn, but the dozens of the rest are a mystery. Maybe that's the idea. Should be a fun weekend if you're into metal. Duh. Tickets for the whole shebang are $35 – less than $3 per band – or $50 VIP if you want to do meet 'n' greets. BUY
Helix – This venerable Canadian hard rock band poses the philosophical question, "What do you have and what are you going to do with it?" The answer of course is "ROCK!" and "ROCK YOU!" respectively, which is the high diving act fans will pay to see when Brian Vollmer and his boys play with their hard rock contemporaries Toronto at the Century Casino – where classic rock dinosaurs come alive! Tickets are $49. BUY
Cam'ron – We're always worried when we hear word of American rappers coming to town – because, well, sometimes they have trouble getting over the border (due to their dangerous rhymes) and fans are left holding the bag. But don't worry in he case of this Harlem rapper representing the East Coast (it would be weird if he wasn't) because he's supposed to play Winnipeg Wednesday night, on his way to Encore in West Edmonton Mall on Friday. He's touring behind his latest EP, First of the Month. Tickets are $35. BUY
Saturday 23
John Michael Montgomery – Known as the "workin' man's cowboy," this Kentucky country star formerly of the duo Montgomery-Gentry has never actually worked a day as a cowboy in his life! Fact! He started as a kid in the family band and has been making a living singin' about workin' man's cowboys ever since. River Cree Casino, 8 pm, $30. BUY
Locomotive Ghost – Why haven't these guys been booked at the Edmonton folk fest yet? These Calgarians certainly have the correct mojo for the role: High and lonesome songs wafted forth via banjo, steel guitar, ukulele, expressive melodies and sensual male-female vocals. They have been called – by themselves – "indie folk for nerds and lovers." Who says you can't be both? Catch them at the Artery on this night with Sam the Living and Well Mannered Thieves in support. Tickets are $10. BUY
Sunday 24
Sister Gray – Following some healthy buzz for its 2013 recording Analog Truth, this award-winning-gutsy-female-fronted-local-hyphenated-pop-rock band has been cooped up in the studio for much of the summer recording what will be its first full-length record, planned for fall. They – and their fans – will surely be glad to air out some of that new material. Because the stage is where it lives. At the Artery, with I Am Machi. Advance tickets are $12. BUY
Monday 25
Cody Simpson – Deep in the underground laboratory of the Nickeldisneyodeon Entertainment Empire is bred a race of superhuman superstars cloned from tissue harvested from the frozen corpse of Walt Disney himself, each imbued with supertalents of acting, singing, dancing and most importantly, sex appeal, sent out on the concert trail with the latest in Auto Tuned Tracking technology for shows safe as milk, predictable as back-to-school and sure to please teenage girls wherever they may be. Fact! Sharing the stage with this Australian hunka hunka burnin love at the Jubilee Auditorium on this night will be Megan Nicole, Sabrina Carpenter, Calum Worthy and The Next Step Dancers. Tickets start at $53 and are going fast. BUY