MUSIC PREVIEW: Sonic Boom blows up real good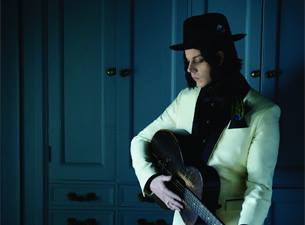 The last of the city's big music festivals takes over Edmonton this weekend, with the ever-expanding Sonic Boom spanning Friday to Sunday at Northlands.
Friday the music gets underway at 5 pm with the Mounties (you may remember them from the hit Headphones in 2013). The beloved New Pornographers, who have a new album ready to come out soon, are also on the bill, with the headliner Rise Against taking the stage at 9:30 pm.
The music starts at noon Saturday and Sunday. The Saturday main event is the Arctic Monkeys, whose track Why'd You Only Call Me When You're High? received considerable airplay last year. Their 2013 album AM not No. 3 in Canada. Also on the bill are the also beloved Tegan and Sara, as well as Foster the People, Serena Ryder, and buzz band MS MR.
The final day concludes with probably the two most anticipated acts, Death Cab For Cutie and the epic rocker Jack White (above). Other notables include the Mowgli's, an alt-rock act from Southern California. Named after a character from The Jungle Book, the band has already achieved notable success with songs such as San Francisco and The Great Divide. Last but not least, this day of the festival marks the reunion of Edmonton's own alt-rock heroes, the smalls.
Tickets are still available for the festival; full details, including set times, can be found at the festival website.

Friday 29
Mark Mills – This high energy, alt-pop artist is touring to support his sophomore album Triple Fire Sign, released this spring. The Artery, 7:30 pm, $8.
Arrival 2014 – Friday is the first night of yet another music festival, this time focusing on EDM, called Arrival, and featuring Afrojack, Martin Garrix, Deorro, Will Sparks, and Matthew Koma. The second day of the festival takes place in Calgary on Sunday, with Knife Party, Nervo, Cedric Gervais, Chris Lake, and Botnek. Shaw Conference Centre, 8 pm, $79 and up for Friday; two-day passes are also available.
Sweatshop Union – This Vancouver rapper headlines a night that also features Edmonton's own Brothers Grim, along with Kancer & Black Lung, and The Nasty Boys. Studio Music Foundation, 9 pm, $25.
Saturday 30
Protest the Hero – This Ontario prog metal quartet have four full-lengths to their credit, including last year's Volition, which spawned the singles Clarity and Drumhead Trial. Oft-featured in video games, the band changed drummers late last year after the release of the album. Bomb Squad Rookie also performs. Pawnshop, 8 pm, SOLD OUT.
Sunday 31
Powder Blue – Another epic night of music at Wunderbar happens with this Saskatoon act, who blend psychedelia, shoegaze, rock and grunge into a palpable wall of sound. Also on the bill are a trio of Calgary bands – Teledrome, Feel Alright, and Dri Hiev – as well as Rhythm Of Cruelty, Post Namers, and No Aloha. 6 pm, $10.
Katy Perry – What more can be said about this artist that hasn't already been? She has three multi-platinum albums (including last year's Prism), the last two of which reached No. 1 in Canada; and a slew of hits, starting with 2008's I Kissed a Girl, through 2013's Roar and Dark Horse featuring Juicy J; and more nods from every music awards ceremony possible than one could imagine. 7 pm both nights, $29.50 and up, limited seats remain for both Sunday and Monday shows.
McDades and the Edmonton Symphony Orchestra – These shows are always special, with the songs of the fronting band (in this case, The Celtic-roots act McDades) elevated to new heights with a full orchestra pushing them skyward. With this show, add in the new light installation on the High Level Bridge featuring 60,000 bulbs, and you have an event not to be missed – plus it's free! Kinsmen Park, 8 pm.