REVIEW: The smalls go big at Sonic Boom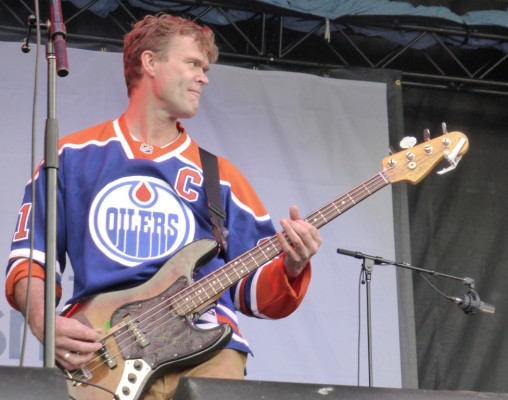 Fears that the smalls were going to be out of place – and out of their league – for their reunion show at Sonic Boom 2014 were banished soon enough. Greatness shines through.
Performing a suppertime set at Northlands on Sunday, the smalls are different, no doubt about it. Next to a weekend sparkling with the slickest, shiniest examples of the alternative rock genre, the hometown boys looked and sounded grizzled. They are not slick. They don't have hits on the radio. They don't have keyboards or fiddles or ukuleles or use layers of psychedelic backing tracks. Their speed metal stylings stuck out like a sore thumb. This music was rough around the edges, and sometimes in the middle, too. Remember, these guys were happening when "alternative" was a buzzword the first time around, since turned into "modern rock," now back to alternative again. Just in the nick of time.
While the crush of fans wasn't nearly as large as it would be for the day's closer Jack White, smalls fans made themselves heard, chanting, shrieking along, moshing into a frenzy – and ow, my back! Well, maybe not quite to the level seen in the band's heyday. Remember most of the fans are 13 years older, too.
The music still holds up. It was weird then, and it's weird now. That's the thing about weird. Weird is timeless.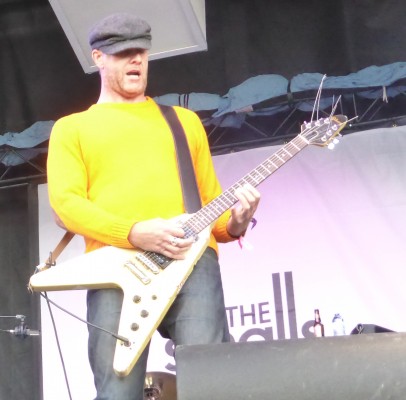 After taking some time to warm up, the band hit the peak of its unconventional charm in songs like My Saddlehorse Has Died, heralding in an entirely new form of music not heard before or since the smalls showed up: Spaghetti Western metal. The latest episode of When Genres Collide continued as the band ripped through material from its four albums, loaded with excellent examples of weird. Bassist Corby Lund – better known as an alt-country guy without the 'y' – and drummer Terry Johnson unloaded some ripping funk grooves. Later came bluesy mojo – at least it had the bones of the blues when you stripped away the typical tempo-shifting speed metal dynamics. Other tunes sounded like metal-plated folk songs. Dug Bevans, meanwhile (right), shredded admirably on his Flying "V" guitar. That's the thing about speed metal. For all the din, this stuff is incredibly difficult to play.
Singer Mike Caldwell is the secret weapon here. This guy is so laid-back that he truly is the Steven Wright of metal singers. The opposite of the usual vocal style in bands like this – in that he can actually sing – he was the calm eye of the storm, holding his wailing powers in reserve until their impact was needed. Other singers might let loose the whole time, but not Caldwell. While in places he was pitchy to the point it wasn't clear what key the song was in, this band also flirts with noise and atonality, so maybe we can give them the benefit of a happy accident.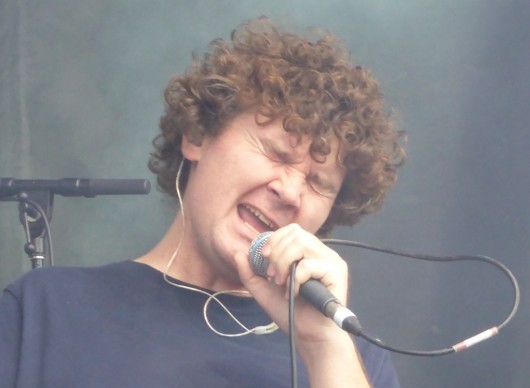 Fans gave the love, and Caldwell gave it right back, in his laconic way, "You guys have inspired us so many times, and so many times in the past" and noting, "I see a lot of familiar faces here, and a lot of new ones, too." There was some debate about whether true smalls fans would've shelled out to see their favourite fish-out-of-water at Sonic Boom or were savvy enough to know that this gig (and the one Aug. 30 in Calgary) wasn't the end of this reunion. The band was finally allowed to announce they're returning for a Canadian tour in November, including a gig at the Starlite Room. By then, fans can be sure, most of the dust will have been blown off one of Edmonton's favourite underground rock bands.
And then what? Will they be a real band again, write a new song or two, keep going? Who knows? When the smalls did the "Goodbye Forever Tour" in 2001, they never imagined a forever after.