Maroon 5 returns to Rexall in early 2015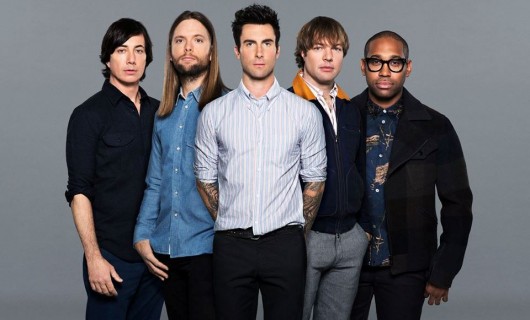 Recent news of the Maroon 5 world tour was met with great rejoicing amongst enthusiasts of finely-crafted pop music – because as anyone with an ear for music knows, for every 10 one-hit flavours of the radio this week, there is only one Maroon 5.
Tickets go ON SALE Saturday, Sept. 13 for the band's return to Rexall Place on Thursday, March 26, 2015, touring the world behind their latest album, entitled "V." They have a lot of depth in the old backfield, too, with such toppers of the hit parade as Moves Like Jagger, Payphone and One More Night, and in fact are well on their way to becoming one of those acts where people say, "So this is the band that did THAT SONG!" Maroon 5 is lucky enough to be led by a stone cold blue-eyed soulman of the Daryl Halliest order, one Adam Levine. The Sexiest Male Singer in the Galaxy's distinctively high voice and predilection for the R&B mojo of yore have held him in good stead over the years.
Maroon worked hard to get where they are. They used to be a band called Kara's Flowers, dating way back to 1994, released one album that didn't go anywhere, broke up, reformed with the new name and we know the rest.
Levine has accrued further fame, for himself and his band, as one of the hosts for the reality show The Voice, which is superior to American Idol in almost every way, particularly because the onus is on the judges to groom their protégés to perfection. No surprise, fans will see some of that Voice action at the Maroon 5 concert with opening act Rozzi Crane, a contestant since signed to Levine's own record label. Cycle of life and all that.
Also on the bill is the band called Magic! Exclamation point their own.