MUSIC PREVIEW: Death by Robot a good way to go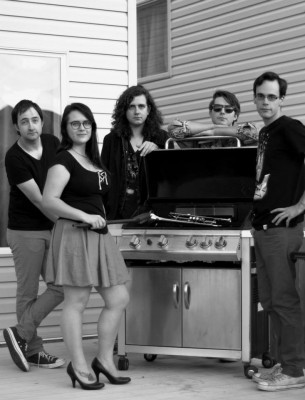 This weekend has its usual share of album release parties, but one of the most anticipated of the year may be Death By Robot at the Pawn Shop on Friday. One of the bands to watch on the local music scene for the last year or so – and confirmed by their selection as last November's Sonic Band Of the Month – they're definitely worth checking out, even more so now that they have a full-length album at the ready. Limbic System is the indie rockers' debut full-length, but undoubtedly won't be their last.
Whereas their first release in 2010 was a little disjointed, combining songs written long ago with newer material, this album is more poignant, with real-life experiences coming to the forefront. The instrumentation is also a lot fuller, including a brass section, keyboards, and organs. This band really incorporates the best of everything the Edmonton music scene has to offer, combining a distinct indie rock feel with a folk vibe, with the odd electronic insurgence.
And if that's not enough of a motivation, three more of the city's rock standouts – Hearsay, Rend, and Gibson Block – will also perform on this night. BUY TICKETS.
Thursday 4
Pretty Taken – This local indie-folk act, featuring Jodi Tychkowsky and Nicholas Popowich, is hosting a release party for their debut album, There's An Echo Now. Also performing are Nathan and Cadence, Erin Ottosen, and Private In Public. The Artery, 7 pm, $10.
Friday 5
Honeymoon Suite – This weekend's gig choices some of the most classic of classic rock, featuring this band founded back in 1981 in Niagara Falls. Their name, in fact, is an homage to the city. The band has released a total of seven albums, though their biggest hits – including New Girl Now, Feel It Again, and Love Changes Everything, came off their first trio of releases, all in the 1980's. Century Casino, 7 pm, $41.95.
Mieke Maligne – This local singer-songwriter plots out a course that gently weaves between soul, rock, pop, jazz, and folk. This show marks the release of her newest album, Mosaic, a follow-up to Just the Sun, which won the Edmonton Music Award for Jazz Album Of the Year in 2012. Young & Sincere is also on the bill. The Artery, 7:30 pm, $8.
Wicked Grin – This gritty Ottawa blues band has been performing since 2003, and released their most recent album Shame On Me last December. Big Al's House Of Blues, Friday and Saturday, 9 pm, $10.

Saturday 6
Eddie Money – The other classic rock act is this New Yorker, best known for his 80s hits including Take Me Home Tonight, Think I'm In Love, and I Wanna Go Back. River Cree Resort, show at 8pm, $29.50.
Hunger Hush – This Calgary indie-rock act likes to add in eclectic twists and turns into their exceptionally-written melodies. Since performing at Canadian Music Week 2013 on the strength of two EP's, the band has recorded and released their debut full-length "Regards" earlier this year, and finally bring it to Edmonton. The Patterns and Mohsin uz Zaman will also perform. Bohemia, 9 pm, $10.
Monday 8

Jann Arden – This sensational Canadian singer-songwriter, in town Monday night, is another in the long line of CanCon artists that mysteriously never caught on South of the border despite a large and devoted following at home. Some of her legendary tracks include Insensitive (her only US hit), Wonderdrug, and The Sound Of. Her most recent album, Everything Almost, released in April of this year, hit No. 2 in Canada. Jubilee Auditorium, 7:30, $49.50 and up.