The Fronts radio friendly 'by accident'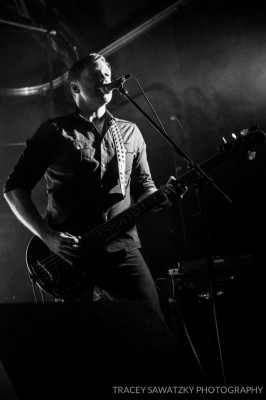 Saved from a lifetime of playing other people's music, it's a brave leap to the original for any professional musician. Professional merely means making a living at it, no day job. In most places on Earth, you can't do that without playing in a cover band. Only the very elite of original artists get to make a living, let alone get rich.
Local singer-bassist David Forster (right) played in cover bands for years before he formed The Fronts, which releases its self-titled first CD of all-original power-trio riffage this Saturday at the Starlite Room. He used to play in country bands around Edmonton. He used to play Las Vegas.
"The money was pretty decent down there," he says. "Living in the balmy desert, waking up at noon, sitting by the pool, but after a couple of years of doing that, the overwhelming sense of prostitution comes across you. You get a night off and see some other guys who are, say, north of 60, doing the same thing you are and you have this movie sequence thought in your head, fast forward to seeing yourself up there."
Enough of that noise, decided Forster and his two partners, Dominic Lacroix (guitar and vocals) and drummer Troy Hrushka. Now cover free, the Fronts are going for the gusto. As the Beatles proved, creating your own music can give artists more power than they ever dreamed of, but it's always been the hard path. It helps if your songs are good.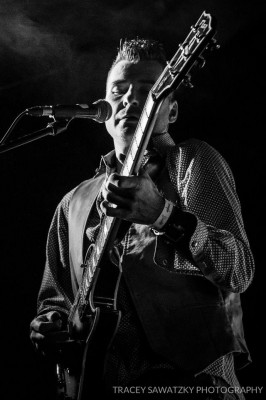 Now, "the day job fuels the dreams," Forster says. "All I have to say is that this is absolutely about fulfilling something we had all wanted to do for a very long time. Suffice to say, playing the Venetian on New Year's Eve, no one wants to hear your original music. It'll get you fired."
Original projects that develop from professional cover bands are different than those that spring fresh from garages. The former are usually experienced showmen with chops in top form. With far more live than studio experience, the Fronts claim never to use tracks during live shows. "We're quite proud of that," Forster says.
On the possible downside are all of those other people's songs stuck in your brain. Even when you write from the heart, they're bound to come out. If the Fronts sound like other bands – namely the Killers, Muse and System of a Down (due to the two-part vocals in thirds over the harmonic minor scale, for musicians keeping score at home) – they at least come by it honestly.
"If it is radio friendly, it is by accident, not by design," Forster says.
Besides, if it was contrived, their first single Awake probably wouldn't be a five minute song that takes a minute and a half to get to the chorus: A strong hook with solid vocal harmonies and the stirring shades of modern Brit-rockery. There are more like it on the record. Forster isn't adverse to the idea of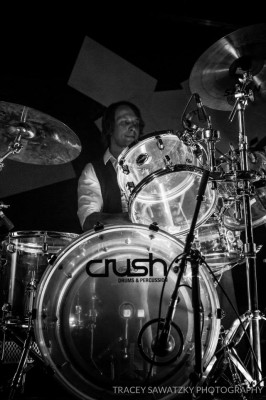 a three minute "radio edit" of Awake, even though they already made a video (below), because it could be a hit. You can hear a single. The songs just take a while to catch fire. Then again, so does Radiohead.
Forster, 41, and his partners came of age in new wave scene of the 1980s; the singer didn't discover Pink Floyd until he was 19 – and so were delighted when "modern rock" came along.
"Probably the reason modern rock as it exists today caught my ear is the heavy melodic influence," he says, "like a lot of the new wave poppy stuff we used to listen to: Strong hooks, harmonies, that's what I grew up with, and that's what I heard when Sonic and some of the alt rock started to take that twist. And if it is sounding like Killers and Muse and so on, the modern rock bands influenced by the '80s, maybe by default we are hardwired, the three of us, to a certain extent to maybe create music that sounds somewhat like that."
That's a lot of iffy words coming from one of Sonic's former Bands of the Month. It's modern rock all the way. Opening the show on Saturday will be The Unfortunates, My Sister Ocean and Thompson Highway.
(Photos by Tracey Sawatzky)