(RERUN) NAME GAME: The 2nd coming of Big Wreck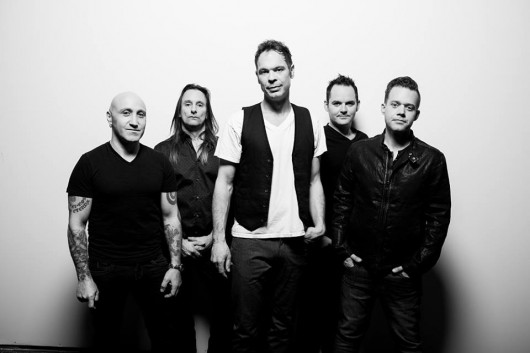 Naming a band is like branding a cow. It screams and resists the process, but once the pain goes away, only the scar remains. The poor thing hardly notices its brand at all, which loses most of its original meaning beyond conferring identity and ownership. "It's just the name of the band, man," say band guys with silly band names. No cows were available for comment.
It gets complicated when a band breaks up, and here we must leave the livestock metaphor behind.
Ian Thornley, better known as the "Big Wreck Guy," has first-hand experience with the name game. The Toronto singer-guitarist is back with his founding partner Brian Doherty for their second consecutive reunion tour playing Encore in West Edmonton Mall on Friday night (BUY TICKETS), touring behind their second album since the 2010 reunion, Ghosts.
Before that Thornley spent their eight years apart as a solo project called Thornley, under the 604 Records label owned by Chad Kroeger. It wasn't the same.
"Not to slag those guys, they know how to make a hit record, but I think it was a suit that never quite fit me," Thornley told GigCity in 2012. He also didn't think it was right to use the name Big Wreck, though the sound is similar, in part because it was Doherty who inadvertently came up with the name in the first place while the two were students at the Berkelee College of Music in Boston.
Thornley explains, "Brian and I were roommates on and off campus, constantly jamming and throwing riffs off one another and we'd always talk, 'Wouldn't it be great if we could make a band that sounded like exactly the kind of band we wanted to hear?'" Well of course it seems obvious, but it's not as easy as it sounds. As for the name, Doherty, a New Yorker, had a favourite expression when things went kerflooey: A "big wreck." According to Thornley, they'd been trying to come up with a more fitting name than "Still Waters" (the iron hadn't been in the fire yet), a rehearsal didn't go well and Doherty said, "Well, that was a big wreck." Thornley and the other guys cried, "Dude! That's the name of the band! And then we were like, should we? Can we? And it was like, yeah, why not? Big Wreck it is."
He goes on, "I think there was probably a raised eyebrow or two. It's sort of an inside joke that we were trying to get on the outside. But it just sticks to the music after a while. It's not about the name."
That's right. It's just the name of the band, man. It's about the music. Fans speak of the "Big Wreck sound." It's no accident that active rock radio (the Bear in Edmonton, particularly) was STILL playing the crap out of songs like The Oaf (My Luck Is Wasted), and That Song several years after they dominated the late 1990s. Few of Big Wreck's peers were so lucky.
These songs, and others, could best be described as "epic," dominated by the two guitarists' elegant, sophisticated riffs and the band's evolved sense of melody and harmonics (learned in Berklee, no doubt). While the Big Wreck sound is not your usual four-on-the-floor meatball rock, it can stand up to their most aggressive mainstream peers for energy. In short, it's art rock groomed for hard rock hit radio.
The success of the band's 2012 comeback album Albatross was proof Big Wreck wasn't just all about Thornley, who learned something about the "Big Wreck sound" himself. He'd missed his partner.
"A lot of it is his influence on me, as much as it is his playing, his riffs. It's the way I play when I play with him," he says. "It puts me in a certain headspace. I missed the guitar interplay. I missed the feeling of writing whatever you want, as opposed to, oh, man, we have to run this by the A&R sieve and see if it holds up. Too many big words, too many chords  – oh, this chord even has a number in it. Not going to work. I missed saying: Fuck them – we're going to do what we do."
(The quotes in this story were taken from a interview conducted in 2012)