MUSIC PREVIEW: Jimmy Edgar brings Majic to EDM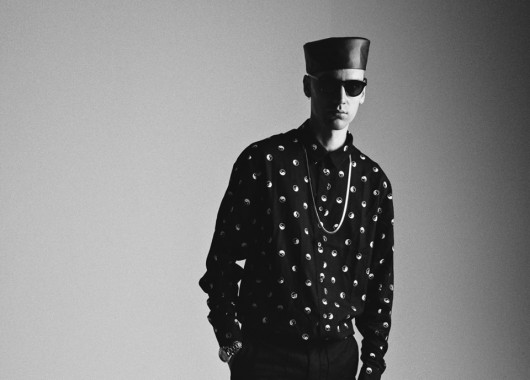 The soaring popularity of EDM (not to be confused with Edmonton, which is now YEG, OK?) is definitely having a major influence on live gigs in and around town this year. It's pointless to argue that a DJ is technically not a "live" performer because many, if not all, of the sounds fans hear from stage are pre-recorded. It doesn't matter. These shows are huge, and besides, not all so-called "DJs" are alike.
This weekend brings techno wizard Jimmy Edgar to the city, playing the Starlite Room Saturday night. The 31-year-old producer dubbed his music (so to speak) "Majic," and formed a record label called Ultramajic. Getting his start in experimental bands around hometown Detroit, with his influences of jazz, funk, and of course Motown slowly nudging his evolution towards electronic music, Edgar has released three solo albums, and has a whole host of other side projects with various musicians in different genres. He also happens to be a noted fashion photographer.
Tickets to the 9 pm show are $20. BUY THEM HERE

Thursday 25
Airbourne – This hard-rocking Australian band that sounds an awful lot like AC/DC is touring to support their third album, Black Dog Barking, released last year. Starlite Room, 8 pm, $25.
Ought – This Montreal punk act is actually comprised of three Americans and an Australian – which is apparently one winning formulation, as can be heard on the band's second album, More Than Any Other Day. With Diamond Mine and Tee-Tahs. Pawnshop, 8 pm, $10.
Switches – This local pop-punk act has been flying high this year, despite changing out their bassist. They are quickly becoming one of the most talked about bands in and around Edmonton, and the release of their full-length debut is imminent. With Coast Guard and Versions. Wunderbar, 9 pm, $10.
Friday 26
Beach House – "Dream pop" is another buzz genre lately, epitomized by this Baltimore act which includes Alex Sally and French-born Victoria Legrand. They're in the midst of their Northern Exposure Tour, supporting their entire catalog from their first album in 2006, through their fourth, Bloom, which was released in 2012 on the legendary Sub Pop label. With Steve Strohmeier and Skye Skjelset. Starlite Room, 8 pm, SOLD OUT.
Saturday 27
Dropkick Murphys – This American Celtic-rock band probably needs no introduction in these parts; the band is always well-received in Edmonton, thanks in part to a chaotic live show and a rich catalog that spans eight albums. With Blood Or Whiskey. Shaw Conference Centre, 7 pm, $32.
Kalle Mattson – This Ottawa folk-rocker spent much of 2012 and 2013 recording his newest album, Someday the Moon Will Be Gold, with The Wooden Sky's Gavin Gardiner. His band appears on the album, as does Cuff the Duke. The album deftly moves between solemn journeys and summer fun, all with Mattson's renowned emotional attachment. Artery, 8 pm, $10.
Sunday 28
Godsmack – Sully Erna took the role as frontman in this alternative metal act founded in 1995, after drumming for 23 years, in a move akin to the legendary Dave Grohl of Nirvana. With six full-length albums to their credit, including three of the last four peaking at No. 1 south of the border, the band has also had their fair share of Grammy nominations – no wins yet, though. North of the border, they've also done quite well, with their most popular tracks being Whiskey Hangover and Cryin' Like a Bitch. With Seether and Pop Evil. Shaw Conference Centre, 6 pm, $45.
Every Time I Die – Often associated with the metalcore genre, this Buffalo act combines southern rock influences with mathcore (a more complicated form of metalcore), hardcore metal and other sort of cores to arrive at a sound that has captivated a legion of loyal and devoted fans, including many here in Edmonton. The band released their newest full-length, From Parts Unknown, on July 1st. Happy Canada Day. With Counterparts and Expire. Starlite Room, 7 pm, $25.