Who needs Hollywood? Mark Meer on game fame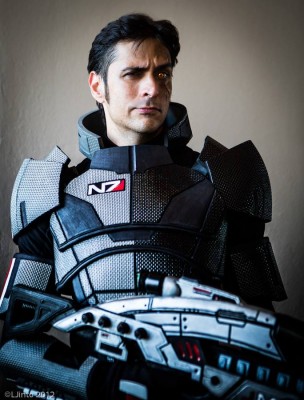 In his wildest geek dreams, Edmonton actor Mark Meer never imagined he'd grow up to be a video game action hero.
"I'm pretty pleased things worked out," he says.
The voice of Commander Shepard from the Mass Effect video game series is one of stars at the Edmonton Comic and Entertainment Expo in the Edmonton Expo building this weekend. For those who look at the celebrity guest list and think, who, who, and WHO? It's time to get up to speed: Video games are as popular, as complicated, make as much money and employ as large a workforce as a major motion picture. This again from the Department of the Painfully Obvious. It's old news to proud geeks of all ages.
Meer lucked into a gig where he gets paid to do what he'd be doing anyway – going to Comic-Cons. He still collects action figures, too.
"If I wasn't in Mass Effect, I'd probably play it. In fact I have," he says, and yes, he has played his avatar self. "How could I not play as myself, being a big nerd and having that opportunity? It's also like reviewing my work."
The downside: He already knows all the possible outcomes of the game, so it's too easy. He has more fun playing games in which he voices only minor villains, such as in Dragon Age, "And I can discover myself, 'oh, yeah, there I am,' and kill myself and move on."
Already a fixture on the Edmonton theatre scene and an improv star worldwide, Meer describes the path to video game fame in the manner of making it in Hollywood. It starts with the Edmonton-based BioWare Corp, whose 2000 game MDK2 (Mission: Deliver Kindness) featured the voices of Edmonton comedy troupes Atomic Improv and Three Dead Trolls in a Baggie. Jealous of his pals, Meer happened to know one of the casting directors and made it clear he was "very interested" in trying out for a future game. He got his break in Baldur's Gate II. He only got one line at the very end of the 40-hour game – "There is no need for concern, the fate of this fool is sealed!" (whereupon said fool vanquishes the Cleric of Baahl) – and BioWare liked it enough that Meer was in the loop for a string of roles. It helped that the Dungeons & Dragons enthusiast would know, for instance, what a lawful good kobold shaman is without needing it explained.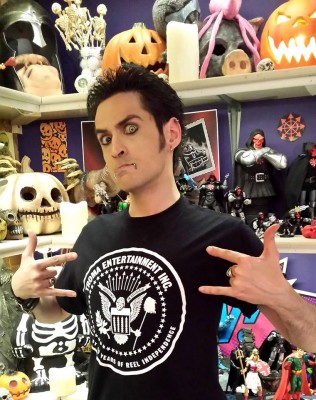 Meer had already been working on Mass Effect as a consultant on what alien voices should sound like when he was asked to try out for the main character. Through auditions and callbacks in the usual Hollywood process, it was narrowed down to him and two guys from L.A.; he never imagined he'd get the job, but he did, and the rest is video game history. His co-stars include two of the cast members from Star Trek: The Next Generation.
Game nerds everywhere would no doubt characterize this Cinderella story as "sweet," while perhaps grumbling to themselves, "How hard could it be?" Meer says a typical game of the modern standards contains more dialogue than a principal role in feature film. "It's more akin to a long-running TV series," he says. Because of the myriad of possible timelines, a given player won't hear most of the dialogue anyway.
What's next for Commander Shepard? In addition to video fame spinoffs from his Superchannel series Tiny Plastic Men – one game is called Kitten Assassin – Meer does voices in an upcoming survival simulation game set in the Canadian north. The thing even keeps track of your body temperature and calorie count.
"It's apparently very hard to survive more than a couple of days," he says. "You freeze, starve to death or get eaten by wolves."
Sure sounds like Hollywood. Except for the freezing part.