MUSIC PREVIEW: Pixies return, done Deal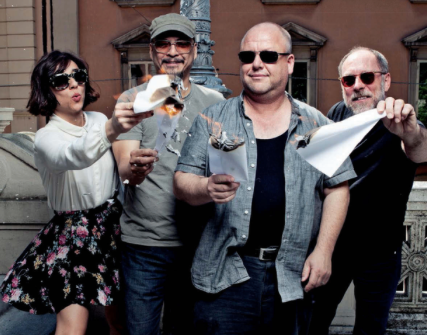 The busy fall touring season continues, with notable gigs from Winnipeg's Royal Canoe, Trust (TR/ST) and Swedish death metal act Amon Amarth on tap this weekend, revving up towards the fall's big music festival, Up + Downtown, which takes place over the Thanksgiving weekend.
Pixies are back for a show at the Shaw Conference Centre on Monday night. After releasing new material last fall, and again earlier this year (EP1, EP2, and EP3), a full-length release collecting them together was issued in April under the name Indie Cindy. It's also the first time the band will play in Edmonton without their original lineup, as bassist Kim Deal left the band just over a year ago. She has been replaced by Paz Lenchantin, one of the continent's most talented bassists, whose resume includes A Perfect Circle, and psych-rock act Entrance, where her chemistry with frontman Guy Blakeslee is a model for all guitarist-bassist combinations to follow from here on out.
Tickets to the show are $55. BUY
Thursday 2
Royal Canoe – It's always great to see these guys play a gig in our humble little city. How the hell they missed making the Polaris long list this year with their stunning album Today We're Believers will remain an inexplicable mystery for the remainder of time. With Close Talker and Doug Hoyer. Pawn Shop, 8 pm, $12.

Friday 3
David Leask – This singer-songwriter is originally from Edinburgh, Scotland, where he once won the BBC-televised National Rock School Competition, though he currently calls Mississauga home. Renowned for his songwriting depth as much as his skill on the guitar, Leask is touring to support his sensational fourth album Underneath. Expressionz Cafe, 7:30 om, $15.
Amon Amarth – This melodic death metal band from Sweden has had the same members since 1998; and three of those are from the original lineup of 1992, including lead vocalist Johan Hegg, and guitarist Olavi Mikkonen. The quintet, touring to support their ninth full-length, Deceiver of the Gods, take their name from J.R.R. Tolkien's The Lord of the Rings – the "Mountain of Fate" or more commonly, "Mount Doom." Skeletonwitch and Sabaton are also on the bill. Union Hall, 7:30 pm, SOLD OUT.
Secret Chiefs 3 – This instrumental rock act is fronted by one Trey Spuance, previously the founder of Mr. Bungle, and one-time member of Faith No More (in fact, he was a big part of their 1995 album King For a Day … Fool For a Lifetime, along with fellow Mr. Bungle member Mike Patton). Their nine recordings gallop amongst a host of influences and styles, from surf rock to world to even death metal – instrumentally. Philadelphia's Clerics open. Starlite Room, 8:30 pm, $15.
Paul Cournoyer – This local upright bass player and singer-songwriter is hosting a release party for his newest disc, an emotive jaunt through the worlds of jazz, and folk, and everything in between. La Cite Francophone, 8 pm, $15.
Saturday 4
Rend – The winners of the Edmonton Music Awards Rock Recording Of the Year continue their vigorous assault on the city's music scene. Led by Carol-Lynne Quinn, the pop-rock act with subtle metal influences has been busy touring the country, most recently doing a one-week swing through Alberta, finishing up in Westlock on Sunday night. Also performing are Victoria's synth-pop act Isobel Trigger, Whale And the Wolf, and Kickupafuss. Starlite Room, 9 pm, $12.
TR/ST – Originally formed as a duo featuring Robert Alfons and Maya Postepski, the latter officially left the duo in 2012 to focus on her other project Austra. Alfons continues on, releasing Joyland in March of this year, as the follow-up to the critically acclaimed TR/ST from 2012. Cygnets, Eddie Lunchpail, Crater and Blue Jay open. Pawnshop, 9 pm, $13.
Monday 6
Boz Scaggs – This legendary singer-songwriter from Ohio first learned guitar when he was only 12, then shortly thereafter met the equally-renowned Steve Miller and became vocalist for his band, the Marksmen. Scaggs hit the peak of his popularity in the late 1970s, with songs like It's Over, Lowdown, and Lido Shuffle from his biggest-selling album, Silk Degrees,  released in 1976 using session musicians who would eventually form Toto. Early in the 1980s he had another pair of hits, Look What You've Done To Me, and Miss Sun.  The prolific songwriter continues to record new material, with six solo albums in this millennium, including last year's Memphis, his best charting album since 1980. Jubilee Auditorium, 7:30 pm, $55 and up.