MUSIC PREVIEW: Up + Downtown = Festival Time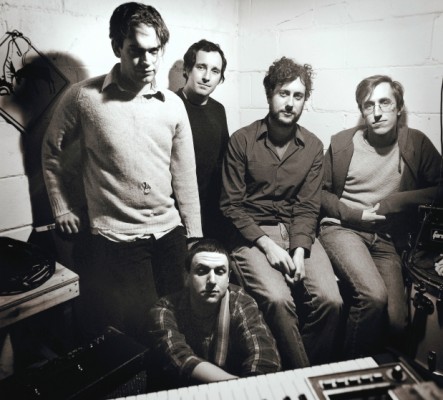 After the highly acclaimed Ryan Adams (not Bryan Adams) plays the Winspear Centre on Thursday, the biggest gigs of the weekend are part of the city's final music festival of the year, the Up + Downtown Festival which – you guessed it – includes a vast raft of venues in Edmonton's downtown area.
Arguably the biggest name appearing at the festival is The Constantines, the Guelph indie rock quartet with four albums to their name between 2004 and 2008. The band never officially disbanded, but stopped touring and recording after 2009, only to reunite this year to celebrate the eleventh anniversary of their most famous release, Shine a Light. In 2009 Pitchfork included the album as part of their top 200 hundred albums of the 2000s. The Constantines headline the festival's Saturday show at the Starlite Room; The Darcys and Ladyhawk are also on the bill.
Friday night's big name, also appearing at the Starlite Room, is Portland metal act Red Fang. Founded in 2005, and with three albums to their credit, the band is a supergroup of the Portland music scene, with each of its four members having numerous hugely popular bands on their previous resumes. The two-stage gig also features Black Mastiff, and Chron Goblin.
The final night on Sunday stretches across six venues, with notable gigs featuring Vancouver blues sensations Harpoonist And the Axe Murderer at The Artery, and The Darcys, Viking Fell, and Labradoodle at Yellowhead Brewery.
Detailed schedules, as well as wristband and ticket information, can be found at the festival's website.
Thursday 9
Ryan Adams – This highly anticipated show finds the North Carolina native touring in support of his September eponymous release, bringing his solo catalogue up to 11. The prolific singer-songwriter previously recorded three albums with alt-country act Whiskeytown from 1995 to 2001, and four albums as the frontman for another alt-country band, The Cardinals, the most recent of which was in 2010. Adams' is beloved by fans of many genres, from singer-songwriter of course, to country, to alternative, to rock, and into and through folk. And if that wasn't enough to prove his musical abilities and prominence, Adams is also an acclaimed producer, having worked with Jenny Lewis, Fall Out Boy, and Willie Nelson, among others. Butch Walker opens. Winspear Centre, SOLD OUT.
Wil – This Vancouver-based singer-songwriter just released his fifth studio album, a collection of new songs and older tracks the artist has been working on for a while now. Included amongst those is one most everyone in this province will be intimately familiar with, Roam, from Travel Alberta's Remember To Breathe advertisements. The Artery, 8 pm, $20.
Bombay Bicycle Club – These London rockers continue to captivate audiences on both sides of the ocean with their many-influenced indie sound. With Milo Greene and Luxley. Starlite Room, 7 pm, $28.50.
Friday 10
Eluveitie – This Swedish act are current kings of the burgeoning genre known as folk-metal. Yes, folk-metal. To name it is to know it. It often includes more folk-oriented instruments, for example, with Eluveitie, Nicole Ansperger on violin, and Patrick Kistler on bagpipes. Frontman Chrigel Glanzmann created Eluveitie to fuse ancient folk melodies with "Gothenburg styled melodic death metal". Intrigued yet? You should be. TYR and Metsatoll, two other bands in the genre, open. Which makes sense, because you probably wouldn't want either a pure folk or pure metal band to open for an event like this. Union Hall, 7 pm, $25.
Gob – This Canadian punk band was formed back in 1993 by Tom Thacker. He and Theo Goutzinakis are the only remaining original members of the act, who have released eight full-length albums during their span, the most famous of which is 2001's The World According To Gob. Pawnshop, 8pm, $20.
Saturday 11
Gay Nineties – This Vancouver indie rock act has been all over modern rock radio this year with their hit single Letterman. A full-length release is due out extremely soon. It's overdue, actually. Mercury Room, 8 pm, $10.