MUSIC PREVIEW: Once a college band, always a college band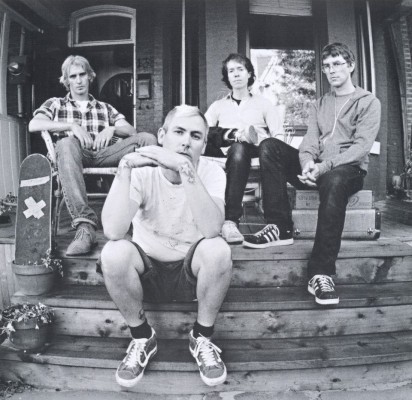 Sloan has to be one of the strangest yet most wonderful rock bands in Canada.
From early campus success, "back in the day," they've been compared to the Beatles for their sultry popcraft – epitomized by such masterpieces of heartbreak as The Other Man – and the fact there are four of them, each basically allowed to do his own thing on the same records. And they've lasted longer than the Beatles with no member changes. All this despite it being a matter of record that these four guys frequently grapple over creative issues, sometimes to a level where fans fear the whole thing will go kerflooey. Yet it never does. Sloan is a true band of brothers, going strong for more than 20 years. Man, what is with that 20-year rock 'n' roll itch? Yes, it has been that long, o' legions of aging Generation Xers. Nostalgia is nigh!
Touring behind the new album Commonwealth, Sloan plays Thursday, Oct. 16 at the Dinwoodie Lounge at the U of A campus. Advance tickets are $17, $12 for students. Once a college band, always a college band. BUY TICKETS

Friday 17
Platinum Blonde – "Are you sitting comfortably? Then we'll begin." With those words was launched a purely Canadian strain of poodle-haired spandex rock confection that dominated pop music in the most mid of the mid-'80s. Crying Over You was a No. 1 hit in 1985, and has been serving the band well ever since, give or take a bump in the long road here and there. Century Casino, 8 pm. Tickets are $70. BUY
The Provincial Archive – Has the "Sloan of Edmonton" been used yet? It fits, more or less, with this eclectic local quartet whose music is far more exciting than its name, and lately been spoiling its fans by eschewing bars for acoustically superior "soft-seaters" – as on this night at the Provincial Museum Auditorium. Oops, make that the Royal Alberta Museum. Say, if this band meets the Queen, do they have to change their name to the Royal Alberta Archive? Just wondering. Their new album is called It's All Shaken Wonder. Tickets are $15 advance. BUY
Brother Octopus – Yet another awesome new band to emerge from The Idea City (trying out a new Edmonton slogan; what do you think?), this duo consists of the namesake and partner "Lady Friend," who spin a brisk, new wave throwback sound spiced up by sensual lyrics and real instruments to warm up the catchy electronic rhythms. Works like a charm. And that's just one the one song, September, from the new album Sea of Champions, released on this night at the brand new Mercury Room. Co-bill with the equally worthy Edmonton indie folk band Locomotive Ghost, which also has new material. Two mints in one! All this for $8 advance, a steal. BUY
Saturday 18
Dierks Bentley – Important disclaimer: In light of recent hysterical overreaction from airline personnel to annoying or stupid passengers, it is probably not a good idea to get too "Drunk on a Plane" – as in the title of this bro-countryman's hit song. It's just a fun song. There's piles more where that came from when the Arizona singer plays Rexall Place, with opening acts Tim Hicks and Randy Houser. Tickets are $85. BUY
Laura Nyro Tribute – If you have to ask, "Who the hell is Laura Nyro?" you only have know that she WROTE the song When I Die for Blood, Sweat and Tears – and so has ascended to the rare pantheon of artists whose art became far more famous than its creators. Before dying of ovarian cancer in 1997, Nyro wrote songs for a staggering number of artists from the 1960s and '70s, and earned critical acclaim for her own records. Performing what has to be the dream set list is an all-star local band including singers Colleen Brown and Alfie Zappacosta, with area jazz cats in support. Tickets to the 7:30 pm show at Festival Place in Sherwood Park are $38 or $34. BUY
The Unfortunates – This local band sort of sounds like a British band – U2, Radiohead, etc, not that there's anything wrong with that because British rock is superior to the North American variety in almost every way. Fact! Playing the Pawnshop on this night, this band recently released a music video for Brick By Brick with an anti-bullying theme. With two happening openers: I Am Machi and Death By Robot, tickets are $10 in advance. BUY
Monday 20
The Rural Alberta Advantage – Falling into the ever widening hole that is "indie folk," this stirring example of the genre is neither from Alberta nor are they rural. Advantage? They're from Toronto, whose best travellin' indie folk bands always seem to generate a big wind of excitement out West. Their logo is also a take on the Alberta coat of arms – just what Jr. Gone Wild got in trouble for there a while back. READ ABOUT IT HERE. The Not-Rural Not-Alberta Advantage is coming again in support of their new album, Mended With Gold. Dudes, if you love Alberta so much, just move here. Both of the 6 pm and 10 pm shows at the Starlite Room are SOLD OUT.
Tuesday 21
Bahamas – Is it just us or are there a lot of indie acts named for places that have nothing to do with the band? Whatever. The tropical vacation destination is the stage name of one Afie Jurvanen, an Ontario singer-songwriter-producer whose sensitive and quirky songcraft has taken him a long way – to being one of our favourite visiting indie artists, for one thing, and all the way to the new album whose title rips off the mask: Bahamas Is Afie. Aha! We knew it all along. McDougall United Church, SOLD OUT