Wundi and the Track: It's not the bar, it's the booker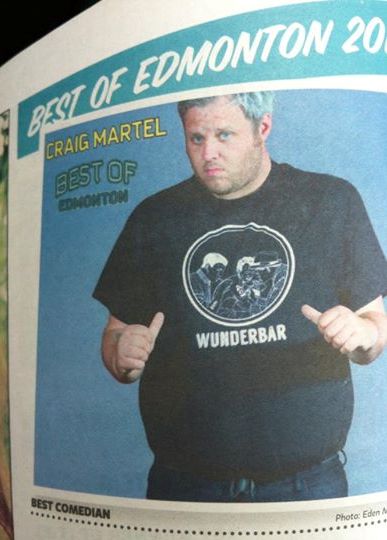 With the love Edmonton music people have for Wunderbar – officially known as Wunderbar Hofbrauhaus, or "Wundi" to regulars – it's easy to compare it to the Sidetrack Café. If you're old enough.
Ah, good times. So sad. Old-timers rue the day the beloved 'Track was bulldozed for condos. Others – Wundi regulars, for instance – might not care, or remember. Music venues come and go like bubbles under badly-hung wallpaper, but even so, these two rooms were special. They were fertile incubators of original music that helped shape the Edmonton scene we know today.
Note the alarming use of the past tense. Imagine you're reading this in the future, reminiscing about how cool Wunderbar used to be before it was torn down to build a third arena, and unaware of an entirely new cool club whose young patrons blithely embrace as the one and only happening gig in town. It's the cycle of life.
Wundi owner Craig Martellica (right) has caused quite a fret with his decision to sell his little indie rock room off Whyte Avenue. A hole-in-the-wall that literally has a hole in the wall, the 84-capacity bar has hosted countless happening bands since it went full time five years ago, responsible in no small way for the development of indie music in Edmonton, and elsewhere. Mac DeMarco, for instance, might not be where he is today if he didn't have gigs at Wundi to hone his act.
While there are hopes new owners will continue the legacy, and Martellica says he's being very selective with offers, people are still bummed out. Because it's not the building that's important, it's the person running it. Think of Hilly Kristal and CBGB's, the famous New York dive bar with the famously untidy bathrooms (just like Wundi) that played such a large part in the new wave and punk scene of the 1980s. A music scene is built not by bars, but by talent buyers who are "passionate, honest guys who love music and put it first," in the words of late, great Kirby, queen of the Edmonton music scene.
Of course, valuing music over money runs contrary to every sensible business practice. That's why these people are so rare.
Martellica, who wasn't in Edmonton to see the last days of the Sidetrack but heard all about it to build the legend in his mind, sums up Wundi's music booking policy very simply: "To allow a band to play here I really have to believe in what they're doing."
We've heard that before – once, at least.
To understand the Wunderbar-Sidetrack connection, you have to go back at least 30 years, before the Track was expanded to a 450-seat cabaret and restaurant that did booming business in the 1990s and 2000s under the command of professional restaurateur Clare Anderson. In 1981, the Sidetrack Cafe opened under more humble conditions, in a refurbished railway building in the middle of what-was-then nowhere. It held 125 people and did lunch. Like Wundi, the place was dead without live music.
Hotel taverns with cover bands was the status quo of Edmonton's music scene at the time. A free-standing venue that offered live, original music – and more importantly was licensed, thanks to a relaxation in liquor laws – was something new, something exciting. From the very first shows with acts like David Wilcox and jazz singer Salome Bey, the 'Track was the place to be – and be seen.
"We had line-ups every night," says Geoff Lambert, the booker in those early days, responsible for bringing in an astounding array of roots music legends along with up-and-comers, including a young k.d. lang in 1983. Now an ETS bus driver, Lambert wasn't the owner; that was Doug Foote – son of Edmonton philanthropist Eldon Foote and famously screwed in his dad's will. Sad story. Doug had Lambert doing everything from running sound, to fetching brown M&Ms and guitar strings for musicians, to tending the corn field. Yes, there used to be a corn field outside.
Come to Edmonton from London, Ontario, with $100 in his pocket, Lambert got his first job as a doorman at the Riv Rock Room. He knew nothing about the music business when he signed on at the Sidetrack. He learned as he went, but was smart enough to seek the advice of area music mavens such as CKUA's Peter North and Edmonton Journal arts columnist Alan Kellogg. A lot of bands played the Track on their recommendations.
"Geoff was very broad-minded," remembers Holger Petersen of Edmonton's Stony Plain Records. "He was so supportive of so many genres of music, and I think he did a fantastic job back then. The buzzword these days seems to be 'curating.' This is nothing new. Geoff Lambert was doing that many years ago. I remember him taking chances on people like Colin Linden and Prairie Oyster on their very first tours."
Though it didn't strike Lambert at the time because he was so busy working his ass off keep the club alive – for the princely sum of $300 a week – he never dreamed he'd wind up being associated with one of Edmonton's most famous music venues, let alone being one of the guys who made it possible.
Neither did Martellica, who has a keen ear for music and that remarkable Maritime work ethic (he goes under the name Craig Martell for his stand-up comedy career). Like Lambert did, he works 12-hour days doing almost all the jobs a music venue can have – but he didn't know anything about the music business, either. Martellica always wanted to be a bartender, couldn't get a gig in his hometown Halifax and so like many kinfolk wound up in Edmonton to make "mad money." That's us: Mad Money City. On a whim, he and two bartending partners bought Wunderbar for a song five years ago.
They had no idea how to run a nightclub, either.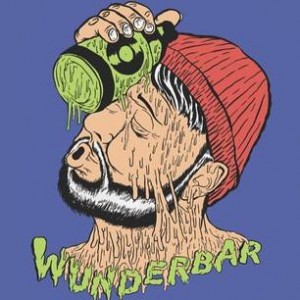 "We'd work on the beer list and the menu, and cool art, but didn't talk about money or anything like that," says Martellica, who was also smart enough to rely on local experts, like punk scene impresario Cameron Noyes, another one of these rare people who values art above cash. After Wunderbar started running live entertainment seven nights as week, it became a happening destination with a reputation to uphold. Customers expected – and received – the best possible live bands Martellica could deliver, based almost entirely on his personal tastes. Business be damned.
Is this any way to run a railroad?
While musical styles may differ – Wundi for indie rock, the Sidetrack for roots music – the one thing Lambert, Martellica, and a few rare other scene builders have in common is the dedication to live music.
"I booked the bands I liked," Lambert recalls. "We never went on how much liquor they sold or anything like that. That didn't really matter to me, what they did in other clubs. It was about the music. In hindsight, it was a pretty neat time and space to be involved with the Sidetrack. A place like that tended to promote a lot of original talent. When you're booking the best in original talent, you're going to bring out the best in people."
This sort of thing never lasts long. New things come. Trends die away. Music fans move on, grow up, stop going out. The dedicated music bookers get tired of being broke all the time. They get tired.
"It's too much," says Martellica on the burden of ownership. "I am exhausted. I realized a couple of things. No. 1, I don't make any money, and that's OK. Sort of. I'm not a big money driven guy. I knew from the get-go that having a live music venue wasn't going to make a ton of money. It can, but I knew it was a tough way."
There is hope that a new owner will retain Martellica as the hired talent buyer, but in the cutthroat world of the Whyte Avenue hospitality industry, one wonders if he'd have the same power. Properly curating a music scene amounts to a series of risky, careful decisions, few having any immediate impact on the bottom line.
As for Lambert, oh, what stories he can tell! Like the time he was sent to buy weed for members of Joe Ely's band (the bandleader himself never partook, though the Texas troubadour did hear about the Sidetrack Café from his pal Willie Nelson; no one seems to know how Willie heard about it). Or the time Stevie Ray Vaughan decided to pop by and jam with Gaye DeLorme, and Lambert kept the bar open until 5 a.m. "That was a sweet night," he says. Or that he single-handedly (after consulting with another local expert) built acoustic panelling that gave the Sidetrack its reputation for such great sound, while saving Doug Foote about 60 grand in the process.
"We lost money every year because of the entertainment costs," Lambert admits, guessing that Eldon Foote would chip in to help from time to time otherwise they would've gone under. "We tried to lower the cost, but as a result the crowd wouldn't come in. When we had good quality talent and charged a good cover charge, we made good money. But we couldn't do it all the time. Midweek was tough. And it was real hit and miss thing when you only hold 125 people."
Expansion alleviated that problem, but Lambert's 11-some years of Sidetrack employment came to an ignominious end over an argument about a novelty basketball game owners installed. The thing annoyed the hell out of Lambert while he tried to run sound for the bands. One night, too drunk and ornery, he urinated into the game, in full view of the customers. That's a firing offense. He was also barred for a year.
Lambert laughs about it now, "I felt good about it. I was making a point about that basketball game."
Underappreciated and under-rewarded, yet not too terribly bitter, Lambert left for other pursuits. Years later, Anderson himself finally got fed up and left – or was fired – over a matter of money. There came a string of other bookers, including Kirby, who, before she died on Sept. 30 of this year, said bluntly, "The Sidetrack was done for when Doug Foote canned Clare Anderson." The place was sold to developers, moved to a new location in 2006, and closed for good the following year, 26 years to the day from when it opened.
FUN FACT: According to Lambert, when the foundation of the original building was ripped out for condo construction, they found gigantic derelict diesel tanks underneath that nobody knew about. Apparently the building used to be a CP Rail filling station.
In other words, we'd been rocking out on top of a bomb the entire time.