SHEER POETRY: Story slam man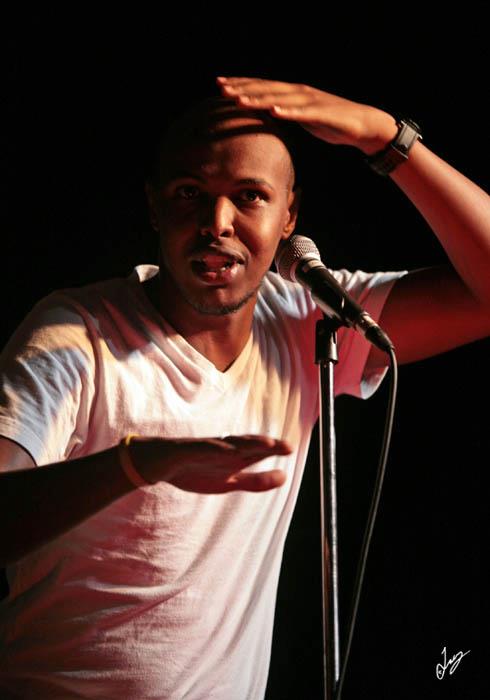 The rise in popularity of poetry over the last decade has been spurred on by the idea that storytelling can be a competitive sport – and Edmonton has been up to the challenge.
One such "Story Slam" is taking place Thursday, Oct. 22 at the Artery, part of LitFest, Edmonton's non-fiction festival – yet another chance for competitors to sharpen their wits on a live stage. There are a lot more if you know where to look. Spoken word and slam "competitions" are blazing a path far beyond the ancient traditions of community storytelling.
"There's a lot of people who have stories, but not everyone is a storyteller. Poets become a median for that," says local Somali-Canadian writer Ahmed "Knowmadic" Ali (right), founding member of Breath In Poetry, a collective that was founded in 2009 and began holding an open mic night that started doubling as an arena for slam competitions. Slams were then held at the Edmonton Poetry Festival in April every year with finals deciding who will form a national "slam team" to represent Edmonton. Ali won the national title as part of the 2011 team, and now supports emerging slam poets as he hosts Breath in Poetry's weekly events. As Ali explains, slam poetry does a lot for how we're beginning to re-imagine poetic storytelling.
"The hardest thing is explaining to people what I do. School has already told us what poetry is, so getting people to unlearn what they already think they know is hard – but spoken word is comedy, it's drama, it's storytelling," Ali says.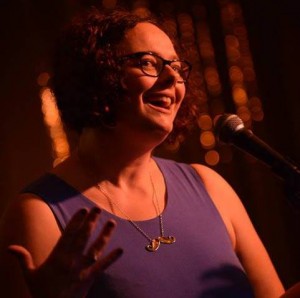 Other collectives in Edmonton have also been trying to reinvent poetry over the years, too, including the Stroll of Poets, which novelist-co-founder Thomas Trofimuk describes as a "poetic bar hop." The author of the internationally-selling Waiting for Columbus, Trofimuk says that poetry is "meant to be oral – it's meant to communicate." He left Stroll of Poets in 1999 to try starting a more experimental new collective called The Raving Poets – with a band that played behind performances in the basement of Yianni's Taverna on Whyte Avenue. Trofimuk played the electric keyboard, and according to him, Raving Poets started gaining attention, packing houses, and spurring on new poets, including a new comer named Mary Pinkoski (right) – who was named Edmonton's 2013 Poet Laureate. She now teaches her craft to emerging slam poets through a group she started, YOURS: Edmonton Youth's Open Mic Series.
"I tell stories that are important to me and people listen, then tell me their own," Pinkoski says. "It builds community. Once you know other peoples stories it's hard to turn away. Spoken word is attractive and young writers and storytellers because it's not restricted to a page or any particular form. You can do almost anything you want because if you can write it and perform it you can call it spoken word."
Thursday's event at LitFest is an example of a newer form of storytelling that's gaining popularity – fiction-based prose slam. The Edmonton Story Slam started in 2008, offering competitors a stage with more structure to share their work. Eschewing the "open mic" improvisational approach, they're looking for storytellers to share well-made stories. Says board member Allison Hagen, "This month we're once again partnering with LitFest. We've offered our writers a chance to come back with a non-fiction story to slam."
Edmonton's Poetics from Iconochasm Media on Vimeo.