MUSIC PREVIEW: The B's of Brainy Beats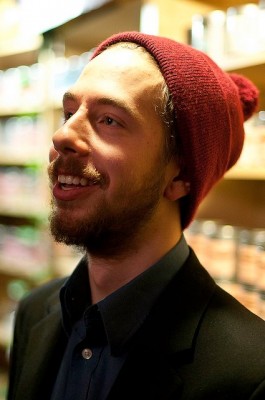 The reason there are so many weird rappers in Edmonton is because Edmonton has no rap scene!
Just kidding. There are a number of gifted hip hop artists working in town, if not exactly making a living at it. The scene is so small and isolated that people elsewhere would laugh at the prospect we're going to produce the next Jay-Z or something. As if.
The result? Perfect freedom!
For another example of authentic Edmontonian eccentricity, look to one Benjamin Fitzgerald, frontman of the eponymous group "Big Ben," whose new recording Mt. Fuz attains the status of being really cool while making no sense whatsoever. In short, the next Beck. The first line of the song: "Riddle me this: Three dead dogs in a ditch, calico cats in a jet black belt buckle" and then something about dying on "Mount Fuzz" while under the influence of a "slight buzz." Definitely on par with "my time is a piece of wax falling on a termite who's choking on the splinters."
You could also compare Ben to another "B" of brainy beats, Buck 65 – in short more like a "spoken word artist" than a straight rapper. You can get away with a lot when you're a spoken word artist, even cool poetry that makes no sense.
Big Ben performs Friday night at the Artery, with openers Spencer Vaughn, Trevor McNeely and Koschmyoozik. Advance tickets are a mere $8. BUY
Thursday 23
The Wet Secrets – They sound new wave, dress like a marching band, write sinister catchy pop songs and have the most awesome music videos ever – thanks to drummer Trevor Anderson, who happens to be an award-winning filmmaker. He even cast Canadian comedy legend Joe Flaherty – as Count Floyd – in a music video for the song Nightlife, about how one gets tired of going out all the time in the manner of vampires weary of immortality. Aren't we all! Band on at 8 pm for this fancy soiree at Latitude 53, with an art show and silent auction to benefit Chimo Arts & Music Programs & Studios (CH.A.M.P.S.), an initiative to help empower disadvantaged youth through music and art. Admission by donation.
Craig Cardiff – Continuing the charitable theme on a busy Thursday night, the "Ice Bucket Challenge" may be so 2014, but the ALS cause continues. Headlining the Mercury Room is this brilliant Canadian folk troubadour who sounds like a cross between John Mayer and Gordon Lightfoot, from the wilds of Ontario (Waterloo, close enough), on tour with music from his 2013 release, Love Is Louder (Than All This Noise) Part 1 & 2. Tickets are $25, BUY
Friday 24
Supersuckers – When a band proclaims itself the "Greatest Rock 'n' Roll Band in the World," includes a guy named Eddie Spaghetti, and writes songs like Rock 'n' Roll Records Ain't Sellin' This Year, you have to wonder if maybe, just possibly, tiny chance, they are being ironic. It's not like anyone's going to run out and check. Fans will be too busy ROCKIN' to this beloved Arizona band that likes to play fast and pretend to be dumb, touring behind a new album called Get the Hell. Pawnshop Live at 8 pm, with Dolly Rotten and Penetrator in support, advance tickets $18, BUY
The Man In Black Show – Walking the line – straight into the burning ring of fire! – between tribute and homage, Missouri's Shawn Barker presents an uncanny if somewhat hammy portrayal of the late, great Johnny Cash and his remarkable catalogue of classic country songs. Royal Alberta Museum Theatre at 7 pm, tickets are $40, BUY
Brothers Grim – Letter B – the Letter of the Day. Here's some more brainy B-rap from an Edmonton Music Award-winning duo, who are in fact brothers if not especially grim in real life. They release their new recording – they call it a "mixtape" – MFTW with a show at the mighty Mercury Room. Does the title mean "Mexico for the Win" or "May the Force be With You"? The shadow knows. Doors open at 9 pm, with openers Doom Squad, Blackson Gutta and The Nasty Boys. Admission is free. FREE!
Saturday 25
Boy and Bear – Part of our long and fruitful cultural exchange between Canada and Australia, sharing both buskers and bands, this Sydney duo (not sure which one is Boy and which is Bear) has cut a beauty tuneful swath through the indie folk-rock landscape on at least two, maybe even three different continents. They tour North America again behind their second album, Harlequin Dream. Starlite Room, SOLD OUT
Nuela Charles – Celebrated local R&B singer hosts another fancy soiree on this weekend, a fund-raiser/preview for the SkirtsAFire Festival that happens every spring. They're calling it "Skirtoberfest." Instead of beer and bratwurst and polkas, it's wine and chocolate and soulful music. The Lindsey Walker Band also performs. Nina Haggerty Centre, SOLD OUT.

Sunday 26
Machine Head – A savage sonic assault of unrelenting terror awaits grim legions of blackened-shirted fans of this merciless metal band from California, which heeds the ancient rule set out by Baal the Badass: Heavy metal should be fast! But not too fast. It's just a simple rule about tempo, really, and despite the fact that vocalist Robb Flynn is the only original member left, the dependable raucous riffage has held the band named for the great Deep Purple record in good stead since the days of yore, specifically the early-1990s when metal got so mixed up with rap and death and whatnot. So confusing. Machine Head tours in support of last year's album Bloodstone and Diamonds, with Children of Bodom opening. Show at 6 pm, Shaw Conference Centre, $30, all ages, BUY
Tuesday 28
The Black Keys – Fun fact: if you played only the black keys on a piano, you'd have a pentatonic scale. The more you know. Yet again, a band name has nothing whatsoever to do with the band. Guitarist Dan Auerbach and partner-drummer Patrick Carney helped elevate geek culture and modern rock all in one, with such great songs as Tighten Up and Lonely Boy hitting all the right notes – white and black, in more or less perfect harmony. Jake Bugg opens at Rexall Place. Tickets from $45, BUY