Barber of Seville: Where's the wabbit?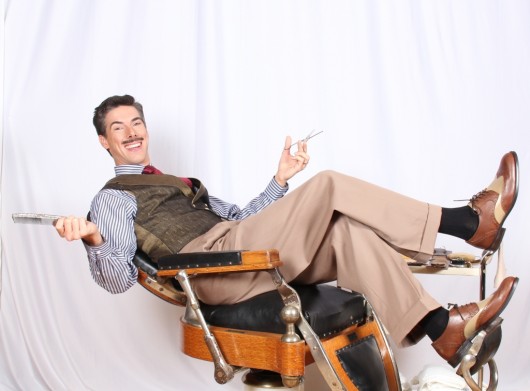 If Bugs Bunny could use Gioachino Rossini music without permission, then any opera company doing The Barber of Seville should be able to use Bugs Bunny to help sell tickets. Right? It's only fair, to heck with public domain.
Opening Saturday at the Jubilee Auditorium, Edmonton Opera's production of The Barber of Seville ought to ring a few bells with People of a Certain Age. An entire generation grew up on those classic Warner Bros. cartoons, and for many people it was their first exposure to classical music. It's no secret that the creators of Bugs Bunny loved opera; they used real orchestras and paid homage to a number of great composers. One of the best from this grand old era of animation is The Rabbit of Seville.
Challenge: Would you see the real thing only knowing the cartoon? For those unfamiliar with the original opera, there are some important differences between the two works, each a masterpiece in its own way:
Origin:
Barber of Seville: Premiered in 1816 in Rome, music by Gioachino Rossini, story based on the 1775 French play Le Barbier de Séville.
Rabbit of Seville: Premiered in 1950, written by Michael Maltese, directed by Chuck Jones, voices by Mel Blanc, music by Carl Stalling (and Gioachino Rossini).
Location:
Barber: Italian opera based on a French play about a Spanish town; set in 1940s Hollywood in Edmonton production
Rabbit: New York, probably
Synopsis:
Barber: The rich Count Almaviva elists the help of Figaro the barber to help woo his true love Rosina and save her from forced marriage to the villainous Bartolo. Spoiler alert: The hero gets the girl and everyone lives happily ever after, even Bartolo.
Rabbit: While Elmer Fudd is chasing Bugs Bunny, trying to shoot him, as usual, they stumble into a production of The Barber of Seville and take over the show. Bugs outwits his foe, as usual, gives Elmer a shave and a haircut while masquerading as Figaro, and later Rosina; Elmer Fudd also dresses as Rosina and they wind up getting married. It's complicated. Having been shot, blown up and crushed, Elmer is finally dropped headfirst into the wedding cake. Bugs gets the last laugh, "Eh (chews carrot), next!"
Running time:
Rabbit: Seven and a half minutes
Barber: Two hours and forty minutes, including intermission
Mood:
Barber: Madcap, silly
Rabbit: Madcap, silly
Music: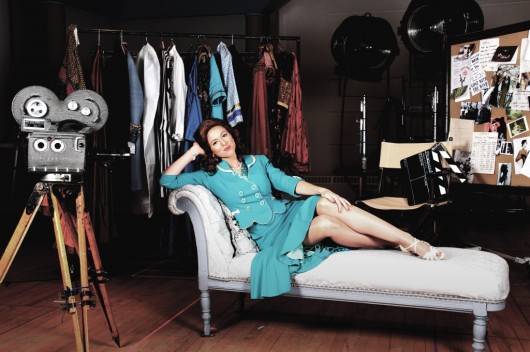 Barber: A lush, light-hearted score is performed here by the Edmonton Symphony Orchestra, with stand-out performances from an all-Canadian cast, including baritone Philip Addis as Figaro (top picture), tenor James McLennan as Count Almaviva and contralto Sylvia Szadovszki (right) as Rosina. A large mixed chorus is also given plenty of stage time.
Rabbit: The great Carl Stalling wrote arrangements for many Looney Tunes shorts, often whipping off one of his trademark orchestral "mash-ups" a week. He managed to condense many of Barber of Seville's famous melodies into one beautifully choreographed work of classic animation. As for singing, Mel Blanc was no Pavarotti.
Spinoffs:
Barber: Some music critics suggest that Rossini's Barber of Seville borrowed from some of his own previous work. Hey, John Fogerty does it all the time. Rossini wasn't the first composer to write an opera based on the same French play, either. Mozart did it in 1786 with The Marriage of Figaro.
Rabbit: The famous Largo al Factotum, better known as "Figaro, Figaro, Figaro," was one of the jokes in the 1949 short Long-Haired Hare, wherein Bugs gets the best of a gasbag opera singer, played by real opera singer Nicolai Shutorov. Other operatic Looney Toons shorts include 1957's What's Opera, Doc? (teeing off on Wagner), and A Corny Concerto (Richard Strauss).
Defining aria:
Barber: "Make way for the top-man of the city! Rushing to his shop now that it's dawn. Ah, isn't life good? How pleasant it is for a barber of class!"
Rabbit: "What would you want with a wabbit? Can't you see that I'm much sweeter? I'm your little senorita. You're my type of guy, let me straighten your tie, and I shall dance for you."
Edmonton Opera's The Barber of Seville plays Saturday, Oct. 25 at 8 pm in the Jubilee Auditorium, and repeats Tuesday, Oct, 26, and Thursday, Oct. 28 at 7:30 pm. Tickets from $40, BUY