Joey lied: DOA is back!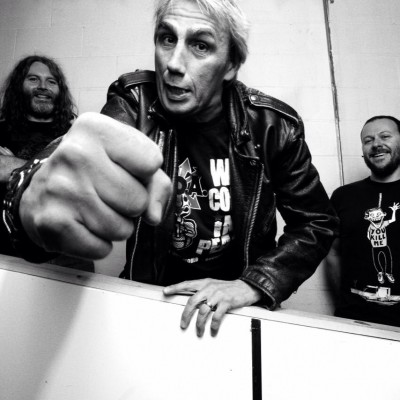 Joey "S***head" Keithley said that DOA would never play again – but here they are headlining a show at the Pawnshop in Edmonton on Wednesday night as part of the "unfarewell" world tour, with new music in the works for next year.
So he lied – and doesn't that make him the perfect politician?
Having unsuccessful run for office three times now, twice for the Green Party and once recently for the nomination for the B.C. NDP party in the riding of Coquitlam-Burke Mountain, Keithley laughs at the go-to dishonest politician joke, but hastens to set the record straight, "I didn't lie. I really thought it was going to be the end. I really thought I'd win the nomination and I really thought I'd win the election. They didn't want me. They wanted a potted plant – an inanimate object that doesn't have an opinion. Clearly I didn't fit that role."
Having its 58-year-old frontman in office really would've been the end for one of Canada's seminal punk rock bands. But life, like politics, is unpredictable. Keithley says that after he lost the NDP nomination – by five votes – "I realized I had not forgotten how to play guitar and sing and get up on stage and kick ass – three requirements to be the leader of DOA." Moreover, and most importantly, "The key element when you retire is that you have to have some money."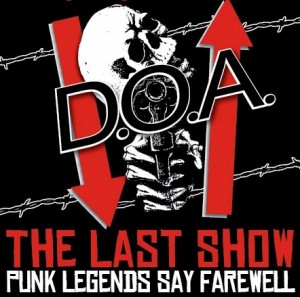 We can't seriously be angry with defunct bands that refuse to stay defunct. The smalls said "goodbye forever" and now they're back (Nov. 12-16 at the Starlite Room). Jr. Gone Wild said never again and they're back in action, too. Hell would freeze over before the Eagles ever reformed. It took the deaths all the members of the Ramones to prevent their reunion. The practice is such a cliché that Motley Crue actually signed a "legal" document promising they will never tour again after The Final Tour (at Rexall Place Nov. 18) – which will make it extra-hilarious when they get back together in the year 2022. Keithley jokes, "So the State of California is going to throw them in jail for 20 years – which would probably be a break for music fans."
In most cases, we're glad said band is back. They get an extra life. Sometimes two. Nor should fans take umbrage at a band taking advantage of its own "posthumous bump," that last-minute rush to see your favourite band one last time on its farewell tour, only to have the farewell tour turn directly into a reunion tour. It's hard enough make money being a band these days; these guys need every break they can get.
In the wake of DOA's last extended "farewell tour" (they did one before, in 1990 when they broke up the first time, reforming two years later), Keithley says they've never got so many offers in their entire career. The band went to America, Europe, and Australia. They played for the second time in China this summer, where they once again had to vet their set-list with government censors. On stage for Chinese punk fans that had only recently discovered punk, not so much.
"This last time we played a big festival in Bejing, and we had to submit six songs that were kind of on the innocuous side. We had a hard time finding any," Keithley says. "We didn't actually play any of them at the show – so I guess we lied. We fudged the truth with the authorities. I asked the tour guy if we should be careful of what we say, and he said, yeah, maybe we should. And one of the first songs we played was called Police Brutality. It over went great. There were a bunch of policemen ringing the exterior of the fairgrounds where the festival was. Of course they're standing there not understanding English, in their ill-fitting police suits that they looked like borrowed from their older brothers, and they had bored looks on their faces through all the bands. There was no sign of the police doing anything."
He adds, "Interesting society."
Keithley is not done with politics. He says he's probably going to take a run for B.C. provincial MLA in 2017. The very ideals of punk rock culture – strength, independence, doing it yourself, standing up for human rights, and so on – seem perfect qualities for a politician who might actually make a difference. Keithley believes in universal education for everyone, and helping citizens get more involved in grassroots politics, because merely voting every four years isn't enough, the people know it, and that's why voter turnout is so low. You have stay in the faces of elected politicians all the time, he says, because "if you get enough people to say a similar thing, then theoretically the politician should be listening. And if they're not listening than that person should un-elected."
It was something of a novelty when this punk rocker first did door-knocking campaigns in the late 1990s-early-2000s. Most people around hometown Vancouver knew who he was, if not explicitly fans of DOA, so it wasn't such a shock, he says, "What's Joe Shithead knocking on my door? He's wearing a suit and doesn't have a mohawk!"
He says he's learned a lot about politics in more than 20 years of actively seeking office – and politicians, too. A lot of candidates go for the prize, the office, the "trophy," and Americans especially are in a constant state of campaigning, but there are a lot of people truly dedicated to public service. This punk may be one of them, and that's why he's not giving up.
"I think most people, whether they're left, right or in the middle, start out as idealists," Keithley says. "The problem is that when they get there they find so many compromises involved that they lose track of what those ideals were in the first place. A big part of what I'd try to do if I did get elected – and it's a really old comparison that most people under 50 probably won't get – is like Mr. Smith Goes to Washington, starring Jimmy Stewart; he goes and both sides hate him because he actually says what he thinks and stands up for the people in his community. That's the approach I would take."
See? Punk rock and politics aren't so different. They're both about kicking ass.