MUSIC PREVIEW: Gary Numan still in driver's seat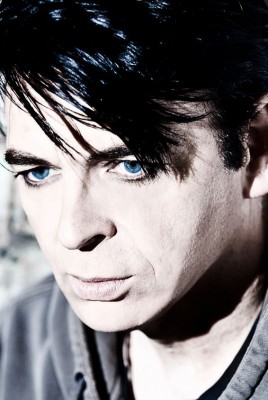 "It's the only way to live: In cars" – talk about a song for the times! It's an anthem for automobile culture, or something.
Gary Numan's global hit Cars made such an impact that many people say the song was single-songedly responsible for the 1980s and all the new wave goodness that followed therein, even though Cars came out in 1979. Still holds up, too.
Though destined for the Hallowed Halls of One-Hit Wonderment, a place where there is no shame, Numan has maintained a prolific career ever since. With no sign of a significant break in almost 40 years, and then only to work in scoring film soundtracks, he's released more than 20 albums, including his 2013 full-length, Splinter (Songs from a Broken Mind). He's not a one-hit wonder, either. Two, maybe three. Even more recent is his EP called I Am Dust, whose title track sounds a bit like Nine Inch Nails. Or is it the other way around? Trent Reznor was 14 years old in 1979. The two have since worked and performed together.
Playing Halloween night at Union Hall for a rare Edmonton appearance, the English singer-songwriter is a pioneer in electronic music. He comes from an unimaginable pre-digital age when the Internet was just a twinkle in Al Gore's eye, and Auto-Tune to make stars of bad singers was unheard of. "Synthesizers," the new thing looked upon with distrust by horn and string players eventually put out of work by them, were bulky, non-programmable, not-MIDI-capable contraptions festooned with wires and understood only by a few brainiacs like Numan. They were also more expensive than a new car the inside of which is the only way to live. Numan of course mastered all of it; he must've been in his glory with all the advances in music technology. What a gear geek wouldn't give to get a peek at his synth collection.
For anyone with an interest in how electronic music invaded popular culture, or if you just want to hear a definitive '80s classic by the guy who wrote it, this is a can't-miss event.
With Nim Vind opening the show, tickets are $30.
Thursday 30
Fire Next Time – There is extra cause for celebrating another Sonic band of the Month beyond it being nice that local radio stations sometimes get involved in the local music scene: With Fire Next Time – their name no doubt a Biblical reference – these particular purveyors of gritty folk-rock spirituals have a new song called Fucking Magic on their latest album Hungry River Hymns. Yeah, we need a little more fuck on the radio. Tickets are $10 for the show at the Pawnshop, with openers E-Town Beatdown and Worst Days Down. BUY

Friday 31
The Bear's Halloween Howler – Yes, for the first time in 666 years, Halloween falls on a Friday under a New Moon when the entrails of the lamb spell out he who cannot be named. Spooky. Speaking of radio stations getting involved with the local music scene, this annual drunken blowout produced by the Bear radio station is in its 22nd year. That qualifies as a tradition even if bears don't howl. The roar. Whatever. This year's bash at the Shaw Conference Centre features the Headstones – known for one of the best songs about necrophilia ever written, Cemetery – along with Danko Jones, Monster Truck and Steel Panther. It's block-to-block rock. There's a costume contest, too. Tickets are going fast, for $70. BUY
George Ireland and the Willy Nillies – Arr, why not dress up as a pirate for this area outfit that puts the sex in Celtic septet, er, well,  … 'cause there's seven of them, you know, featuring fiddles, horns, washboard percussion, and a frontman with a prodigious moustache and voice to match. Like their local forebearers Captain Tractor, they sound like the sort of band pirates might like to listen to on a relaxing night off. There's a special on grog at Wunderbar on this dark night. With I Am Machi and Nanise in support, tickets are $10 – at the door.
Bands as Bands – Why was this not a thing decades ago? What a great idea, such an awesome way for local bands to unleash the tribute artist within – for one night, at least. One of several "bands as bands" events in Edmonton on the extended Halloween weekend, this event at the Pawnshop features Binge and Purge as the Misfits, Drive By Punch as the Descendents and the Old Wives as Screeching Weasel. Hey, they all dress like punks anyway, so who's going to see the difference? Call it a sonic masquerade party. At least expect members of Fire Next Time and Worst Days Down (see above) to Fogerty it up a little when they pay homage to CCR. SOLD OUT
Kingdoom – Here's a local industrial-metal band for which every day is Halloween. New material to be summoned from the void and unearthed at what promises to be a terrifying show at the Mercury Room, with the somewhat less terrifying if equally worthy opening act, The Fuzz Kings. Tickets are $20 advance. BUY
Acoustic Bands as Bands – Just like it says, this 7:30 pm show at Cha Island Tea will be a quieter affair. Local performers Andrea Nixon, Abra King and Magnet and The Magnettes will be staging tributes to Patsy Cline, Amy Winehouse and the Beatles, respectively. Sounds like dream set lists here. All ages welcome, admission by donation. No word of a costume contest. The show will be filmed as part of the ongoing Sound of YEG documentary series.
Saturday 1
Boodang Scream Festival – A day late is of little import when you're into EDM. After a thorough cleaning from the Howler the previous night, the Shaw Conference Centre will sparkle for this annual electronic music marathon, featuring a bunch of DJs you've never heard of unless you're into EDM – that's "electronic dance music," not our city. Terribly confusing. By the looks of it, we are into EDM very much. This event appears to be SOLD OUT.
Strange Planes – You've heard of "rap-rock?" This is "rap art rock" – Pink Floyd by way of Compton, say – there's just no other way to describe yet another excellent new band to emerge from the woodwork of Edmontonia. Incorporating jazz, electronics, hard rock, hip hop and popcraft that could only have come from a music college education, Strange Planes plays selections from its 2013 EP Makeshift Spaceship at Filthy McNasty's. Show at 4 pm, admission is free.
Bill Bourne – Now this guy is scary. Monster picker, groove-meister, genre-bender supremo, singer-songwriter of the folkiest order, indefatigable Edmonton legend of music for obvious reasons, this Juno-winning rootsmith is still going strong. He plays at the Queen Alexandra Hall. Tickets for the 8 pm show are $20 in advance, $25 at the door. BUY
Sunday 2
Gordon Lightfoot – Speaking of Canadian legends still going strong, the 75-year-old creator of some of the most heartbreaking songs in the history of pop music will likely be given standing ovation just for showing up to his gig at the Jubilee Auditorium. As he deserves! To hear him stick around to sing his iconic classics that will live on long after we're all gone, well, that's our eternal pleasure. Tickets from $63. BUY