MUSIC PREVIEW: Season of the Indie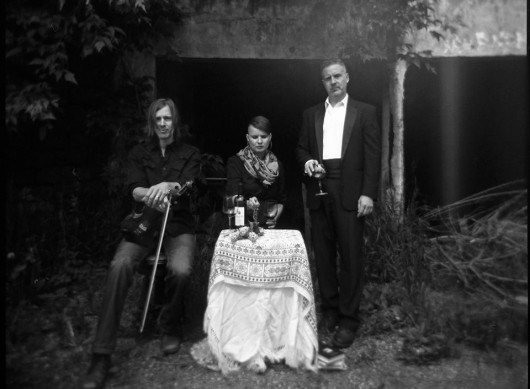 The fall touring season continues as both Canadian and American acts try to get in the last few gigs before the cold sets in. Notable touring acts this weekend include a performance by indie folk-rockers The Strumbellas on Thursday night, followed up by Paper Lions on Friday night, who are performing on an extraordinary bill that also includes Cantoo and Revenge Of the Trees. In amongst the touring acts local group F&M (right) release the latest of their albums on Saturday night, another in their line of modern folk with refined elegance and tortured emotions.
Thursday 6
The Strumbellas – One of the country's most raucous indie rock bands, combining bluegrass with blues with party-style folk-rock, these Ontario natives have a deservedly devout following wherever they go. If you haven't seen this band live yet, do yourself a favour and do so. Edmonton's own Provincial Archive, fresh off another scintillating full-length release, open. Starlite Room, 8 pm, $15.

Friday 7
Paper Lions – This Prince Edward Island act is an unheralded yet complex indie rock band whose first full-length was released back in 2006. Since then they've had a few songs on radio stations across the country, including Lost the War which was nominated for a number of awards in 2010, and featured a number of times in the ABC show Greek. Post Script, Cantoo, and Revenge Of the Trees are also scheduled to perform. Artery, 8 pm, $15.
April Wine – The second Maritime band being featured on Friday night, this Nova Scotia act was founded some 45 years ago, and have released over 20 albums during their storied career. The band's most memorable stretch was back in the 1970s with a number of top ten Canadian singles that started with You Could Have Been A Lady in 1972, and continued through Enough Is Enough in 1982. Century Casino, 8 pm, $63.
Saturday 8
T.I. – This Atlanta rapper-producer-actor is touring to support his most recent release, October's Paperwork. His rise to prominence started in 2003, as he was featured on Bone Crusher's Never Scared and then Destiny Child's Soldier in quick succession. His next three solo albums hit No. 1 on the US charts, and his next three just barely missed that mark. His most popular singles in Canada to date have been Live Your Life featuring Rihanna, and Dead and Gone featuring Justin Timberlake. Union Hall, 7:30 pm, $83.
F&M – This local act is hosting a release party for their newest effort, At Sunset We Sing. Despite a challenging year fraught with broken hands and legs and fraud, the band once again brings a devilish intensity to their work, deftly combining folk music with a vibe that simultaneously engenders the feeling of vaudeville and a symphony orchestra performance. Mark Davis and Ariane Mahryke Lemire are also on the bill. Artery, 8 pm, $10.
MoonMuseum – This local electropop act is hosting a cassette release party – that's right, cassette – for their scintillating debut EP Present In the Haze. With work on the EP beginning earlier this year, the result is an intriguing journey through a multitude of emotional layers. Tropic Harbour, Badger, and Feverfew open. Pawnshop, 8 pm, $10.
Monday 10
Matthew Barber – This Ontario singer-songwriter is touring to support his 2014 album Big Romance, an epic journey of emotions and music that is true to Barber's work ethic. Produced by Gary Louris of The Jayhawks, and featuring an incredible depth of musical talent from not only Barber, but also various others, from the reuniting of the former Apostle Of Hustle rhythm section Julian Brown (bass) and Dean Stone (drums), to a special guest appearance by Barber's own sister Jill. Monday, Mercury Room, 8 pm, $20.
Top F&M photo by Jim Johansson