Street camera gang fights the good fight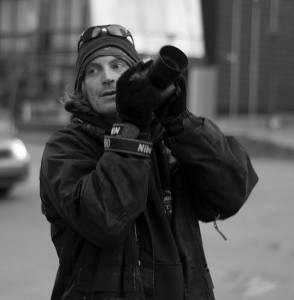 "We are out there to fight crime," says Hugh Lee, co-founder of Hobos With Nikons, a group of Edmonton photography enthusiasts some may mistake for a homeless camera club. "That crime, of course, being people taking bad photographs."
Lee, a Edmonton apartment building manager, talks about the time he gave unsolicited tips to tourists in Niagara Falls "walking up and down the lines of people taking pictures and commenting, adjusting poses, showing people how to work with the light so that everyone's pictures would be great. Even people taking photos with their phones. The spirit of the Hobos was with me that day."
Hobos With Nikons was founded "on a dark and stormy night two years ago," says Hugh's friend and cofounder, Darren Kirby (pictured), a truck driver and amateur photographer whose work is displayed in several city buildings and was up for a Yeggie Award last year. The name was inspired after the two watched the 2011 Canadian grindhouse flick Hobo With a Shotgun – while drunk. Kirby says, "As we stumbled around, Hugh took a photo of me and called it 'Hobo With a Nikon.' The name stuck and everything just sort of grew from there."
The "gang," as they prefer to think of themselves, and are not literally hobos – "Don't call us a camera club," says Kirby, "it sounds too elitist" – can boast up to 79 bodies, but its main thrust comes from 10 hardcore members. For some of the Hobos it is simply a hobby, while some are professionals, like Ned Yeung of Cyclops Studios.
"We are a very diverse group of people," according to part-time professional photographer Sylvia LaBelle. Nelson Webb, a newer member of the gang, points out, "None of us would likely even know each other if we didn't have this group and the common interest in art photography."
At least twice a month they organize photo shoots, sometimes grabbing models from the local bar or even fellow members. Jenn Fehr, who along with her husband Dave Sutherland is a Hobo, has occasionally dressed up as everything from a geisha girl to a warrior. Besides a weekly gathering to discuss upcoming shoots and talk shop at Sherlock Holmes downtown, the gang hosts a yearly Bar-B-Q attended by over 50 members and a mid-summer camping trip to shoot everything from nature to abandoned buildings and the oddities of small towns.
"We are not strict about the whole Nikon thing either," says Lee. "It's just a name."
Outside of fighting "the crime" of bad photography, the group has very few goals outside of building a community.
"I think we would all like to see a display of Hobo Photography somewhere, sometime," says Kirby. "Perhaps an art gallery or an arts-oriented establishment of some kind. I think the 'gang' is a hidden jewel of Edmonton's art scene. I'm not so worried about the recognition, but we would all like to share our creations with more people."
For anyone interested in becoming a Hobo – or being a Hobo model – the group members are more than willing to share their artistic visions with you. Just don't forget to bring your gear.