Foo Fighters bring Sonic Highways to Edmonton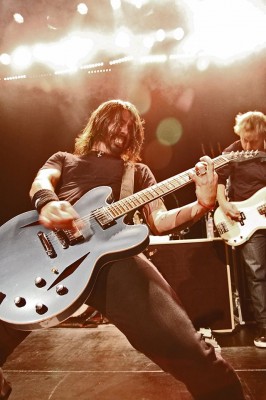 It has been said that the Foo Fighters are the ultimate cover band. They don't cover songs. They don't tribute specific bands. They cover entire decades!
If this is a complaint (and it was, from the New York Times, no less), it's a lame one because who wouldn't want one's formative decades brought to vivid roaring life by one of the best live rock bands in the rock trade? The Foo Fighters will play Rexall Place on Wednesday, Aug. 12, 2015, as part of a stadium tour (that does not technically include Edmonton's stadium), behind their latest album, Sonic Highways. Each song was recorded a different city, including Austin, Chicago, Los Angeles, Nashville, New Orleans, New York, Seattle, and Washington, D.C. – which all also happen to be special stadium stops on the tour. It's also the title of an HBO documentary series that producer and host Dave Grohl called "a love letter to the history of American music." Covered therein: Most of the 1990s, some of the 2000s, a smattering of the '80s and a few other choice decades, too. In short, complete success.
Beat the Bots
Tickets to the show – with opener Royal Blood – are $50 to $92 and go ON SALE to the general public on Dec. 5, but there will also be a pre-sale beginning Dec. 1. Prior to the pre-sale, however, will be a special "Beat the Bots" pre-pre-sale on Saturday, Nov. 22. Just like the old days, fans who line up at Rexall Place by 9 a.m. will be entered in a random line-up draw for seats that go on sale at 10 a.m. No online sales will be conducted before this time, meaning tough luck for scalpers who deploy computer programs to buy up huge blocks of tickets long before the real fans can get to them.
Well played, Foos.