Motley Crue 'not worthy' to open for Alice Cooper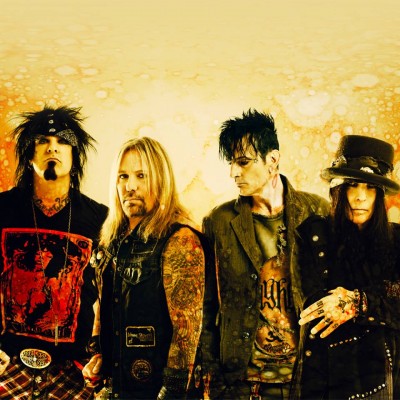 If Motley Crue truly plans to retire for good at the end of their 2014 tour, they sure went out with a flash-bang during their nearly two hour set Tuesday night at Rexall Place.
The excess of your average '80s hair metal show was exceeded with such ease – MORE dry ice, MORE pyrotechnics, MORE flame shooting guitars, MORE Marshall amps, MORE lights, MORE inane between-song banter involving endless exhortations from lead singer Vince Neil about how much Edmonton (expletive) kicks ass, man! – that it seems difficult to envision anyone topping this. Or wanting to. The highlight of the excess no doubt was drummer Tommy Lee's rotating drum kit slo-motion roller coaster from the stage, up to the top of Rexall with a specially designed rig to transport him across the roof of the building, underneath the scoreclock and three-quarters of the way across the rink. He played shitty hip hop and break beats while he did this, mind you, but no one seemed to care about that. That's Tommy (expletive) Lee, man!
This band is not without some glaring flaws. By the way they speak, it's clear the musicians in this band have ever been the brightest bulbs in any room they've ever been in – not even if they were alone. In his astoundingly moronic, seemingly endless story about the Origins of Motley Crue, Sixx by merely opening his mouth presented a great argument restricting free speech. He delivered his unbearable spiel with all the wisdom and erudition of a 15-year-old –  except the guy is 56.
Just like the old Barnum adage, no one ever lost any money underestimating other people's intelligence, which proceeds lockstep with your average Motley Crue concert. Just add copious amounts of beer, devil's horns, whoops, hollers, drunken short middle aged men falling over mid-air guitar riffs, and legions of metal matrons way past their sell by date shaking what they still have left to show, and voila! Recipe for a few thousand Wednesday morning hangovers. Still, their anthems of molten metal riffery like Looks That Kill, Don't Go Away Mad, Dr. Feelgood and Shout at the Devil translated into the arena rock setting very well.
The Crue's performance was not unlike any other performance they've ever done: Musically passable, if unremarkable, with any weaknesses easily hidden amongst the ostentatious-ness going on around them. The mix was muddier than usual for Rexall, and Neil's vocals sounded strained in places. As if he (expletive) cares, cuz Edmonton still totally (expletive) rules, man!
Sixx praised Neil during his rant for being able to attract "pussy" – a euphemism for women? – with his charm and sense of style. Some of that seems to have gone by the wayside, as he came on stage to in the opening song Saints of Los Angeles looking like a bearded Miss Piggy wearing what appeared to be a sparkling gold muumuu. Maybe in Hawaii you could pull that off, but not here.
In case you're wondering, their stage show is the reason these guys are such a big draw this far into their career when they're just recycling the same songs from 1984-89 ad nauseam. Studies talk about how 80% of employees hate their jobs, and man, coming to a Crue show, drinking a few beers and moshing with some complete strangers seems like a pretty decent reprieve from a life of quiet desperation. But now that Crue's over and done, what are fans going to do? Wait till the 2016 reunion tour, that's what. These perpetual teenagers will be back, guaranteed.
They're not worthy! They're not worthy!
Alice Cooper's opening set was the rock 'n' roll equivalent of backwards day at elementary school. Crue should be opening for him. Even more geriatric than Crue, Vincent Fournier and his tight, three-guitarist band showed that his material still holds up 40 years later. From no more Mr. Nice Guy to set closer School's Out, the band ran through their theatrical greatest hits with a finely honed aplomb, accompanied by all kinds of props and side characters: Frankenstein, mental patients, guillotine, and naughty nurses….but no Ron Jeremy. The band ripped through Under My Wheels with the glam punkishness of a young, snarling New York Dolls circa 1973. I'm Eighteen was played with a similar attitude, this time as if the band were channeling the Stooges. Cooper sadly had to kneel down and pray to the Gods of '80s rock during Poison. While not a horrible song, it's four and a half minutes you'll never get back.
Cooper, notwithstanding Crue's over-reliance on overdoing it, put on a much more solid show musically than the Motley bunch. An astute businessman, Cooper seems to have gotten the sweet end of the deal in this Crue tour concert package too: since he's mature enough to have done some growing up in his life, he gets to play his hits to a packed house until 8:30, and squeeze in a quick Bible study before bedtime. Sounds like an (expletive) healthier rock 'n' roll deal, man!