MUSIC PREVIEW: Grapes of Wrath returns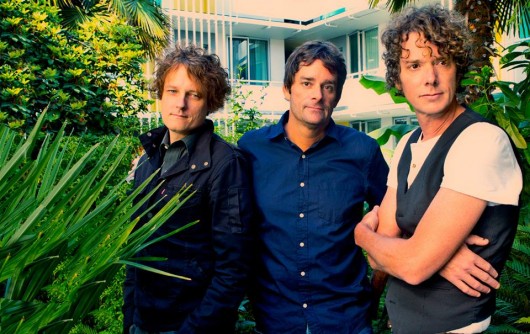 It is time, once again, to celebrate the return of yet another 1990s Canadian rock band. They mostly come back 20-something years later, mostly.
This time it's storied Vancouver rock act Grapes Of Wrath, playing Edmonton Thursday night. Their release High Road in 2013 was the first in 22 years featuring the band's original members Kevin Kane and brothers Tom and Chris Hooper.
The future Grapes first met in 1977 in Kelowna, in a punk group called Kill Pigs. They played in a cover band in 1983, from which the musicians started assembling original material under their final name taken from the John Steinbeck novel.
The band had a succession of hits in the 1980s that included All the Things I Wasn't and What Was Going Through My Head, before splitting up in 1991, with Kane moving on and the Hooper brothers continuing under the new name Ginger. Eight years later, Kane and Tom Hooper, the group's main songwriting team, released the album Field Trip under the Grapes Of Wrath name, but it wasn't until July 2010 that the original trio finally got back together at the Surrey Fusion Festival, adding in Dave Genn on keyboards, with a small tour assembled that year. The group continued to build momentum, resulting in High Road, and more extensive touring, including this stop here in Edmonton at one of its newest and exciting music venues, the Mercury Room.
Thursday 27
Cold Specks – This self-described "doom soul" artist – known to friends and family as Al Spx – has seen her career skyrocket in the last year, with the release of 2012's I Predict a Graceful Expulsion, and this year's Neuroplasticity. Her voice is surreal, her songwriting stellar, and the musicians she travels with have talents that can only be called other-worldly. Royal Alberta Museum, 7 pm, $20.
J.J. Shiplett – This acclaimed singer-songwriter, a native of Calgary, headlines an evening that also includes some stellar Edmonton talent, namely Alex Vissia and Ego the Jackal. The Artery, 7:30 pm, $8.
Friday 28
Royal Tusk – Fresh from opening dates with the reunited smalls, this local indie-pop act is November's Sonic Band Of the Month, and has been gaining notoriety across the nation on a variety of alternative and indie radio outlets. The two founders of the band, Daniel Carriere and Sandy MacKinnon, are well-known to those in the local music scene from their previous band, Ten Second Epic. Whale and the Wolf and The Allowers open. Pawn Shop, 8 pm, $10.
Cayley Thomas – This classically-trained singer-songwriter is as comfortable with blues and jazz as she is prairie-infused folk. Andrew Pahl also performs. Carrot Community Coffee House, 8 pm, $5.
Ryan Hemsworth – This Canadian DJ-producer first came to prominence in 2011 when his release No Plans made SPIN Magazine's Top 20 R&B Albums of the year. He's been collaborating like mad since then, producing works for artists such as Shady Blaze, Main Attrakionz, and Deniro Farrar, and has also remixed the likes of Grimes and Frank Ocean. Starlite Room, 9 pm, $21.
Saturday 29
Ataris – This Indiana alternative rock act has five albums to their credit, including their one big hit in 2003, a cover of Don Henley's The Boys Of Summer. Only vocalist Kristopher Roe remains from the original lineup formed in 1995. Drive By Punch and Teenage Kick are also on the bill. Pawn Shop, 8 pm, $15.
Sunday 30
Usher – This Texas singer-songwriter-producer-performer-talent-show-judge-Justin Bieber-discoverer is crisscrossing the globe right now with his URX Tour. His myriad of hits began in the late 1990's with You Make Me Wanna … and Nice & Slow, and his popularity remained stratospheric throughout the 2000s, from U Remind Me, to his first Canadian hit Yeah! (with Lil John and Ludacris), through his last No. 1 hit north of the border, 2010's More. His latest two albums, Looking 4 Myself and UR, have not had the same success, but his live shows continue to be just as, if not more, spectacular. August Alsina and DJ Cassidy will also perform.  Rexall Place, 7:30 pm, $39.50 and up.