USS INTERVIEW: Skewering Human Kebab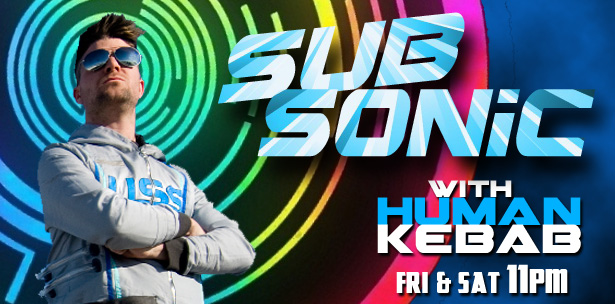 Based on a true story:
After shouting at some kids to get off his lawn, an old man gets into his car one Friday night, turns on Sonic 102.9 FM radio and is pleasantly surprised to hear the familiar strains of Pink Floyd's Another Brick in the Wall, Part 2. But something is terribly, terribly wrong. It's way too fast. Annoying noises and a dance beat have been added. The vocals are chopped, distorted. The old man begins to foam at the mouth.
"WHO'S RESPONSIBLE FOR THIS ABOMINATION?!" he thunders his disgust across the Internet.
The answer comes swift, "It's that Human Kebab guy. He ruins songs. He ruins music."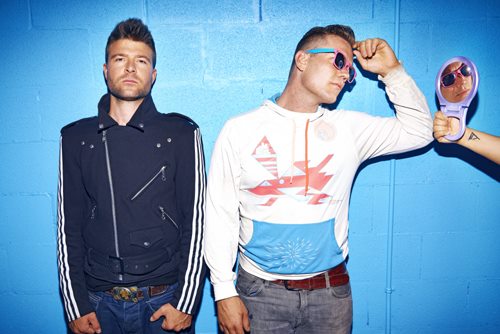 Of course a chance to speak with the Human Kebab cannot be passed up. Turns out he's in Edmonton with his band USS (Ubiquitous Synergy Seeker), backing up Mother Mother at the Shaw Conference Centre on Thursday, Dec. 4.
Real name Jason Parsons laughs heartily at the accusation.
"Guilty as charged!" he says, pointing out that he didn't personally remix the Pink Floyd song (though he would if he had the time). Like all of the wacky tracks heard on his rock-meets-EDM show SubSonic – every Friday and Saturday 11 pm to midnight on Sonic radio – he got it from the Internet.
"I could've played the original, but why would I do that? I have an hour to something that no one else is doing in alternative rock radio," he says.
Mr. Kebab relishes any opportunity to get a classic rock song on a station that otherwise wouldn't touch Pink Floyd to save their lives, and in the bargain air some of the big EDM artists you likewise don't hear too much on any rock radio, if ever. He's played Guns N' Roses rendered by BlasterBoyz, a "Blasted Breaks" remix of Another One Bites The Dust, a spindling of Aerosmith's Sweet Emotion by Nick Bike and an unimaginable reimagining of Tom Sawyer by DJ Z-Trip that'll make Rush fans foam at the mouth.
The old man isn't alone, nor so old. Sonic listeners complained when Parsons aired remixes of songs by Nirvana – and here Human Kebab crossed the line with the Sacred Rosetta Stone of all that is Holy and Pure in Alternative Rock.
A commenter commented, "You can't remix Nirvana, man. It's just not right!"
The Human Kebab explained that he didn't remix it; he just found it, and the guy replied, "You still pushed play, bro."
Obviously we wouldn't be doing this if it weren't for USS's runaway success, the band's latest fun bit of nonsense called Yin Yang poised to become a global hit, the pinnacle of a career devoted to mashing things up. The band, through its very name like an amorphous blob absorbing all in its path, has long been blurring the lines between EDM and alternative rock, pissing off people on at least one side of the line in the process. While his partner Ashley Buchholz sings and plays guitar, Parsons is a DJ, rapper and self-taught turntablist whose first gig was in a Peterborough punk band called Chasing Tail. His main job was "to make weird noises."
People despised USS when it first came out in 2005 (originally named Team of Captains), he says, "I think it's because they didn't understand it: 'How can you play EDM and have a laptop on stage?' Because you can, that's why."
You can do anything these days, he adds: Make a song in your bedroom, upload it to SoundCloud, have it explode and suddenly you're a rock star. You can get rich as a DJ going on stage and all you have to do is push "play" – which as the Nirvana commenter mentioned is an important decision. We live in interesting times.
Parsons, whose work two winters on the oil rigs in Northern Alberta gave him new appreciation and energy for a career in show business, agrees there are some Godawful remixes on pop radio. And while there isn't a single instance of an EDM remix being superior to the original song (FACT, says the old man), "I don't understand why anyone cares," he says. "A remix is a remix. Who cares? It's not going to change how much I love In Bloom by Nirvana. I think that's one of the greatest songs of all time and I still hear it on alternative rock radio. And you'll never hear a remix during the day."
The old man may be dead before that happens.