INTERVIEW: Tea Party returns with integrity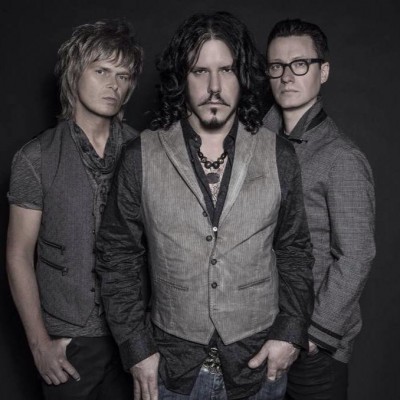 The Tea Party decided not to sell its Internet domain to the American political movement after all. The band members won't say how much they were offered (and were reportedly considering), but rumour has it in the $1 million range.
Two reasons:
1. They still need the website, because the Tea Party has reformed after a seven year hiatus and is going strong once again. They play Saturday night at the Union Hall.
And 2. As frontman Jeff Martin says with an audible sneer during a recent phone interview, "There's just one problem with the Tea Party. I'm talking about the band, not the asinine political movement. It's one word. It's on the tip of my tongue. What is it? Oh, yeah: Integrity."
It's scarcely necessary to heap praise upon the Tea Party when Martin is his own kindest critic. On typically dark lyrics as can be heard on the band's new album The Ocean at the End, he says, "OK, I have serious deep thoughts when it comes to the human condition, like a lot of us do. I just try not to take myself so seriously these days. It's time to enjoy things. I'm enjoying playing in one of the best rock bands in the world."
A divorced father-of-two now living in Perth, Australia, he points out that the Tea Party has ceased to be a mere Canadian band and is now "an international band." They're bigger Down Under than they are here, judging by the 2012 Reformation Tour – $100 a ticket in Australia "and no one blinks an eye" compared to $40 for Saturday's gig in Edmonton; "I actually think the ticket prices are way too low here in Canada," Martin says.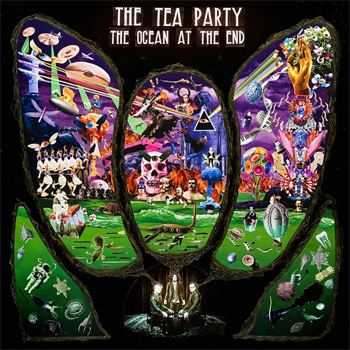 He calls the new album "a really, really solid record, a great collection of rock songs."
Need he go on?
Galling as it is for a dedicated deflator of rock star egos to admit, his boasts are justified. When Martin, bassist Stuart Chatwood and drummer Jeff Burrows first showed up in 1993 with their debut album Splendor Solis (introduced to Edmonton audiences with a show at the Sidetrack Café), they made an indelible mark on Canadian rock … sorry, international rock. The frontman made a big impression with Jimmy Page guitar chops and a voice like Jim Morrison. The band proudly displayed an intense and quirky meld of heavy metal, blues and Middle Eastern music, sort of like Led Zeppelin. To this day, 20-something-year-old Tea Party tracks like The River, Temptation and Heaven Coming Down get lots of airplay on Canadian (and Australian) radio. It's almost classic rock.
On coming back with a vengeance, Martin says, "We're not interested in nostalgia. The three of us are artists of integrity with our music, and we felt that once we got over the personal hurdles we had to work on, the friendship now is stronger than ever, and once that came about the three of us looked at each other and said, OK, we've got to make a musical statement for right now."
The new album is terrific: A wonder of progressive rock goodness carrying shades of the art-rock heroes of yore (King Crimson, Rush, Floyd), yet distinctively the Tea Party. Can't mistake that booming, braying yarl for anyone else. While sodden with perhaps too many watery metaphors, the music displays a matured fusion of the Tea Party's menagerie of exotic influences, some culled directly from the sources. Martin himself "escaped the blue collar vortex" of hometown Windsor, Ontario to live in a gothic house in Montreal, also made homes in Egypt, the Czech Republic, and for seven years, Ireland. He had a number of solo projects after the band broke up in 2005. Fans can hear touches of just about every place he's been (including journeys of THE MIND) in the new Tea Party music. No didgeridoo, thank God, but there's a blues harmonica and slide guitar over a punk rock slam in Cass Corridor, one of the album's best songs: Dig the lyrics: "Skinny little white boy, he don't understand. But, oh, no, he wants to kick out the jams."
The Black Sea, the Tooly single on the radio now, displays all the hallmarks that made this band a big deal to begin with: Bleak worldview, dense guitar riffs, dramatic vocals and deep, rich, rolling grooves. In a way, the Tea Party was able to make its first album all over again.
"We were so focused on the music," Martin says. "There was no rock 'n' roll circus in the recording studio behind us. We didn't have a record label yet. We could do it the way we wanted to do it. No one telling us what to do. Not too many cooks in the kitchen. The work ethic was really something to behold. But we took our time, as well."
It's doubtful anyone would've been too angry at the Tea Party for selling their website. While this band made good money during a time when people still bought music instead of stealing it, it's harder now. Touring is more important, novel marketing strategies are necessary, and "selling out" becomes another term for "making ends meet." Martin says they've never done anything just for the money, and in fact is amazed radio actually played the Tea Party as much as it did, and still does. It's not everyone's cup of, er, whatever, but this music doesn't fit the corporate rock image.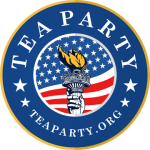 "My personal deal is that we made a piece of art," Martin says. "The reality is that records aren't selling as much they used to, but it doesn't mean you should do anything less. If we're going to put out songs for public consumption, it has to be the best it can be, no expense spared."
The Tea Party political group, meanwhile, has since found an suitable Internet domain. It ends with the much less prestigious suffix .org – a tiny victory for political balance, thanks a little rock 'n' roll integrity.