MUSIC PREVIEW: 100 Mile House in Charity Whiskey Mixer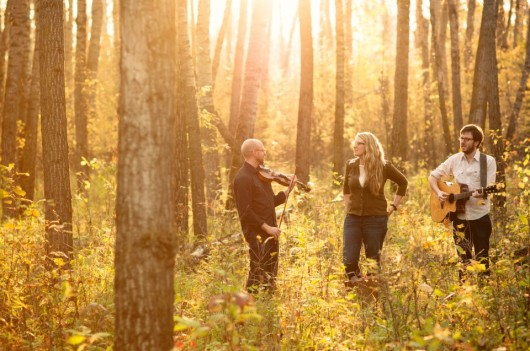 As the calendar winds down on 2014, the live scene also starts its inevitable slowdown towards the Christmas season – but not before a number of charitable events, including this weekend's feature event, the Annual Charity Whiskey Mixer at the Artery Saturday night.
First and foremost, the evening includes some incredible musical entertainment. Feature performer 100 Mile House is one of the city's standout folk acts, as the husband and wife duo have won a number of awards already, and performed at some of the nation's most memorable events, including the 2010 Winter Olympics. They recently released a Christmas single, which will undoubtedly be featured somewhere in their set.
Also on the bill are Jeff Stuart and the Hearts, a renowned pop-rock sextet, and The AwesomeHots, a group of merrymaking musicians who are as infectious as they are talented, and who been known to invent completely new instruments. Finally, one of the best new bands in the city and GigCity's choice for best Edmonton album of 2013, indie-pop act Two Bears North completes the star-studded lineup.
Proceeds to two local charities: The Support Network and the Sexual Assault Centre of Edmonton. Advance tickets are $12 for the 8 pm show, BUY
Friday 12
Phantogram – This sizzling hot buzz band first found success with their electronic rock single Mouthful Of Diamonds off their debut full-length Eyelid Movies in 2009. Their 2014 album Voices further propelled the duo, comprised of Sarah Barthel and Josh Carter, into the spotlight, featuring the singles Black Out Days and Fall In Love. Cancon darlings Mounties and Dear Rouge open. Starlite Room, 8 pm, SOLD OUT.
Doug Hoyer – This local favourite is off to Europe to show off his many talents, but not before a farewell gig, along with Mark Mills and folk-punk act Old Towns. Tickets at the door. Wunderbar, 8 pm.
Saturday 13
Wafer Thin Mints – This local group blends various styles into a sound they call "roots-inspired pop." Their first album in the mid-2000s gained significant airplay on CKUA, and their sophomore effort, from 2010, built upon their many-varied talents. Black Dog Freehouse, 4 pm, no cover.

Down – This heavy metal supergroup from New Orleans features an all-star lineup of vocalist Phil Anselmo (Pantera), guitarist Pepper Keenan (Corrosion Of Conformity) bassist Pat Bruders (Goatwhore), drummer Jimmy Bower (Crowbar, Eyehategod, and Superjoint Ritual), and guitarist Bobby Landgraf. Original members Todd Strange and Kirk Windstein were also from Crowbar; the latter has found success with Kingdom Of Sorrow since moving on from Down. Got it? The band has released five albums, starting in 1995 with NOLA, up to their most recent effort, Down IV Part II, from earlier this year. Orange Goblin, Bl'ast!, and King Parrot are also on the bill. Union Hall, 8 pm, $32.50.