Eight Edmonton frets of 2014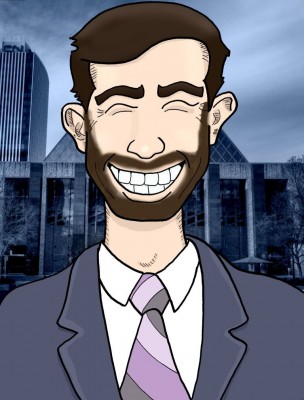 There's just something about this time of year that makes you want to look back … and rant and rave about all the things that made you mad!
Somewhere in Mudville are year-end listicles about good things that happened, best this, top that, and don't forget that in adversity there is sometimes triumph (not always, sometimes), but for now here are some of the top Edmonton stories that got citizens' blood boiling in 2014. Coming in at No 1 …
Honeymoon Over for Hipster Mayor
Much like various hipster rock bands, the sudden alarming appearance of a "budget beard" on our first handsome Mayor is a symptom of deeply disturbing underlying issues – like a budget that resulted in a 5.7% property tax hike, the largest in five years. We need it, you know, to pay for all the stuff we want. Nice timing with the oil price plunge, by the way.
Kill Bill 10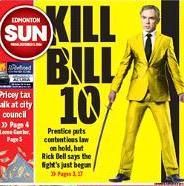 The Edmonton Sun came up with great front page to cover the controversial "Bill 10," which would've allowed individual school boards to reject requests for "gay-straight alliances" in schools. Not a lot of people are super clear on what this means: That you're not allowed to have gay friends? No. It's complicated. The bill was shelved, for now, over public outcry – some of the harshest from celebrated morning show City-TV guy Ryan "Chipper" Jespersen, who's doing his part to help Alberta not be seen as a bunch of "hillbillies." The debate isn't over yet. Like everything in Alberta education (funding religious programs, school closures, the new math), it's far more complicated than it seems or needs to be.
Rainbow Bridge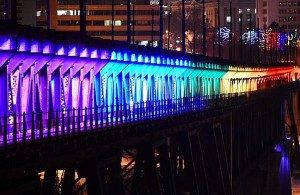 Some people complained about the "Light the Bridge" campaign: that it's tacky and predictable and that neither the High Level Bridge nor the river valley need improvement, but after a couple of months of winter illumination, who but a Grinch can deny that it's awesome? The bridge speaks to us. On the day Bill 10 was "paused," the High Level Bridge lit up like a rainbow signifying support for gay rights. Themes on the computerized LED system are decided by public suggestion, so way to go, Edmontonians! Let's put a ban on speaking in Oilers colours, please. And here's a thought: Some nice coloured lights might give suicide jumpers pause.
Oilers Suck
Speaking of the local sports team, citizens of any city live and die by their local sports team – ask Chicagoans – and even in hate there is always hope, forever and ever after. What else is there to talk about aside from the weather?
Health Care Misery(cordia)
An anonymous staffer at the Misericordia Hospital claims to have been advising patients not to drink the tap water. And this on top of floods and various other old building woes. What's next, pestilence? Plague? Do we need the health department to investigate our crumbling health centres? The Royal Alex is said to need major mechanical renovations, and didn't they just build the new women's wing in the same ugly brick as before? Direct your outraged questions to former Edmonton mayor Stephen Mandel – thought we'd got rid of him, did ya? – who is now the Alberta Minister of Health, and not in an enviable position as he ponders the age-old Edmontonian question: Renovate or tear down and build anew? We'll probably have to raise taxes either way. Meanwhile …
Arena Ground Broken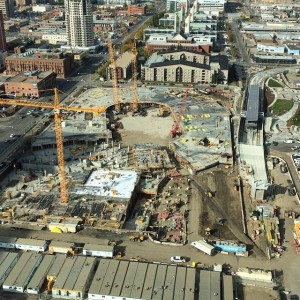 Daryl Katz's dream deal of the century began turning into reality via a gaping hole downtown that is rising to become Rogers Place, new home to the Edmonton Oilers come 2016 and epicentre of what some area fretters fear will be a new high crime district in Edmonton. And whither the building soon-not-to-be-named Rexall Place? Next year may be the old coliseum's last hurrah, as locals will have to get used to a new muster point in the phrase "meet me at the Gretzky statue."
Let Them Eat Cake
One shudders to imagine what Alison Redford would've got away with if she had more friends on the "inside." Long before Alberta's first female Premier resigned in disgrace over "inappropriate use of public resources," Ralph Klein was said to get up to some pretty shady tricks. Like using government aircraft so he could smoke on the way to meetings, just for instance. But he had lots of cronies, friends in the media, and never crossed the line as egregiously as Alison Redford. The coup de grace was her decision to build herself a luxury suite complete with butler's pantry in the old Federal Building – a "Sky Palace" – which cost taxpayers an estimated $1 million before the plan was aborted. Ralph would've loved it.
On a Bridge to Nowhere
Residents of Riverdale and like-minded citizens elsewhere continue to mount a hearty "Save the Footbridge" campaign in opposition to the plan to tear down the perfectly good Cloverdale footbridge, ruining parkland at both ends, and replace it with a new bridge that will carry the LRT to the South Side. Construction is slated to start in the spring. The good fight continues. The budget beard, not so much.
Don Iveson illustration by Chad Huculak
Rainbow Bridge photo by Gibby Davis, City of Edmonton
Arena construction pic by Tim Le Riche, EPCOR