MUSIC PREVIEW: Singing Christmas Tree a BIG deal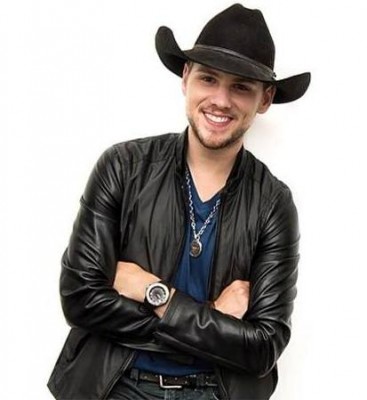 So it's a set of risers shaped like a gargantuan Christmas tree with people dressed like Christmas tree ornaments standing on it, singing Christmas carols, this "Singing Christmas Tree"?
Short answer: Yes. Long answer: Oh, but so much more!
A venerable and uniquely Edmonton holiday spectacle, as far as we know, the Singing Christmas Tree will run five performances in the Jubilee Auditorium Thursday through Sunday. It's Christmas as Broadway extravaganza, Christmas as a Motley Crue concert minus the pyro and profanity, Christmas to the power of Christmas with a heaping topping of extra Christmas. You get the idea. This year's show will feature …
Country star Brett Kissel (pictured)
The Edmonton Symphony Orchestra
Dancing Santas
State of the art LED light system
A 150-member choir dressed like Christmas tree ornaments
Thousands of dollars raised for charity
And so much more, as mentioned
Given the over-the-top yuletide goodness expected, this show is not recommended for Grinches or Scrooges – though come to think of it, these are characters who actually found their Christmas spirit by the end of their respective stories. That was the whole point, that they wound up being good – and yet their names will always and forever be synonymous with a lack of Christmas spirit. It's just not fair.
Tickets are $35 to $80 for the shows: Thursday through Saturday at 7 pm, 2 pm matinees Saturday and Sunday. BUY HERE
READ MORE ABOUT THE SINGING CHRISTMAS TREE

Thursday 18
Benjamin Williams – This bold young singer-songwriter with classical guitar chops won a Spruce Grove Idol-type contest in April and has been working hard on his original folk-pop stylings ever since. Recordings are in the works. It'll be a while before he can play bars. He's 15 years old. In the meantime, coffee, anyone? Café Blackbird, 9640 142 Street, 7:30 pm, tickets $10 at the door.
Vue 1000 Bash with Slates – Has it been 1,000 years already? Oh, 1,000 weeks. Still, that's a lot of ink under the bridge from Edmonton's one weekly magazine (that survived the Great Magazine Wars of the 1990s and 2000s, long story), and they're celebrating this weekend with several events, including a gig at the Pawnshop with the local sorta-sounds-like-the-Tragically Hip band Slates, backed by by the Give 'Em Hell Boys, and F&M. Advance tickets are $10. BUY
Friday 19
Christmas Carol Project – You will be visited by three Bobs: the ghost of Bob Marley, Bob Dylan and Bob Geldof … or wait, that's not how it goes. Hearken thee to a new twist on the old Dickens tale: A musical revue starring some of Edmonton's top folk musicians, including Bill Bourne and Maria Dunn, each playing a different character in A Christmas Carol via different styles of original songs. Another uniquely Edmonton holiday event is in its 19th year. The show runs Friday and Saturday at the Westbury Theatre at the Fringe Arts Barns.
The McGowan Family Band – Hippies! Nothin' but a bunch of long-haired, pot-smoking, jam-loving hippies! And the problem is? No problem here, man, as good times with good vibes are promised with this brotherly roots-rock-jam-band combo – the Grateful Dead of Edmonton – in its annual Holiday Party. Openers the Jay Gilday Band and Goodmorning Groove will kick off the 9 pm show at DV8 Underground (8130 Gateway Blvd.). Dig? Tickets are $15 at the door.
READ MORE ABOUT THE McGOWAN FAMILY BAND
Christmas Massacre with Kancer N Blacklung – They better cut down a bit then, eh? Better cut down a bit, Mr. Smoketoomuch? Never mind. These emergent rappers representing the North Side – of Edmontown, yo – celebrate the season as only hardcore rappers can with this holiday hip hop gig at the Mercury Room. The Nasty Boys and Brothers Grim will open. Advance tickets are $15. BUY
Saturday 20
The Chainsmokers – These guys better cut down a bit, too – but not before everybody in Edmonton has heard this New York DJ duo's big hit #Selfie, performed "live" as much as can be with a DJ duo. This song is like the modern Valley Girl: "After we go to the bathroom, can we go smoke a cigarette? I really need one. But first, let me take a selfie." Encore at West Edmonton Mall, 9 pm, tickets $40, BUY
Death by Robot – Another promising tuneful roots-rock band to emerge from Edmontonia spoons out the Christmas spirit with a show at the Mercury Room, with a solid list of local openers – The Gibson Block, Black Phoenix Orchestra, the Wayne MacLellan Band and Hungry Hollow – plus an ugly Christmas sweater contest and a "secret stocking" door prize. Doors at 8 pm, tickets $15, BUY