Edmonton People, Places and Things of 2014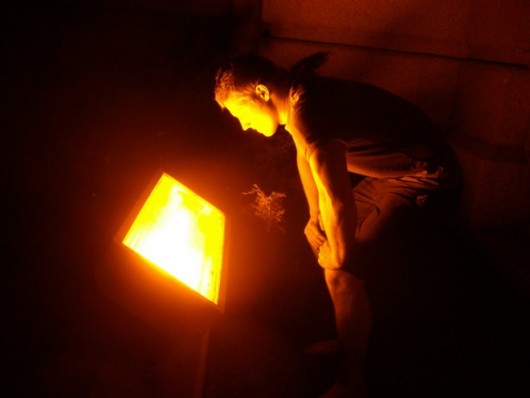 Instead of holding a ridiculous contest to determine the Edmontonian of the Year – which is dependent on the determination of the subject and his or her followers to win at all costs, much like a political election – this year we present a straight recap of the most widely read stories on GigCity.
Guarantee: No politicians are included, nor anyone who's even remotely likely to run for office in the future. We've had it with those guys.
Things
Purple City
For some strange reason, Rob Drinkwater's 2011 yarn about this uniquely Edmonton optical illusion – stare at the yellow lights at the Alberta Legislature for a minute and you will see a purple afterimage – was the most widely read story on this site three years later. It's due in part to its inclusion in Edmonton Museum Project's excellent new website devoted to Edmonton stories. The headline "An Edmonton tradition no one tells you about" should be appended with "until now." Purple City illuminates to this day! Just be prepared to be told to shove off by a security guard if he catches you zoning out in the rose garden.
Places
Avenue Theatre
One of the last of the old free-standing movie theatres repurposed as a live music room was closed in June, leaving area music fans deeply bummed over the loss of yet another Edmonton live music venue. Undaunted, Avenue's manager and talent booker Steve Derpack picked himself up and promptly launched the Mercury Room in September. The club has been getting rave reviews and attracting the best in local and touring talent. There are other new rooms slated to open soon. As ever, as one live music venue dies, another is born. It's the cycle of life.
People
Corb Lund
Having the Mayor declare a day in your honour is a sign you just might be doing something right. Though he moved to Calgary last year to be near his mother, Edmonton retains soul of Corb Lund and July 28, 2014 shall be and forever after known as "Corb Lund Day" in this city, which the alt-country star celebrated with a show at the almost-rained-out Interstellar Rodeo. Later that summer, he took off the cowboy hat and picked up his bass to play in his reunited 1990s band the smalls at the Sonic Boom rock festival, followed by a short tour to great rejoicing from fans, followed by an almost immediate reversion to his happening country music career. He was recently announced as one of the headliners at the 2015 Big Valley Jamboree. This guy is on a very short list of musicians who walk both sides of the alternative-mainstream country divide.
Kirby
Before she died of cancer in September, this woman was a huge presence on the local music scene – literally and figuratively. Kirby was a large woman. True story: Some naïf, wishing her a happy 40th birthday, unthinkingly added, "The Big One!" She quickly corrected the faux pas, "No, the HUGE one!" Awkwardness banished. This is just an example of the plainspoken and warm-hearted approach Kirby took to everyone and everything in her long and storied career – working as a promoter, artist manager, talent buyer, musical mentor, entertainment journalist, and have we left anything out? She wrote for GigCity, including a heartfelt obituary on the late Doug Jenson. She wasn't shy about expressing her opinion. Sample comeback: "There may be no 'I' in team, but there is a 'U' in fuck you!" And yet she was loved by just about anyone she came in contact with. And if not, well, maybe that person is a little dodgy, no? Kirby is missed terribly by scores of Edmonton musicians from at least three different generations, but they can be comforted with plans in the works to have her name immortalized, like, say, an Edmonton music award. Imagine years from now how Kirby-award winners will be celebrated.
Trevor Anderson
The celebrated local filmmaker and drummer for the Wet Secrets was driving his van to a gig in Calgary on Nov. 27 when the vehicle spun out and flipped over on the median on the stormy QEII – and amazingly, no one was hurt. The horrible day then turned into a wonderful evening as the band made the gig: The showcase performance and awards presentation for the Peak Performance Project, a talent search organized by Alberta Music for the Peak Radio Group. The Wet Secrets won the grand prize of a hundred grand and change, Alberta's biggest music prize to date. Upon return, Anderson learned his latest short film The Little Deputy was selected to screen at the prestigious Sundance Film Festival in 2015.
Shawn Bernard
This was a very sad story about a prominent native rapper, community leader and reformed gang leader whose life and career were devastated in April when he was stabbed in the neck, leaving him a quadriplegic. He can't walk, he can't rap like he used to, but he can still write, and his words have more power than ever when it comes to warning young aboriginal kids not to fall the same path he did. His family still needs help. Donate here.
Mark Meer
This local actor, improviser and video game voice artist was voted GigCity's Edmontonian of the Year in 2012 – and it wasn't all due to stacking the vote with his awesome arsenal of social media firepower. Blam! From work with Mass Effect and other popular game titles, to his Superchannel TV series Tiny Plastic Men, to multiple weekly improv shows, to making the rounds of the Comic-Cons – which included an appearance at the Edmonton Comic and Entertainment Expo – Meer's work ethic is as astounding as his talent. He does it for love, and that's obvious, and when you become such a big star of geek culture, fame is just part of the game.
David Finkelman
It's sad that someone has to die to make a year-end list, but this promising young musician – killed in January at the age of 27 by a careless driver on Whyte Avenue – was already making an artistic difference with his band Energetic Action and aimed to have a great 2014. The surviving members of the band released a statement in June, marking the band's fourth anniversary. It reads, in part:
"It was a distinct joy for us to have loved and played with Dave. The work we had undertaken as a group was important and transformative for each one of us. There were heavens traversed, extended from bonds between us like shared roots of trees. They grew wild inside us and between us was born something of dear beauty.
"The memories we share are commemorated today and every day; they are powerful reminders of what had been, and what remains possible.
"Take Energetic Action."