MUSIC PREVIEW: Life is a highway sign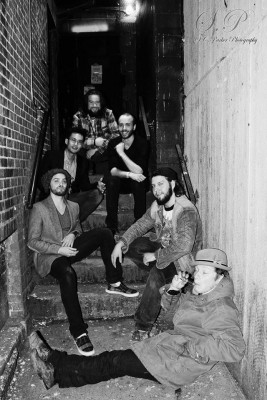 Welcome to a special weekend music preview edition of WHO NAMED THE BAND. Have you ever noticed how many Alberta indie bands have names that might be found on road signs?
Check it out: Whitemud Drive, Whitemud, Whitehorse (not from Whitehorse), Rural Alberta Advantage, Scenic Route to Alaska, Exit 303 (disbanded), Exits, Next Exit, Connors Road, The Garneau Block, Slow Fresh Oil (disbanded but back for one more gig backing up the Von Zippers at the Artery Saturday night), and Jasper Avenue are but a few. Most of these are from Edmonton, and only Jasper Avenue is fake.
What could these bands possibly have in common? It could have something to do with being on the road: driving long distances over flat, featureless, wide open spaces where the most interesting things are the road signs. Lots of time to think up band names.
This Alberta band-as-road-sign phenomenon came to light only because of Saturday night's big honkin' indie rock show headlined by Edmonton's own Thompson Highway at the Mercury Room. They're from Edmonton, too, though the Thompson Highway itself – Hwy 11 – is nowhere near here. Also the band may be named for aboriginal Canadian playwright Tomson Highway. Somebody ought to ask them. The point is that the wanderlust theme persists in the music of this six-piece roots-rock band formed in 2010. These guys sound like Neil Young fans, a touch of the Doors, too, given their original bluesy, bearded goodness. It's rough around the edges and sometimes in the middle, too – just as Southern rock from a Northern town should be.
Opening the show will be the Red Cannons, a dependable area band that has a hell of a shot at a hit single in Underneath the Floorboards, and also a band called Ten Minute Detour – yet more words you might see on a road sign in these parts.
There are five bands on this night, also with The Fronts and Needles to Vinyl. Show at 8 pm, $15 advance, BUY
Thursday 8
King MuSKAfa – A ska band at Blues on Whyte? Why the hell not? They share the same roots. Sorta. In any event, this energetic local sextet led by ballsy local singer Amber Suchy and topped by trumpet and trombone plays out their six-nighter through Sunday. They've been here before. Cover varies by night.
Friday 9
Mohsin uz Zaman – Intimate, gentle, clearly in the realm of Triple S – "sensitive singer songwriter" – this emerging local artist releases his debut album, Waking Up, with a show at the Artery, with opener Braden Gates. 7:30 pm, $12 advance, BUY
Nothing Gold Can Stay – An otherwise slow time of a year is a golden opportunity for new Edmonton artists to get their music out. This Leduc-area band, named for the Robert Frost poem, works in the vein of bands like Simple Plan, that is, a punk bedrock topped by pretty melodies and songs about feelings – even if the feelings include 2010 Was a Bad Year and Sick of it All. Mercury Room, with Colour in the Clouds, Exits and guests, 8 pm, all ages, Tickets $7 advance, $10 at the door. BUY
138!!! – The significance of the number behind the name of this Indiana band comes from the 1982 Misfits song called We Are 138 – and no one knows what that means, either. (Misfits hit No. 138 on the Billboard 200 chart in 1999; coincidence? Yes.) Fitting then, that these guys turn out to be Misfits tribute band – and you thought tribute bands play only casinos? They rock out Danzig-style at the Pawnshop, with openers The Lucifer Project. 8 pm, $10 advance, BUY
Sail With Kings – Small, isolated towns can produce amazing music. Ask Edmonton. And now from the even smaller and more isolated Drayton Valley comes an indie folkie trio that aims for the underbelly of the human condition with novel vocals and the deployment of strange guitars. At Bohemia, with Kyle Shabada and I Am Machi. Tickets a mere $5 at the door.
Ginuwine – In the vein of Usher, this Washington, D.C. singer offers a cool night of mellow, smoove-B urban R&B of the highest order – likely to tracks, but that's the R&B biz for you. At the Yeg Dance Club (across from Rexall Place), 9 pm, advance tickets $35
Saturday 10
Jake Ian and the Haymakers – Imagine a country band that isn't all about "bros." This area country combo, like Corb Lund, manages to sound more country than country while avoiding the clichés of the genre – or at least make them sound real. Jake and his boys released a new record since GigCity talked to him three years ago, called It Doesn't Really Matter Anymore. Black Dog Freehouse, 4 pm, no cover
Savage Henry and the Infamous One Pounders – From Saskatoon, these Mexican wrestler-attired punk rockers are pushing the envelope when it comes to good taste in the strained marriage between music and comedy. What shall we make from a lovely little song called I Like Sluts, or Two in the Pink (and One in the Stink). Makes Buckcherry look like Raffi. Pawnshop, 8 pm, with The Preying Saints, Putting on the Foil and Marystown, $10 advance, BUY
Mallory Chipman Quartet – From singing back-up vocals for Heart to interpreting Leonard Cohen songs in Ireland, this local jazz singer and composer performs at Café Blackbird (9640 142 Street), which seems to be becoming a destination for young Edmonton artists. 8 pm, $10 at the door.