Border hassles can't stop young bluesman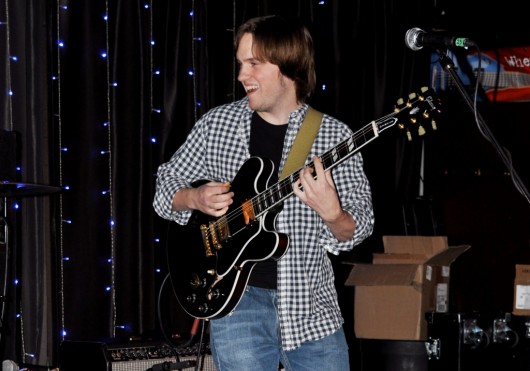 The way our border cops treat Taylor Scott and his band, it's a marvel he keeps coming back to play Edmonton.
"It was our worst experience yet," says the 21-year-old frontman of the latest crossing ordeal.
"They literally tore our van apart," adds keyboardist Jon Wirtz. They're talking after a set at Blues on Whyte this week – the band's third appearance at the club since the band formed just a year ago.
For any US band subjected to Canadian border crossings, having your van torn apart is no surprise. What's a bigger shock is that the Denver-based quartet has spent a significant amount of their touring time playing in Canada, away from home. Following his last tour dates here in June 2014, supporting their full-length album Lonelier With You, Scott put the band on hiatus to tour overseas as lead guitarist in Chicago great Otis Taylor's band, touring four months throughout virtually every country in Western and Northern Europe. The audiences may be different, he says, but it's the same warm reception they get in North America.
Edmonton should consider itself remarkably lucky to see this up-and-comer so much over the last year, but when is the focus going to return stateside? Scott says this is what he wants to accomplish in 2015 – when the Cheyenne, Wyoming native relocates to Denver in a few weeks. Most of his band is already there. Only very recently has Scott's band begun to submerge itself in the Denver music scene. Of the limited shows they've done, the band has managed to film a show at the Gothic Theater in the Denver suburb of Englewood, Colorado. It apparently turned out so well that the band is intending to release it. Previews are planned to appear on youtube in the upcoming weeks.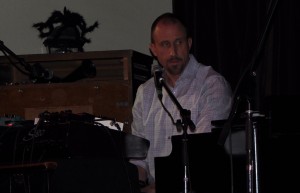 Keyboardist Jon Wirtz, a 10-year veteran of the Denver music scene who has his own act called Rocket Sauce, has been with Scott since the band was formed, and likes the potential.
"Not only do I love playing the type of music this band plays, I love how it does it in such an accessible way. I've never been in a band like this before." Wirtz adds, "Crowds are really responding to us, and as musicians, we really feed off that."
As to Scott's age and unbecoming level of maturity, Wirtz notes that "it's also really encouraging to see someone as young as Taylor practicing so much, playing so much, taking care of the business end, that's not afraid to get dirty and try to make it happen."
The respect that seems to exist between these two isn't all that's going on. Scott, on lead guitar, and Wirtz, on keys, seem to share a finely tuned intuitive sense on stage, adding rhythmic and melodic embellishments to each other's parts, especially during solo time, deftly handing off to each other when the time comes, as if in a high speed, intricately synchronized musical relay race.
"There was definitely chemistry there when Jon and I first started playing together," but in the time since, "We've learned each other's musical philosophies, and that adds immensely to what we are trying to accomplish."
What makes the Taylor Scott Band so engaging is the evident improvisational component of their original compositions, coupled with their finesse at flipping between musical genres. This is one versatile bunch of instrumental gymnasts. They listen to each other carefully.
In their first set Wednesday night, the band demonstrated some phenomenal on-stage listening skills. For the majority of the performance, the members face each other, not so much the audience, maintaining an intense eye contact as their musical conversations take shape. A 10-minute improv sculpted around a basic riff composed by bassist Todd Edmunds ran a genre-defying gamut between funk, jam rock, jazz, interjected with a modicum of Zappaesque zaniness. Scott asked Edmunds what the tune was called. "I don't know," he said. Whatever it was got them the biggest response of the evening.
The Taylor Scott Band plays through Sunday.