Imagine Dragons to play Rexall in June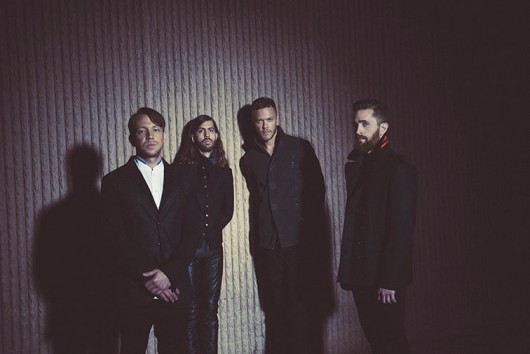 Imagine one of the most imaginative new indie rock bands finally being given a building big enough to fit their … er, imaginations.
Imagine no more! For Imagine Dragons will be playing Rexall Place on Saturday, June 6, on tour behind their new album Smoke + Mirrors. With the opening act Metric, tickets start at $30 and go on sale Tuesday, Feb. 17. That's also the day the new album comes out.
In addition to such hit songs as Radioactive, and there are others, but that's a big one, this is one band known for its huge expansive sound and explosive live show. Last time through town, at the barn-like Shaw Conference Centre, the band wowed a sold-out crowd with such antics as a stage laden with giant drums, from which at one point singer Dan Reynolds was hoisted aloft to play another large drum wired to the ceiling. During Radioactive. Everybody gets a drum!
Playing small clubs just a month or two before on the one studio album they'd released in 2012, Night Visions, the band sounded like the Cult meets U2 at a tent revival meeting. These are references perhaps lost on the band's young core audience, but no matter. They can use their … ahem, imaginations to come up with some new musical math of their own.