AC/DC to Rock or Bust in Edmonton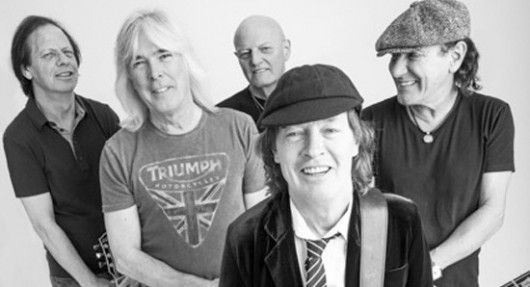 The last time AC/DC came to town – at the Commonwealth Stadium on Aug. 27, 2009 – a terrible thunderstorm broke out in the middle of their show.
More than 50,000 fans got completely drenched, along with the band on stage and all their equipment. We learned later authorities had come within a hair's breadth of calling off the show, but they let it ride. During the worst of the brief tempest, AC/DC was in full flight in the middle of a song – was it Thunderstruck? Sure, let's just say it was Thunderstruck – with Angus Young frantically soloing on his wireless electric guitar on a catwalk in the middle of the stadium, getting utterly soaked. Lightning flashed, thunder boomed, it rained cats and dogs, but Angus didn't miss a note or hesitate rocking for a single second. After the song, singer Brian Johnson just shook the water out of his hair and shouted, "Wow, this is fun!" The sodden crowd agreed. Cue Highway To Hell.
Now THIS is the kind of commitment to Rock 'n' Roll that fans of the venerable metal Gods AC/DC have come to expect – and are promised more when the indefatigable band returns to the same building, the scene of the crime, on Sunday, Sept. 20. No thunderstorms likely at this time of year, but can they rock in a deep freeze? Or with a new drummer? We'll see. They sounded pretty healthy and hale when they opened the Grammy Awards.
Edmonton is one of 13 North American dates on the band's "Rock or Bust" world tour, named after the new song of the same name and kicking off in August. Filling in for drummer Phil Rudd – who had a spot of legal trouble – will be Chris Slade, who drummed for AC/DC from 1989-1994.
Tickets to the concert – $75 to $125 – go on sale Monday, Feb. 16 at Ticketmaster.