MUSIC PREVIEW: Hip folk forever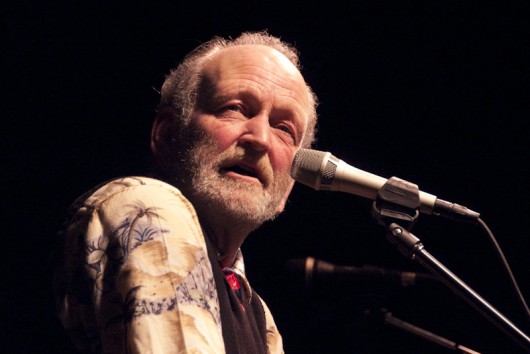 For folk fans who find all that new-fangled hipster folk at the folk fest a little off-putting, Winterfest 2015 just might be up your hill. This is a pure Canadian folk deal.
Are they not hip? Let it be known that the acts performing at this three-day event in Fiddler's Roost were – and in some cases still are – the hippest of the hippest hipster folk music had to offer, from back in the day when folk was folk and Mumford and Sons were yet to be. We only use the word "hipster" to annoy the hipsters anyway.
Ottawa mono-named troubadour Valdy (pictured) tops the Winterfest bill on Saturday night. The 69-year-old singer-songwriter has been a fixture of folk for decades and is still an active recording artist, touring on his latest release, Read Between the Lines. Also worth noting is Paul Hann – one of these rare guys who works as both a children's entertainer and a singer of folk songs for grown-ups, like Raffi – performing Friday night. Old-time rock 'n' roll fans will be pleased with the return of Barry Allen, former 1960s teen dream star still playing live from time to time, as running his recording studio permits. It's Barry Allen and the New Rebels this time, closing Friday night at the Roost (not to be confused with the local gay bar that closed in 2007). The rest of the line-up include acts young and old: From the Command Sisters (young) to Calvin Vollrath (old), who's been playing fiddle since fiddle was invented. Or wait, maybe he invented the fiddle. He sure made a name for himself with the fiddle around here.
Tickets to Winterfest, presented by the Uptown Folk Club, are $20 for Friday, $30 for Saturday, $50 for both nights. INFO
Thursday 12
The Tragically Hip – Popular Canadian rock band returns to one of its favourite towns to play Fully Completely in its entirety. Tickets still available for the show at Rexall Place, featuring opening act Brendan Canning (co-founder of Broken Social Scene and member of a number of other notable Canadian rock bands). From $33, BUY
August Burns Red – Screamy Christian hardcore-pop band (is there such a genre? There is now) is known for its cover of Miley Cyrus's Wrecking Ball, and you know what? That's a pretty good song. Good songs thrive in any context – even in a screamy Christian hardcore-pop band playing at the Starlite Room in Edmonton. Also expect new material from an upcoming new album. These guys don't just thump the Bible. They PUMMEL it. With openers Miss May I, Northlane, Fit For a King, and Erra, doors at 5 pm, all ages, $29 advance, BUY
Friday 13
Cannibal Corpse – It's hard to tell with the singer's distinctive Cookie Monster voice – one of the finest in the field of death metal, let it be known – but this band doesn't sound Christian at all. Funny, though, how similar messages shine through: Kill or Become is one of the New York band's latest songs. Old Testament. Live at the Union Hall on this night, a co-bill with the like-minded Behemoth. Doors at 7 pm, $32.50, BUY
Foghat – Some say classic rock is being kept alive by slot machines, and it would be hard to argue with fans of Foghat who might not ever get a chance to see these British blues-rock legends were it not for just the right room at the River Cree Casino. With special guests Kim Wilson and the Fabulous Thunderbirds. Doors at 7 pm, tickets from $30, BUY
Honeymoon Suite – See above, re: Classic rock kept alive. At the Century Casino on this night is this 1980s band from Canada's honeymoon destination, Niagara Falls (hence the name), chiefly known for the 1984 hit, New Girl Now. It's quite a sad song if you really listen to it. 8 pm, $48, BUY
Royal Wood – It's not the name of a band, nor some guy named inexplicably for something else (Bahamas, etc.), it's his real name – and one of the most exciting neo-folk songwriters to come out of Canada in a long time. Far from wearing out his welcome in these parts, he plays Friday and Saturday at the Arden Theatre, touring behind his most recent album I Wish You Well. Tickets are going fast for both shows. He's going to need a bigger building next time. 7:30 pm, $39, BUY
Mike McDonald – The Jr. Gone Wild frontman has found his mojo and is maintaining an active solo career, as running a Whyte Avenue record store permits, playing music from his first solo album, Live at the Blue Chair, at the Yellowhead Brewery. With Fat Dave Johnston and Colin Close. 7 pm, $20 advance, BUY
The Rockin' Highliners – One of the best and best-dressed rockin' blues units Dirt City has ever produced (and sadly disbanded) is reuniting for two shows at the mighty Yardbird Suite, Friday and Saturday. Fans of jumpin' jazzy jive will surely not be disappointed by these heavy cats. After this? Who knows? Never say never. 8 pm, $26 advance, BUY
Saturday 14
The Basement Paintings – F***ing Saskatoon grows all the best bands. Guess we shouldn't be jealous. Here we have an experimental instrumental combo that combines hard rock with groove … and you had us at experimental instrumental. Wunderbar, with openers Day Dreaming and MoonMuseum, 8 pm, $7 advance or $15 at the door, BUY
Billie Zizi – Oh, Christ, it is Valentine's Day, isn't it. Is it too late to book at table at the Café Blackbird? This destination for emerging singer-songwriters hosts a special most-romantic-night of the year show with this local guitar-slinging songstress, her new album Gun Metal Dress hot off the presses. 8 pm, dinner and show $65, show only $15.
Sunday 15
Napalm Death – And we come to the last Horseman of the Apocalypse in our trifecta of weekend death metal. Led by one of the few guys named Barney in this genre of music, this band never fails to please legions of black-shirted fans around the world. The masters of atonal thrash are on tour behind the brand new album, Apex Predator – Easy Meat. The title alone speaks volumes. Voivod is also on the bill at the Starlite Room. Doors at 5 pm, tickets $31, BUY