REVIEW: Tragically Hip fully, completely Canadian rock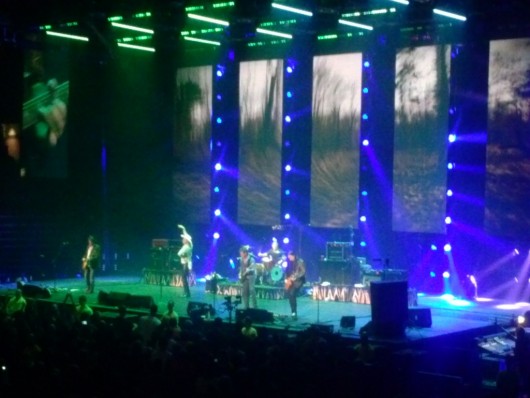 Thirty years into their career, the Tragically Hip have managed to turn Canada into their own personal niche market. Their modus operandi continued to be in fine working order for a packed house at Rexall Place in Edmonton Thursday night.
Early on in the band's career, they wrote some songs that referenced America – Last American Exit, the ubiquitous New Orleans Is Sinking – in what some might imagine is an attempt to curry favour in the American market. Somewhere along the way they charted a different course and started writing songs about abducted Quebecois politicians (Locked In the Trunk of a Car), obscure WWII-era Canadian authors (Courage), and hockey players that go missing on fishing trips (Fifty Mission Cap). Perhaps unbeknownst to them, it was this course that set them on a path towards commercial gold inside Canadian borders. All three songs are part of 1992's very Canadian album Fully Completely, which the band played in its entirety – and in order – at the show Thursday night, among other fan favourites.
Superficially, there's very little outstanding about this band. Their presentation as a group and as individuals has seemed bland, undistinctive, and boring. In other words, Canadian. With two guys named Gord – the most un-rock 'n' roll name in the history of recorded music – the only way they could be any more Canadian is if they were from Saskatchewan.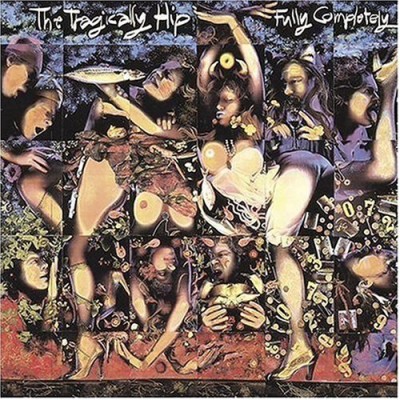 None of them are standouts on their instruments; while the rhythm section of drummer Johnny Fay and bassist Gord Sinclair are notably solid, guitarists Rob Baker and Paul Langlois have skill but no flash or stage presence, and for much of the show, may as well have been playing behind the stage. To have guitarists who shirk so much from the spotlight is highly unusual for an instrument that draws musicians with oversized egos like moths to flames. But these Canadians have never been about the ostentation, have they? On Fifty Mission Cap, Courage, Locked In the Trunk of a Car and encore finale Blow At High Dough, the Hip just showed up to rock, and isn't that what fans paid for? No Ted Nugent rip-your-head-off riffery here, just a more polite grabbing by the lapels and respectful shaking, in a Canadian sort of way, until you're smiling and nodding along with the riff. The airtight grooves, the basic chords and the simple AC/DC style proves once again that less can be more in the rock world.
The Hip aren't without a little sass. They know they're good, as evidenced in set opener Grace, Too, one of a number of moody, bass driven pieces scattered throughout their set. It's an odd pick for opener, seemingly better suited as a mid-set palate cleanser. Who else other than a top-flight band would open their set with a down tempo piece, sitting back, easing themselves into the show, teasing fans a bit, before clobbering them with up-tempo rocker My Music at Work? During this song, singer Gord Downie sauntered around the stage in his impossible-to- imitate eccentric style. As fans roared during Baker's guitar solo, Gord used the mic as a golf club to drive one into the distance. He knew the music was working, and the confident look on his face as he pretended to play golf said it all about the band's ability to satisfy paying customers.
Downie's eccentricities have been bandied about for years; it's become part of the Tragically Hip identity. Twirling pirouettes with hankies, shoulder-checking mic stands, and paddling a canoe were just some bits of Downie's non-stop pantomime act Thursday night. He's an entertaining fellow to watch … if you're Canadian enough to have seen him at least once before. Anyone else might be wondering if he knew what he was smoking before the show. Downie looked the part, too, appearing like Gilligan had he been a full-patch Hell's Angel. He thankfully doffed a dorky white hat for a more fitting cowboy hat as the band broke into the run-through of Fully Completely, the main entree for the evening.
Mood pieces like Eldorado, and the album's droning title track and Bobcaygeon (a song from 1999's Phantom Power named for the Ontario vacation village) worked on such a high level that the band accomplished the nearly impossible feat of making a cavernous hockey barn feel like a smaller, more intimate bar setting. Few bands have ever done as good a job at creating such a mood.
Part of the Hip's appeal is – like our country on the international stage – the lack of common appeal. Apart from supplying the US with cheap petroleum products, the rest of the world doesn't care too much about Canada, and with the exception of certain border towns, the rock 'n' roll world South of the 49th parallel couldn't care less about the Hip. That may be tragic to some, but it's an honourable fate for these guys. How much does their US success or lack thereof matter to us, as Canadians? Not at all. Canadians love them because they mirror the country's more subtle, more downplayed, less attention-seeking identity, and reward them by plunking their butts in seats year after year as the band trods through their fourth decade of distinctly Canadian rock 'n' roll.