MUSIC PREVIEW: McMorrow the real deal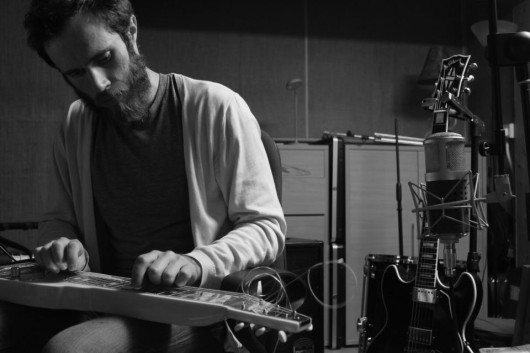 Sam Smith gets all the attention – and a big "hey, thanks, man!" from Tom Petty – for his high voice and soulful sincerity, but there's a guy coming to the Winspear Centre on Tuesday, Feb. 24 who could sing circles around Sam Smith – and no one will say it kinda sorta sounds like I Won't Back Down.
Maybe not circles. Large arcs. James Vincent McMorrow can hit some seriously high notes, for a man, with flawless technique and a gorgeous relaxed tone, a gift he uses on some of the most captivating music you'll here in … what are we calling it now? Indie nu-folk? Whatever. It's chill-inducing example of doing more with less. Where lesser folk artists can cause tedium with one heartfelt, personal ballad after another, this Irishman makes mellow into magic, often with little more than voice and the simplest accompaniment. The result is mezmerising.
Listeners might draw comparisons to another high-voiced romantic: One Dallas Green, and his mellow band City and Colour, and see above re: tedium. McMorrow has more depth than that. Not to tear down others to build up one, but we realize you have a daunting choice in indie nu-folk purveyors, so we thank you for choosing this one. Let's be nice and say that McMorrow has the lyrical heft of Dallas Green, the soul of Sam Smith and the pop sensibility of Bono, only using this last example because he's Irish.
And the courage of Hercules. Touring on his latest album Post Tropical, McMorrow will be playing solo in the unforgiving acoustically flawless Winspear Centre. You have to be the real deal to get away with that. Show at 8 pm, $32, BUY
Thursday 19
John McEuen and John Carter Cash – It is very difficult to go wrong here: Pairing the founder of the Nitty Gritty Dirt Band with the son of Johnny Cash for a Carter Family tribute at the Arden Theatre. It don't get more country than this beyond the Grand Ole Opry – the Ryman one, not the theme park. Show at 7:30 pm, $42, BUY
Friday 20
Unearth – Likewise it's hard to beat this designated metal show of the weekend. This American band demonstrates the truth that so-called "death metal" requires a level of skill and stamina that likens its players to a cross between pro athletes and accomplished jazz musicians. One can also hear gothic flurries on their latest album, Watchers of Rule, that sound like Bach Inventions sped up and turned to 11. Some fun at the Union Hall, also featuring Obey the Brave. Show at 8 pm, advance $30, BUY
The Elwins – Easy breezy Ontario popsmiths pull into the Mercury Room with Edmonton's own darlings of indie pop Two Bears North, and a reminder that indie artists often try just as hard to be radio-friendly as their non-indie counterparts. Time to retire the word "indie." 8 pm, $14 advance, BUY
Dusty Tucker – That's "Tucker," not "Trucker," in case you misread the name of this Molly Hatchetian swampy bro-metal combo from Red Deer, where like here, truckers rule. Pawnshop, 8 pm, with Stone Iris and Whale and the Wolf, $10 advance, BUY
Reuben Anderson – Husky-voiced local sensitive singer songwriter and frontman of the folk band The Living Daylights seems to enjoy flights of lyrical and other fancy on his latest album, Deepest Depths to the Highest Heights, released with a show at the Artery. Telling song title: Memories of a Living Hell. Whatever could he be talking about? $12 advance, BUY.
Saturday 21
Ben Sures – Another stone cold for-real deal. From folkie roots, this Edmonton artist shows his blues side on his latest album Son of Trouble – what "Ben Sures" means in Yiddish, or close enough for rock 'n' roll – and has since paired up with local award-winning singers Karla Anderson and Chloe Albert. They're calling their new group "Honey in the Jar." Queen Alexandra Hall, 8 pm, SOLD OUT
The Wet Secrets VS Show – What the heck is a VS show, you ask? It's a Battle of the Bands, that's what! There are six hip local bands on stage at the Pawnshop. It goes like this: The Wet Secrets vs. Betrayers, the Lad Mags vs. the Archaics and Diamond Mind vs. Lab Coast. No word on whether there's a prize, but we all know the Wet Secrets won the ultimate prize in December, almost $101,000 in the "Peak Performance Project." They're going to use it to make "an amazing album." Show at 8 pm, $12 advance, BUY
Nuela Charles – More than just an old-school R&B balladeer, though she can do it, this Edmonton singer-songwriter puts spooky spins on original soul music, and thrives in minor keys. The Artery, with opening act BMBSHL (aka electronic artist Brenna MacQuarrie), $12 advance, BUY
Sunday 22
Black Veil Brides – Tricks for the kids! This very popular throwback hair metal band with four studio albums plays a pair of all-ages shows at the Starlite Room. This is a band known for tight guitar riffs, close vocal harmonies, glammy showmanship and mildly Apocalyptic safe-for-children messages in such hits as Fallen Angels, Heart of Fire and Goodbye Agony. SOLD OUT, tickets still available for show on Monday the 23rd, $39, BUY
Tuesday 24
The Acoustical Sounds of Big Sugar – Jesus, what's he up to this time? All dressed in white doing unplugged Big Sugar songs like some badass Canadian Caribbean Polyphonic Spree? Weird. Yes, never boring, the chameleon-like guitar God Gordie Johnson has put yet a new wrinkle on his ongoing mash-up of rock, reggae, country music and the blues. They have a new album called Yardstyle. At Festival Place, 7:30 pm, $42-$46, BUY