MUSIC PREVIEW: Viet Cong on the attack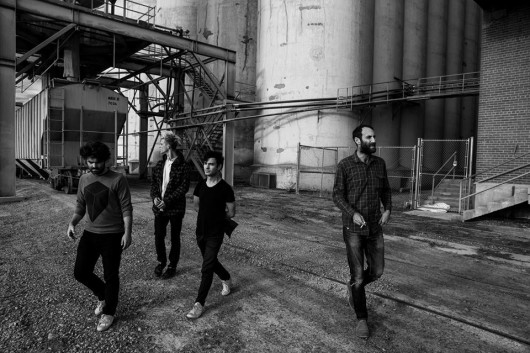 Calgary's Viet Cong is quite probably the nation's biggest buzz band right now, receiving acclaim not only across Canada, but also from some of the biggest blogs south of the border, like Brooklyn Vegan and My Old Kentucky Blog, who have been raving about the band, and including them on their weekly radio show, since last July. They've even been getting press in Europe, all whilst their debut full-length is barely a month old.
The noise-punk band's track Silhouettes, the most recent single off said album, a delirious and raucous rampage of guitars and drums, can still be heard on most every independent radio station across the nation, as well as is a mainstay on many of the CBC stations, and satellite radio in general. In fact, the week their album dropped, SiriusXMU's Jenny Eliscu mentioned their release in the same breath as two other incredibly popular albums, that from the Decemberists and the legendary Sleater-Kinney.
Viet Cong plays the Artery on Friday at 8 pm. This show is SOLD OUT.
Thursday 26
Joshua Radin – The McDougall Church's days could well be numbered as a building, never mind as a music venue, so you'd best hurry down and catch a gig in its cozy environs and extraordinary acoustics while you can. While his early career was punctuated by the use of many of his songs on the sitcom Scrubs, this Ohio singer-songwriter has six solo albums to his credit, including this January's Onward And Sideways, an interesting and, yes, sideways perspective, of Radin's journey to Sweden to be with his partner. The result is probably his most upbeat work. Andrew Belle and Carry Brothers also perform. 6:30 pm, $42.50, BUY.
The Arkells – Hailing from the indie hotbed of Hamilton, Ontario, this band has been on a musical rampage the last couple of years, culminating in last August's full-length High Noon, which has won acclaim from, well, pretty much anyone who's been lucky enough to listen to it. Receiving radio airplay from even the nation's largest radio stations, the band has charted on the nation's alternative and rock charts, with such songs as Oh, the Boss Is Coming, Whistleblower, Michigan Left, and more recently, Come To Light. Named after the street in Hamilton where the band lived and practiced, they are proud owners of a Juno Award from 2010 for being the nation's "New Group Of the Year". Union Hall, 8 pm, $27.50.
Ben Disaster – This month's Sonic Band Of the Month showcase features this pop-punk solo artist, who recorded his first album back in 2010 with Nik Kozub (of Shout Out Out Out Out). The New Brunswick native has explored a variety of genres since, a career that all budded from an extremely musical family. No Problem, Slates, and Power Buddies open. Pawnshop, 8 pm, $10.
Friday 27
Illy – This Australian rapper has already proven extraordinarily successful Down Under, and is working hard at increasing his fanbase around the world. He's currently touring to support his fourth full-length, Cinematic, released in 2013. Pawnshop, 8 pm, $15.
Saturday 28
Prism – Where would classic rock be in this world without our casinos? Hard to say. This weekend's foray into the genre is this Vancouver band whose many hits, spanning 1977-1980, included Spaceship Superstar, Young And Restless, and Armageddon. Century Casino, 8 pm, $48.45.
Jesse Roper – This Victoria native is likely one of Canada's best guitarists right now, his musical talent equalled by his effervescent energy and commanding stage presence. He performed at a bevy of notable music festivals last year, including our very own Up + Downtown Festival, and has just released his newest effort, a 12-track effort called Red Bird. Also on the bill are Kirby Sewell Band and the Stephanie Harpe Experience. Mercury Room, 8 pm, $12.
One Bad Son – These hard rockers from Saskatoon have had very good success on the nation's radio stations, with Scarecrows, Retribution Blues, and Satellite Hotel all scoring in the top 10. The band released their Black Buffalo album last September, engineered and produced by Juno winner Eric Ratz, and are currently touring to support said effort. The James Beaudry Band opens. Starlite Room, 8 pm, $19.
Tuesday, March 3
Rah Rah – This Regina indie sextet is one of Saskatchewan's most powerful live acts, a can't miss treat for the eyes and the ears. Their three previous albums include 2012's The Poet's Dead, which included the hit single Art And A Wife, though previous songs are equally as fun and infective, such as Arrows, and the extremely popular sing-along Henry. Word is they've got a new album in the offing, so expect some brand new fare at the gig as well. Also on the bill for this show is We Were Friends, a local indie quartet in a similar vein – incredibly great people, with immeasurable musical talent. If you get a chance, check out their debut EP, Let Them Howl, from last summer. The Fight also performs. Mercury Room, 8 pm, $16.