UPDATE: Artery closing to make way for progress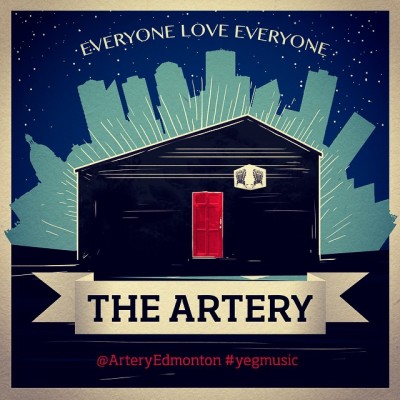 The local music scene is reeling with the sudden news that the The Artery will be closing at the end of March to make way for the Valley Line LRT Project– and there goes another popular Edmonton live music venue.
On the heels of the bad news about the historic McDougall United Church needing massive renovations, and the burning of the Roxy Theatre, this is getting to be an epidemic.
The City of Edmonton, which bought the Artery building, takes possession on March 3 and issued a notice to the operators of the 150-seat inner city venue that they have to vacate by March 31st. The reason? The 100-year-old building has some problems. City of Edmonton spokesperson Cheryl Oxford explains, "During our assement of the building as part of our acquisition of the property there were found to be structural issues, and the long term plan is actually to remove the building. The lease expires on March 31, so we are honouring the lease until then, and it's not really fit for long term occupancy, so having them leave at the end of the lease makes the most sense."
Artery owner Philip Muz was taken by surprise. "We are absolutely shocked by the city's decision and abrupt notice," he wrote in a Facebook post. "We've been told by our landlord, property manager and the city's real estate agent that we likely have 2-6 years years. Along with a one year termination clause. This has proven to be false and we are being evicted."
The post went on to state that the Artery's staff are currently packing up shop and looking for a new venue. While they had been planning to move from the premises at some point, the pace of this current situation has caught them by surprise. "We've been looking for another location for a while, but we haven't been planning for an immediate move," said Muz. "We will now – starting this afternoon."
The Artery, which has hosted some of the biggest names in the indie music scene, especially in folk music, will remain open until March 31st, and Muz says he hopes that the community will still support the venue until that time. This weekend's shows – including the sold out show featuring Calgary buzz band Viet Cong on Friday – will go ahead as scheduled.