OPINION: Eulogy for the Artery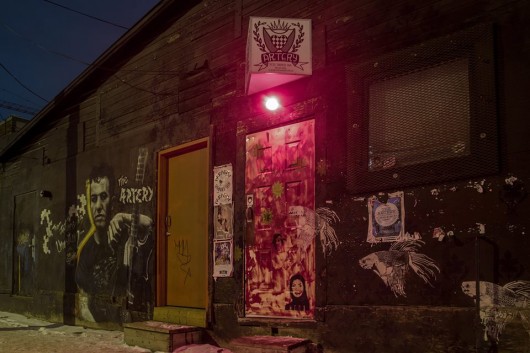 I can't remember the first show I saw at the Artery. I remember that I walked there, I remember that it was cold, I remember the only bit of warmth was my girlfriend Emily's hand in mine. And I remember I fell in love with the room that evening.
Emily and I split up shortly after that night, but my love affair with the Artery carried on.
It feels a tad cliché to write a eulogy for another live music venue closing in Edmonton. This isn't the first time an article like this has been written and it won't be the last. Operating a music venue is a difficult venture, especially when yours exists on sought-after land during a surge of revitalization. Bars open and close all the time. This, however, is the first time I have experienced grief over the closing of a venue I really cared for. It's devastating. That it's happening in such a seemingly unfair manner – the entire building will be torn down to make way for the Valley Line LRT Project – leaves me with a pit in my stomach typically reserved for losing a friend.
They got one month's notice. That's it. One month to pack up and move. The city spoke to the Artery's owner Phil Muz; uttered the term "structurally unsound," and then gave the man one month. They aren't closing because of bad business practices or monetary reasons; they are being forced out by the glacial-like movement of gentrification.
I sure hope the LRT that will come about from all this plays some fucking amazing music.
I typically try to avoid personifying inanimate objects, which is why it is surprising to realize that I have done just that with the 100-year-old building on 95th Street. But to those who frequented the Artery, it was more than a simple building – it was a symbol for all the friends we made there. It was our sanctuary for the arts.
Located next to a run-down liquor store and in front of what can only be described as some sort of correctional facility, it's amazing that the Artery lasted for as long as it did. If you pitched me that idea for a business I would have laughed it off as asinine, but the Artery defied the odds. That is why it is utterly heart-wrenching that it is being forced out.
This "downtown revitalization" is not only stripping Edmonton of a fine venue, it is forcing the people who live above the venue and who helped make it into what it is to the street. It was these people that made the Artery great. It was Phil behind the bar serving Jameson's whiskey to the myriad of musicians that packed the place; it was Meagan clearing the tables with a determined smile; it was the collection of sound guys who worked damn hard to produce good sound in a room that didn't cater to good sound; and it was Phil's brother Mark who served drinks and talked literature to anyone willing to listen.
And when I first timidly asked if it would be all right for me to take pictures of folk singer Joe Nolan, it was these people who were so warm to me. Soon, they will be homeless, and soon yet another venue will close its doors.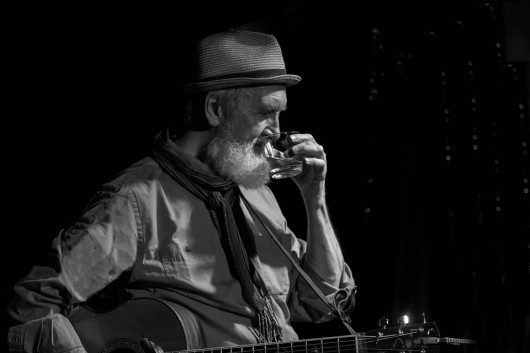 It's a shame that they won't be open anymore, because behind those doors existed a room where Canadian folk legend Fred Penner (right) made grown men cry, a crazed new-wave wunderkind Christian Hansen bounced around for an all-ages crowd, and a list of exquisite local musicians stomped the stage.
Phil has expressed hope that they will be able to move the Artery to a new location shortly, a difficult undertaking. For me some of the magic will most certainly be gone. Personally the Artery and its location are tied to those moments when I would exit my little building parked next to the sketchy bottle depot on 95th and point myself towards Jasper, those moments when I would climb the stairs at the back of the bar to see over the crowd, and the list goes on. That said if there is anybody capable of catching lightning in a bottle twice it's the staff of the Artery. I hope that's the case.
Regardless of all that, on Friday night I'll be shooting Viet Cong in what could very likely be my last show with a camera at the Artery. At the end of the night, I'll go to my little corner behind the sound booth and pack up my gear. I'll ask Meagan if I can help clean and she'll decline, yet again, with a smile. I'll sling my bag over my shoulder and hug her and Phil. I'll step out the door and nod at Joe Strummer on the wall, light a cigarette, and walk home from this iteration of the Artery one last time.
Mack Lamoureux is a 24-year-old multimedia journalist and photographer based out of Edmonton. Mack's words, images, and videos have been featured in Vice, the Edmonton Journal, the Montreal Gazette, the Ottawa Citizen, Canada.com, Noisey, Exclaim!, numerous film festivals, and now Gig City.