Viet Cong attacks Artery with dark magic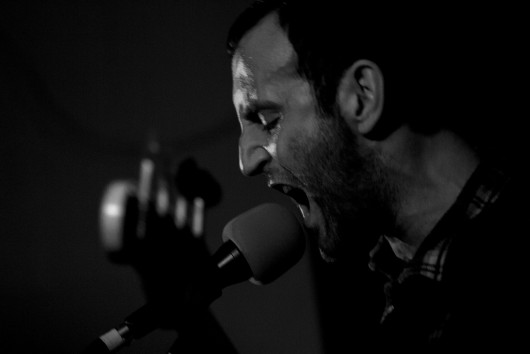 This was the last time you'll be able to see Viet Cong on such a small stage in Edmonton. Given the buzz that this Calgary band has been generating, their history, and the tremendous response to their self-titled debut album barely a month old, this band is headed somewhere big.
But for a sold-out crowd at the Artery on Friday night – just 150 lucky people – it was a damn fine pleasure to see them play so intimately.
Getting on stage around midnight and starting after a quick sound check, Viet Cong began their set anti-climatically and just let it grow. The band seems to have an affinity for taking simple things and moulding them into complex ones, and their show followed in suit. From drummer Mike Wallace's opening hits on Newspaper Spoons, the music was always moving forward and building momentum. Singer Matt Flegel's voice is looser and far more gruff live than it is on record. In general the band's live set didn't sound as clean as they do on spinning vinyl, but they were no less tight and energetic. That isn't to say the tracks played weren't as good as the album. They were easily as good if not better.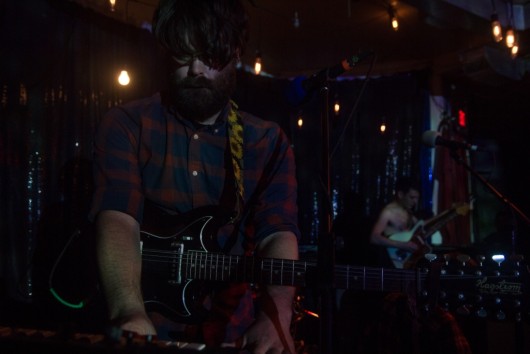 In comparison to the apocalyptic feel of the album, which has been described as dark, simmering post-punk, the band's loose and goofy attitude seemed a sharp contrast, but it fit rather endearingly. Even the Apocalypse needs laughs.
Initially the energy itself didn't translate to the crowd, which was surprising given the band's obvious mastery over their songs. Maybe it was the fact that the songs sounded different live, or that the audience was tired after watching three great opening bands. Even when two drunk girls climbed the stage and decided to awkwardly dance alongside Flegel, the crowd remained reserved. The singer played along with the girls and at the end of the song he smirked and thanked them for the dance as the two were unceremoniously hauled off stage. The crowd, which had sold out the room well in advance, finally started to loosen up when guitarists Scott Munro and Daniel Christiansen started trading riffs on Continental Shelf, the band's well-known single from 2013 that started the whole buzz to begin with.
"Don't want to face the world. It's suffocating, suffocating," Flegel sings over Wallace's simplistic and driving drum beat as the crowd finally decides that it can do more than merely sway. After that, it was nothing but smooth sailing for the Calgary quartet and the Edmonton audience.
The band closed their set with a lengthy rendition of their album capper, Death, which was rather fitting given the imminent end of the venue they were playing it in (The Artery has been ordered to shut its doors on March 31 due to "structural issues" found during a city inspection to buy the building and eventually tear it down for the LRT; the eviction notice came much sooner than expected). During the show's climax, the band violently let loose on stage and engulfed the crowd in an overpowering crescendo. The song most certainty has ties to the sudden death of Christopher Reimer three years ago, a former band member to Flegel and Wallace in the indie darling band Women, and Death was a happy, angry, sad, but most of all cathartic way to end the show. There was no encore. None was needed.
Sandwiched under three Southern Alberta bands, Edmonton's Gary Debussy was a perfect choice to open the show. With their immensely simple yet remarkably likable stage presence and their complex and driving instrumental tracks, the trio kicked off the show in fine style. The pure technicality that Debussy displays on stage mirrors that of Viet Cong so, like all good openers, they woke the crowd up and got them hungry for more.
Calgary's dramatic art rockers Burnt Shrines and the Lethbridge garage outfit Fist City filled up the rest of the bill. Over two very different but very entertaining sets, the Burnt Shrines singer sipped wine and threw rose petals to the crowd while Kier Fist of Fist City sang his way through a sudden nose bleed. It was a weird, wonderful bill, and Viet Cong hadn't even stepped on stage.
Now can we talk about drummers for a second?
These unsung heroes don't get much attention, which is unfair – especially after Friday night's show, when these Albertan drummers showed just how goddamn good they are. From Sean MacIntosh's almost telepathic connection to his bandmates in Gary Debussy's opening set to Mike Wallace's pounding melodic intensity during Viet Cong's set, drummers didn't necessarily steal the show, but they did try their damn best. These guys deserve our highest praise – for without drummers, where would any of these bands be?
Photos by Mack Lamoureux