Shania Twain aims high for comeback-farewell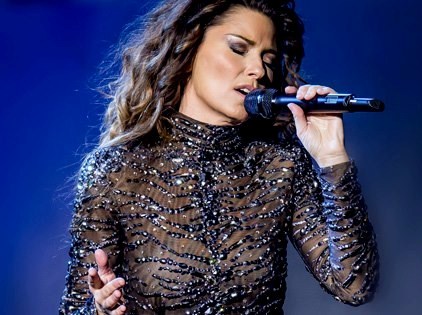 Eyebrows have been raised with news of Shania Twain's comeback-farewell tour in one, coming to Edmonton for not one, but two shows at Rexall Place, June 11-12, with top tickets – on sale March 13 – going for almost $200.
Who does she think she is, Madonna?
A lot has changed since the Canadian country superstar blew through town in ought-four, where she wowed a sold-out arena crowd with her sugar-frosted, beefed-up, from-the-heart brand of country-pop music. Don't forget that she helped invent that new paradigm of country-pop with the help of her rock producer husband Mutt Lange – and Taylor Swift has since ran with it so far that it doesn't even sound like country music anymore.
Shania, who is more true to her country roots, comes fresh from a two-year stand at Caesars Palace in Las Vegas – and when it comes to music, what happens in Vegas definitely does not stay in Vegas. Expect a spectacular show laden with dance numbers, costume changes and other hallmarks of the grand musical theatre the live concert world has become, a Cirque du Shania, though the singer insists it will be different than her Vegas shows. There is no new album to promote; of just four studio albums since she turned up in 1993, her 1997 release Come On Over remains the best-selling country album of all time – and that includes Taylor Swift.
Announcing her tour on Good Morning America, Shania also said that the "Rock This Country" tour will be her last. "This is a very, very important time on the road for me," she said. "I just feel like I'm ready to hang my hat up in that regard. I just really want to go out with a bang."
She added that there will, however, be a new album AFTER the tour – so take this "goodbye forever" with a grain of salt. Artists say that all the time, but nine times out of 10, they change their minds and come back to Rock This Continent again. This is known as the Cher Phenomenon.