MUSIC PREVIEW: Paradise by the Gaslight Anthem
Posted on March 11, 2015 By Michael Senchuk Entertainment, Front Slider, Music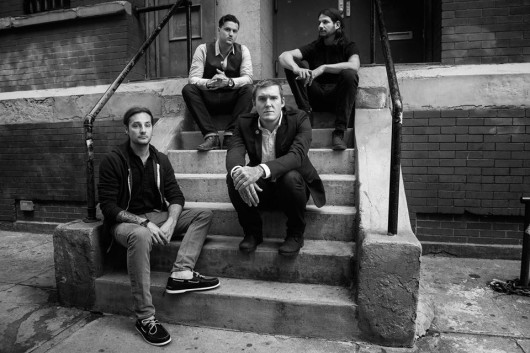 While the rest of the weekend sees an eclectic mix of live gigs, from two metal shows on Thursday, to country, classic rock, indie, and Nickelback on Friday, one of Edmonton's most anticipated spring shows occurs Monday night when The Gaslight Anthem comes to town on the back of their 2014 album Get Hurt.
The New Jersey band, an intriguing mix of straight ahead alternative rock with significant punk rock elements, formed back in 2006 as an evolution of other projects frontman Brian Fallon was involved with. Their original lineup has remained intact, with lead guitarist Alex Rosamilla, bassist Alex Levine, and drummer Benny Horowitz. The band's breakout occurred back in 2010 with American Slang, though many fans still favour the prior album, 2008's The '59 Sound. The later album's title track was really what made the band an almost-household name both North and South of the border.
Canadian rocker Matthew Daniel Goud, better known by his stage name, Northcote, is also on the bill. His collection of songs, and sounds, started with a debut EP recorded in a Regina yoga studio, while his most recent effort, written in his van on the west coast, was produced by Juno winner Colin Stewart. Sammy Kay also performs. At the Union Hall, 8 pm, $39.50
Thursday 12
In Flames – This Swedish heavy metal band was originally founded in 1990 as a side project by Jesper Stromblad of the death metal kings Ceremonial Oath. Over the years, the band has seen many personnel changes, and their current incarnation does not include any original members at all – not even Jesper. They are currently touring to support their eleventh album, Siren Charms. All That Remains and Wovenwar open. Encore, 6:30 pm, $39.50.
Wacken Metal Battle – Four bands enter, one bands leaves. An all-metal battle of the bands is taking place at the Pawnshop, a preliminary round pitting together the bands With Malice, Red Skull Ritual, Arrival Of Autumn, and Tides Of Kharon. Jeff Waters of Annihilator will be a guest judge. Pawnshop, 7 pm, $10.
Emerson Drive – This Alberta country act, formed in 1995, has won a handful of Canadian Country Music Awards and also been nominated for Junos. They have seven albums to their credit, the most recent of which – Roll – was released in 2012. Cook County Saloon, 8 pm, $29.
Friday 13
Nickelback – This band is a true small town prairie success story. Starting as a cover band, Chad Kroeger, Ryan Peake, Mike and Brandon Kroeger recorded their first demo in 1995 and never looked back. Since then they've sold 50 million albums across the globe, and had a string of No. 1s in the early 2000's, including How You Remind Me, Someday, and Photograph. Mocked as much as they are lauded, the band seems to be adept at ignoring their critics and continuing to write and record songs that people want to hear – and buy. Good on 'em. Rexall, 8 pm, $25 and up.
Saturday 14
Lynyrd Skynyrd – This classic Southern rock act is probably best known for their tracks Free Bird and Simple Man, the latter of which is a staple in any cover band's setlist, though they had a bevy of other hits in the 1970s, like Saturday Night Special, Gimme Three Steps and speaking of cover band staples, Sweet Home Alabama. Guitarist Gary Rossington is the only remaining original member still. UPDATE: Moved from the River Cree Casino, whose white tent has been shut down, to the Jubilee Auditorium; tickets will be exchanged on a first come-first served basis. 7 pm
Metrik/Nu:Tone – A whole squadron of DJs perform on this lineup as part of a massive tour, with other performers including Etherwood, Dynamite MC, Dreadnought, Phatcat, and Infamous Steez. Union Hall, 8 pm, $35.
Jeff Stuart and the Hearts – This local indie rock band is doing one final show before heading off to the famed South By Southwest (SXSW) festival in Austin, Texas. The Nulls, and one of the city's most talked about bands, Jesse and the Dandelions, open. Pawnshop, 8 pm, $12.