MUSIC PREVIEW: Last dance for The Artery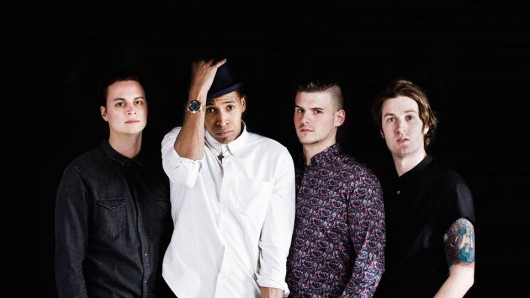 Barring a last-minute stay of execution, The Artery is scheduled to close permanently at midnight on Tuesday, March 31, its 100-year-old building to be torn down to make way for the March of Progress. LRT, anyway.
But not before one last EPIC bash. It starts at noon this Saturday and features a who's who of local talent who owe a great deal to Edmonton's favourite "dive bar," the term always used with love, and don't worry, another one will come along. Performing all day and night at the inner city bar one last time are the Noble Thiefs (pictured), Physical Copies, Motorbike James, The Get Down, Death By Robot, Nature Of, The Gear Sebastian, The Sorels, and Matt Pattershuk. The band bender continues Sunday with the Almighty Turtlenecks, The Noble Thiefs (for one more last time), Kimberley McGregor, The Soulicitors, The Archaics, The Fight, Hewson Grey, Picture The Ocean, Swear By The Moon, Alex Vissia, and Fever Feel.
After a day of needed rest on Monday, the Artery's Last Goodbye happens on Tuesday, March 31, with The Collective West, Cantoo, 100 Mile House, Lindsey Walker, Cayley Thomas, Bombchan, and Jesse and the Dandelions. Who knew there were this many Edmonton bands that found such a receptive audience at The Artery? This is only a fraction, of course.
Ticket information is on the venue's website. Expect the shows to sell out.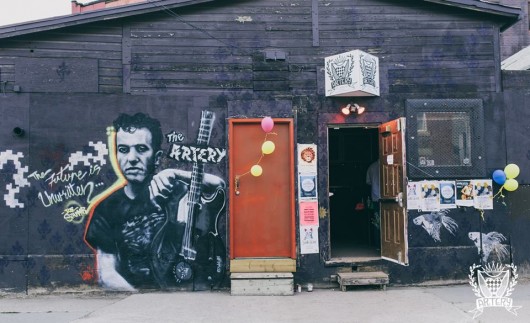 Now can we talk about structural engineering for a second? The Artery's building – which owners knew a long time ago would eventually be torn down – was suddenly found to have "structural issues" and that's why they're getting kicked out before they expected to be. The River Cree's famous "The Venue" tent was found to have structural issues, so owners took it down. The McDougall United Church, another popular venue for indie music, was found to have structural issues that would need up to $25 million in repairs. The old 102nd Street bridge over Groat Road was found to have structural issues and was supposed to have been replaced with a new bridge, whose new girders were found to have – you guessed it – structural issues.
Either Edmonton is falling apart at the seams or maybe we should take a closer look at the credentials of our structural engineers.
Thursday 26
Maroon 5 – It's not often we get to see a hit machine of this calibre in Edmonton. Featuring the lead singer with the high voice and The Voice judge Adam Levine, these heavy cats from Los Angeles have been in the top-40 almost continuously since 2002 – originating in the lazy crazy post-grunge days as a band called Kara's Flowers that didn't go anywhere. Now look at them – almost sold out at Rexall Place. With openers Magic! and Rozzi Crane, show at 7:30 pm, tickets from $106, BUY
Marco Claveria Project – Edmonton has long had a vibrant Latin music community, including this Chilean singer-guitarist who moved from Santiago in 1982, studied music at MacEwan and continues to pay homage to the music of his homeland. His new CD is called, appropriately, Origins, released with a show at On the Rocks, 8:30 pm, $10, BUY
Friday 27
The White Buffalo – His parents named him Jake Smith, and while the appearance of another burly bearded folk singer is hardly news, you may recognize the music of The White Buffalo from the popular FX series Sons of Anarchy, and other movies and TV shows. It just has that "cinematic" quality about it. Starlite Room – originally scheduled for the Mercury Room; all tickets will be honoured – with Spencer Burton, 8 pm, $17.50, BUY
Zerbin – Great as the latest Sonic Band of the Month (BATM) is – award-winning for good reason and equally captivating on their brisk alt-rock rompers as they are on poignant ballads – there are two things: 1. They already were a BOTM in 2011, and 2. Frontman Jason Zerbin now lives in Vancouver. Check with the structural engineers! They do have a new record, though, Darling, coming out on LP – as in "Long Play," vinyl, baby – in June. Doors at 8 pm, $13 advance, BUY
Saturday 28
OK Go – Hey, kids! It's not enough to have a cool sound and super-catchy songs that sound like the Cars filtered through New Order on an LSD bender. This Illinois band captured the hearts and minds of the hipster nation with its creative music videos – going "viral" long before they became a late night sensation and established mid-level touring act. Union Hall, 8 pm, with White Arrows, $28.50, BUY
The Awesomehots – Have you ever heard of a Hamperwriter? It's a musical instrument combining the acoustic properties of a laundry tub and an old-fashioned typewriter. It can really tap out a good beat. It's just one of several quirky homemade instruments used by this quirky homemade local folk duo that releases its new LP Nighthorse – LPs are obviously getting to be a thing – with a show at Brixx. $10 advance, BUY
Zebra Pulse – Noise! Glorious noise! More than just some guy screaming in a leather jacket, "noise" is an actual genre of "music," often referred to by the uninitiated with those pernicious "air quotes." But if you know, and you know you know, and appreciate a good old atonal hootenanny, check out local noisesmiths Zebra Pulse at Wunderbar, also with Wasted Cathedral, Chad Munson, and the Olm. 9 pm, $10 at the door.
Monday 30
Colin James – Now look who just came back to say goodbye – only this guy won't go away! Of course we'd never want him to. Proficient in rock, blues, big band jazz and even down-home country music, Canada's veteran guitarsmith returns to the Winspear Centre, touring behind his new album, Hearts On Fire. Also on the bill is opening act Tom Wilson's new band LeE HARVeY OsMOND (apparently cased just like that), 7:30 pm, tickets from $47, BUY