MUSIC PREVIEW: Marilyn Manson causes nightmares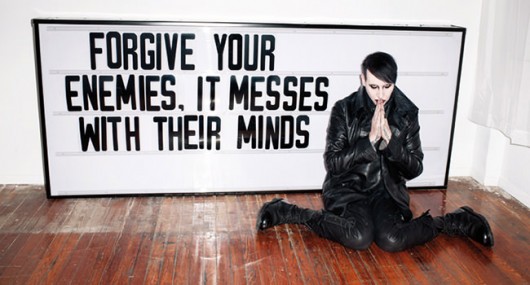 How appropriate for the impending Easter Weekend that we have the one and only Marilyn Manson coming to Edmonton, playing at the Shaw Conference on Thursday night, the day before Good Friday.
What can be said about Marilyn Manson that hasn't already been said? That he's an aging goth who's putting on an 18-plus show because he figures that the kids aren't into him anymore? Hard to know. His striking visuals continue to capture dark imaginations among his legions of fans. Everyone that ever saw his video for The Beautiful People will probably have related nightmares until the day they die. And Tourniquet is in many ways even creepier. Often referred to as a shock rocker, you can't deny that his music is invigorating, empowering, raw, and unadulterated. Well, and did we mention scary? His most recent album, Pale Emperor, came out in January, peaking at No. 4 here in Canada, and he's on the "Hell Not Hallelujah" tour to support it.
An even scarier joke? Thursday's show is called "Thaw at the Shaw." Only in Edmonton. Tickets to the 7:30 pm show are $66, BUY.
Friday 3
Spin Doctors – This New York groove band had a couple of monster hits in the early 1990's with Two Princes and Little Miss Can't Be Wrong. Their debut full-length featuring those songs set extraordinary marks for sales, and their next album did quite well too. They haven't charted since then, despite four efforts. They've returned to their original lineup since 2001, and are currently touring to support their 2013 album If the River Was Whiskey. Century Casino, 8 pm, $41.95.
Northern Lights – This two-day EDM festival at the Shaw Conference Centre features some of the biggest names in the DJ dance genre, including Diplo and Eric Prydz. Also on the bill are Carnage, Dillon Francis, Makj, Bassjackers, Australia's Alison Wonderland, Scandal, and Grandtheft. Weekend tickets are $149, single day passes are also available.
Sunday 5
Cat Empire – This Australia ska/jazz project was founded back in 1999 as a jazz trio featuring still-members Ollie McGill, Felix Riebl, and Ryan Monro, and they now have seven albums to their credit. Currently supporting the 2013 album Steal the Light, the act is one of those indie favourites that, while they don't sell a whole ton of records, has a dedicated following throughout the world, and seem to sell tickets to their live shows fairly easily. Winspear Centre, 7 pm, $32.
Monday 6
Jeff the Brotherhood – This Nashville psych-grunge act featuring two brothers, Jake and Jim Orrall, released their newest album just one week ago. Wasted On the Dream has been receiving mixed reviews in the music media, and the band was also recently dropped by Warner Brothers (the album's officially on the Infinity Cat label now; Dine Alone here in Canada). The act is still well-loved by many, including Mumford and Sons, who've tagged them to participate in a couple of the Gentlemen Of the Road Stopover tours. Their sound is a rampaging mixture of many genres, but the short shrift is that it's guitar-filled, thrift-store fun, party music. This show was recently moved from the Starlite Room to the Pawnshop. Make of that what you will.
The band Bully, just recently having performed at SXSW in Austin, and fronted by Alicia Bognanno, will open. With their debut full-length set to drop in mid-June, their sound is somewhat reminiscent of a modernized Pixies, catapulted by Bognanno's sensual but angry voice. Tickets to the 8 pm show are $17.50. BUY